This is the fourth in a five part series this week. (See here for the most recent installment.)
Back in August I wrote an article here on Seeking Alpha recommending that investors stay aggressive in the midst of a market correction. This week, I'm highlighting 5 iconic brands that look undervalued. These companies have strong business models, valuable brands, long histories of profitability, and depressed share prices. While the broad market woes are not solely responsible for their declines, these five companies are all in a position to rebound strongly along with the broader economy.
Today's spotlighted company is Xerox (NYSE:XRX). The company, of course, is famous for its photocopiers, with a brand so ubiquitous that it has become a verb: "to Xerox", or copy a document. The long-time tech titan still creates a significant amount of its revenue through the sales, service, and financing of its copiers. But the company is changing; its Technology segment was in fact outsold in the second quarter by its Services segment, which provides outsourced business processes and information technology solutions, along with document management.
The stock has struggled for most of 2011, with a downward drift accelerated by the market correction beginning in late July (click to enlarge image):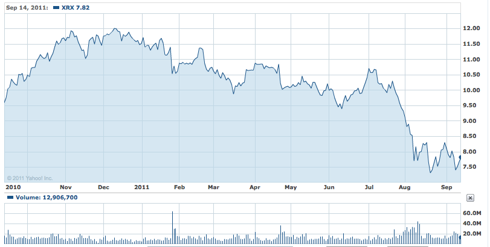 XRX 1-year chart, courtesy Yahoo! Finance
The long slide downward has created an appealing valuation for the stock. At Wednesday's close of $7.82, the stock trades for less than 8 times trailing earnings of $1.01 per share (please note: earnings are adjusted figures from the company, which may differ from figures given by other sources).
The company is guiding for $2 billion in operating cash flow, along with $500 million in capital expenditures, putting levered cash flow (net of interest on debt) in the range of $1 billion (assuming interest costs of about $500 million, below recent averages as the company noted on its second quarter conference call.) The $1 billion in LCF estimated for 2011 is 9% of market capitalization, a solid figure.
More impressive are the company's numbers before -- and its estimates after -- the current fiscal year:
| | | |
| --- | --- | --- |
| Year | Levered Cash Flow | % of Current Market Cap |
| 2009 | $1.48 billion | 13.5% |
| 2010 | $1.62 billion | 14.7% |
| 2011 | $0.95 billion1 | 8.6% |
| 2012 | $1.7 billion2 | 15.5% |
1 -- estimate based on guidance of $2 billion in operating cash flow, $500 million in capital expenditures, and interest cost below 2010 figure of $586 million
2 -- estimated based on midpoint of guidance for $2.6-$2.9 billion in operating cash flow, $500 million in capital expenditures, and interest cost below that of 2011
Much of the decrease in 2011 is due to a buildup in working capital, split between supply chain issues from the Japan earthquake, and increased upfront investments in the company's Services division, a buildup that the company expects to reverse in 2012. Worth noting is that the four-year sum of cash flow would be some $5.75 billion, over half of the company's current market capitalization.
To its credit, Xerox management is returning some of the cash to shareholders. The company's current dividend yield sits at 2.17%, which rivals the return on the ten-year Treasury. The company has $700 million in stock buybacks planned for the remainder of 2011, with at least another $1 billion set for 2012. In short, over eighteen months, the company plans to repurchase some 15% of shares outstanding.
Xerox's balance sheet is acceptable, if not pristine. Total debt is $9.3 billion as of June 30th, with a forecast of $8.6 billion after a $750MM repayment of senior notes later in the year. Add in the company's $1.1 billion in cash, and $3.8 billion in long-term liabilities (including pension and medical benefits owed), and total net liabilities should be about $11.3 billion at year's end, roughly equal to the company's market cap.
Some $6.3 billion of the debt is related to the company's financing of copier purchases, according to the company, as Xerox must finance the equipment it leases out to corporate consumers.
On the top-line, revenue growth has been weak. 2010 sales spiked thanks to the purchase of Affiliated Computer Systems, whose former assets now make the bulk of Xerox's Services division. But year-over-year sales in the second quarter rose just 2%, and were actually down 1% in constant currency terms. (The company does expect supply chain issues caused by the Japan quake to boost third quarter earnings against the same quarter of 2010.)
The Services segment -- which grew nearly 6% y/y in the first half -- is providing all of the company's growth, as sales in the legacy copier business remain flat. Indeed, analysts expect only 3-4% annual growth for the company in 2011 and 2012.
Going forward, the company must manage costs to create any earnings growth, given the challenges on the topline from the broader economy and the slow erosion of the copier and commercial printing businesses. Through several major restructuring programs, and continued cost-cutting resulting from the ACS acquisition, Xerox management would appear to have the chance to do so.
A slide in the company's second quarter earnings presentation details some of the benefits (see page 15): $270 million in annual savings from the restructuring efforts (which included layoffs and the closing of business lines), and $120 million in added pre-tax profit, thanks to the ACS purchase. These tailwinds should continue going forward and help the company continue to increase margins, and thus earnings. Indeed, the company is guiding adjusted earnings to rise some 17% (at the midpoint of guidance for $1.07-$1.12) this year, despite the slow revenue growth, as fixed costs continue to drop.
The question for potential XRX investors -- and one of the key drivers behind the stock's decline -- is how it will handle a major pullback in business spending. The company's use of leverage in its leasing business means a small spike in delinquencies or lease cancellations could have a major effect on cash flow. The company's exposure to government spending through both its Technology and Services divisions (the Services division manages unemployment and Medicaid programs at the state level, for instance) is also cause for concern. CEO Ursula Burns addressed those concerns on the Q2 conference call:
I'm often asked if the pressures on government spending are impacting our business, especially in the BPO space. We are exceptionally well positioned with federal, state and local governments around the world. Revenue from our government contracts often fluctuates based on usage patterns. For example, in Q2, growth in transportation services helped offset the lower volumes from unemployment claims. This is another benefit of having a diverse portfolio in BPO. It gives us flexibility to manage through the changing dynamics in government spending. So our government business does go through cycles, but net-net, we review our strong -- we view our strong hold in this space as a key asset of our business today and going forward.
It's also important to note that company stayed profitable through the 2008-2009 recession, on an earnings and cash flow basis. The addition of ACS in 2010 should add additional cushion in a double-dip recession.
Xerox's strong cash flow and commitment to shareholders should trump the valid concerns about revenue growth. Xerox is a mature company that is unlikely to see double-digit top-line growth for many years, if ever again. Yet, on its sheer earnings power, it appears undervalued. Earnings and cash flow numbers are strong, its debt load is decreasing, and the company is trading well below its book value of $9.49/share.
Its success in integrating ACS, and its continued expansion into the higher-growth, higher-margin services business, leaves Xerox poised to rebound sharply when business confidence and spending pick up. In the meantime, patient investors can collect over 2% annually, hope for a benefit from the company's stock repurchase program, and ride out the current economic storm.
Disclosure: I have no positions in any stocks mentioned, and no plans to initiate any positions within the next 72 hours.