Looking through the upcoming earnings releases, I noticed that Oracle Corporation's (NASDAQ:ORCL) earnings release is expected in about a week. Oracle Corporation, an enterprise software company, develops, manufactures, markets, distributes, and services database and middleware software, applications software, and hardware systems worldwide. The company was founded in 1977 and is headquartered in Redwood City, California.

While examining the past results with the expected release, I developed a favorable opinion.
Some of the reasons why I like Oracle are:
It pays out a dividend that is near 0.9%

Very high quick ratio of 2.74

A history of beating estimates for quarterly earnings
I searched the competitors list and using I-Matrix by EDGAR Online compared Oracle with IBM (NYSE:IBM), Microsoft (NASDAQ:MSFT), and Sap Ag (NYSE:SAP). What I found was that all of these companies look attractive as investments. For example, look at the dividends that are paid out:
MSFT 2.5%
IBM 1.8%
SAP 1.2%
What's not to love about a group of companies that are successful enough to pay a dividend to buy the stock? Looking at the revenue of the companies, the prospects continue to look great.
Click to enlarge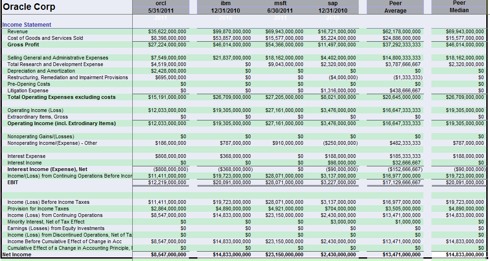 Oracle has rising revenue year-over-year of $35.62 billion for 2011 vs. $26.82 billion for 2010. The company's earnings before income and taxes are rising with an EBIT year-over-year of $12.03 billion for 2011 vs. $9.06 billion for 2010.

IBM provides information technology (IT) products and services worldwide. The company was founded in 1910 and is based in Armonk, New York.
According to a recent survey, IBM has a bright future as companies continue to use mainframes and look to add more. Further, mobile and cloud computing are expected to be important factors. Some of the numbers reviewed include over 90% of respondents at large enterprises expecting capacity to remain at least as large currently, while most expect capacity to grow. That's great news for the space, and IBM in particular.
SAP and Oracle have agreed to a settlement of a long standing law suit that has left a cloud overhead. SAP is paying Oracle $20 million for compensation due to a website called "TomorrowNow" downloading millions of files. TomorrowNow is a subsidiary of SAP.

SAP AG provides business software primarily in Europe, the Middle East, Africa, the Americas, and the Asia Pacific Japan region. The company was founded in 1972 and is headquartered in Walldorf, Germany.
Dana Blankenhorn recently wrote a great article about SAP that I believe shines a bright light on the possibility that SAP could become a takeout target. For this reason, I believe the downside has a diminished amount of risk to an investor.

Microsoft Corporation develops, licenses, and supports a range of software products and services for various computing devices worldwide. The company was founded in 1975, and is headquartered in Redmond, Washington.
Microsoft is a cash cow that is unloved, and not as sexy as many of the other technology stocks-- but nothing stays in style like making money. For this reason Microsoft is very much in style. The company pays a fat dividend, and has such a super low PE that it is hard to imagine a long term strategy that does not include a positive outcome for investors. Stephen Turner with Hilliard Lyons recently initiated coverage with a long term buy rating and a price target of $29.50. I believe the estimate is conservative when viewed from a greater than 12 month period. Adding in the dividend, a 30% return seems plausible.
Goldman Sach's Heather Bellini added Oracle to Goldman's conviction list.
Rising revenue is the order of the day for all the companies. IBM is slightly off the very best year in revenue, otherwise all three of the others are beating and setting records.
Click to enlarge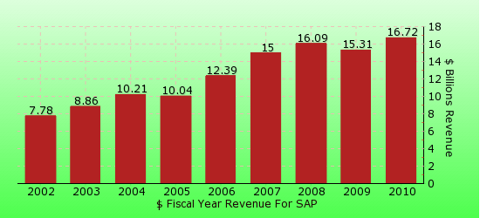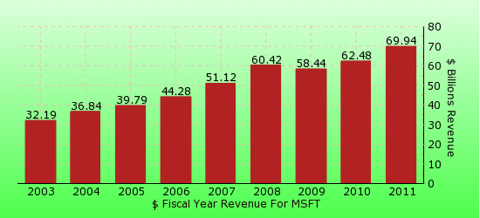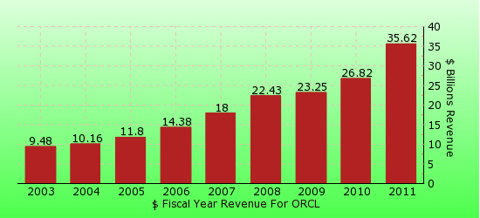 Click to enlarge

Click to enlarge

Click to enlarge

Short interest on these golden children of technology shows smart money is not interested in getting in the way. Look at the very low level of short interest. In this market and economic environment, it would not be a surprise to me to see any given stock have a much higher level of short interest. All three stocks can be covered in less than three days.
What is the best way to play these stocks? In light of the economy and recent market volatility, I believe that writing put options is the smart way to go. Put options have larger than normal premium due to the recent volatility, they offer lower risk than buying the stock, and money can be made even if the stocks do not rise. All of these stocks have enough option volume traded that using covered calls really does not provide any benefit.
For Microsoft I like the January 20 expiration with a strike price of $25. Currently they are trading for about $1.40 based on the stock trading about $26.50.
For SAP I like the January 20 expiration with a strike price of $45, although none traded today. I would want to be able to get $3.30 based on SAP trading at $50.20.
For ORCL, I like the March 16 expiration with a strike price of $25. Currently they are trading for about $1.92 based on the stock trading about $28.20.
For IBM, I like the January 20 expiration with a strike price of $140. Currently they are trading for about $3.65 based on the stock trading about $167.13.
Prices are based on the midprice of the bid and ask.

Disclosure: I have no positions in any stocks mentioned, but may initiate a long position in MSFT, ORCL, SAP, IBM over the next 72 hours.