You will know that you have invested wisely in a company when its success becomes somewhat "routine." It's just like in sports, where there are certain "gimmies" or occurrences that we look forward to. For example, (at the bare minimum) we expect the New England Patriots will win the AFC East division title. We expect the Yankees to make the playoffs. We take for granted that Ohio State will win the Big Ten and that Rafael Nadal will enter the finals of a tennis grand slam. Even Vegas sometimes won't play those odds.
In the stock market, there are events (such as in sports) that investors also take for granted. There are certain companies that have become, in essence, The New England Patriots or The Pittsburg Steelers; that is to say, they have developed a level of consistency to the degree where they have become boring. IBM has long been in that category. It has recently been joined by Apple (AAPL). Now entering that club is Oracle (ORCL) - a company that has recently established what I have now considered "the Apple performance syndrome." Basically, beating estimates is not enough; numbers need to be pulverized across the board just to meet expectations.
Investors continue to ask "what is wrong with Oracle?" The database giant disappointed investors in June when it reported its Q4 earnings results. The focus was on the company's less than inspiring hardware revenue. The stock has taken somewhat of a beating since the report but I can't help but consider this an overreaction. Investors sought to punish the software giant because of its under-performing sales in hardware. Let that marinate for a moment.
In its last report, Oracle (as expected) reported record numbers in revenue, to the tune of $10.8 billion for the quarter - which was an increase of 12% from the previous year. I would be hard pressed to find a "non-growth" company who consistently produces such stellar top line results. Not only did the company report operating income of $5.2 billion, which was an increase of 19% from last year, but this was while it grew its operating margin by 48%. So I ask the question again, what is wrong with Oracle? BMO Capital Markets' Karl Keirstead answered this question the best when he said:
We do not want to over-react to trends in a business representing 10% of Oracle's revenue mix; the other 90% of Oracle is performing well.
As noted, Oracle now fits the criteria of routine performance excellence and thus have become a victim of its own success. But this is a great problem to have.
Managing the Cloud and the Competition
So far this year, Oracle also signed a number of large deals "with some of the biggest names in cloud computing," includingSalesforce.com (CRM), CEO Larry Ellison said in a statement. "Salesforce.com's new multi-year contract enables them to continue building virtually all of their cloud services on top of the Oracle database and Oracle middleware," he added.
With the purchase of Sun Microsystems, it is clear that the company now has its sights set strategically to be a "one stop shop" for clients. It wants to provide customers with mission-critical solutions that integrate easily and rapidly and can also span both hardware and software. As I have said previously, I was mildly angered when the company first announced that it had purchased Sun Microsystems, but this has proven to be one of the best decisions that it has ever made.
I could not imagine why a software company would want to enter the hardware space to compete with the likes of Hewlett-Packard (HPQ), Cisco (CSCO) and IBM. If you couple that with its leading business applications and database software solutions, the company will face much stronger demand for its products, particularly with its increasing integration in business software, hardware, platforms and use. In fact it was realizing how Oracle has managed to make its Sun acquisition work that has caused me to give the benefit of the doubt to Google in its acquisition of Motorola Mobility (MMI)
With its Q1 2012 earnings firmly set for Tuesday, September 20, I imagine investors will take the numbers in stride. In other words, the report will be great, but expected. As the stock currently trades at just over $27, I can't help but realize that it remains incredibly cheap - especially after having reached its near term bottom of just under $25.
click to enlarge image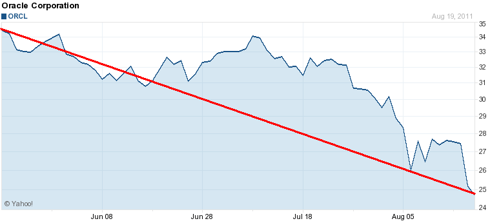 Summary
Oracle continues to show its dominance, as "routine" as it may be. Unlike some of the prominent tech companies over the past two decades, such as Microsoft (MSFT) or even Adobe (ADBE), Oracle has continued to discover innovative ways to remain at the top of the technology heap by focusing on what it does well. Its ability to be forward looking has caused it to set its sights not only on virtualization, but also cloud computing technologies, which is (in my opinion) the future of computing services. Though the stock has seen a recent decline in value, the company itself has not disappointed. At current levels per share, the stock remains incredibly cheap. Value investors would be wise to realize that it has become a stock every investor must own. It's a "gimmie."