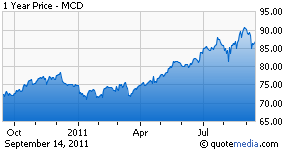 McDonald's (NYSE:MCD) is an iconic restaurant chain with global appeal. It has 32.7K restaurants in 117 nations--80.5% of which are franchised or licensed, while the others are owned-and-operated by the company. Of the $24.1B in 2010 revenue, 67.4% came from the higher margin restaurants operated by McDonald's. 2010 sales growth for franchised restaurants, however, continued to exceed that for owned-and-operated at 8% and 5%, respectively. While the higher margins are a plus for the managed stores, McDonald's success story is truly found more in the scale offered through franchising.
Toward that end, McDonald's stellar management (led by CEO Skinner) has aggressively expanded over the years. The company has approximately $2.7B in goodwill and intangibles. With the intangible assets ratio at 8% (well below the 20% threshold of concern) and $12.2B in tangible book value (equal to shareholders' equity subtracted by goodwill and intangibles), I do not feel that McDonald's is overpaying in acquisitions. An international expansion would be beneficial for the chain, which has a leading grip on suppliers.
Hamburgers, the Big Mac, Quarter Pounder, Chicken McNuggets, McFlurry, french fries, soft drinks, and of course Happy Meals. These products are--and have proven to be--compatible abroad with minor cultural adjustments. Below is a pie chart of sales and restaurants by region for 2010 (note: "APMEA" means Asia/Pacific Middle East and Africa):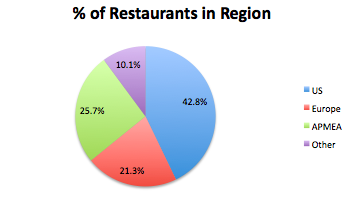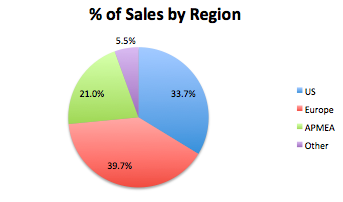 Of the European market, the U.K., France, and Germany account for more than 50% of sales--the same is true for China, Australia, Japan in the APMEA market. These six countries are called "major markets" by McDonald's and account for over 70% of sales for the company.
For those fearful of this brand not "working" in other countries, take a look at what the company is doing in Asia. Think of McDonald's as just a fast-food chain? In Asia, over 1.6K restaurants offer delivery! I have visited the region a few times before and seldom have seen multinationals integrate so well as McDonald's does. The company also offers free Wi-Fi in 12K restaurants and is planning to unveil higher-end restaurants in more affluent neighborhoods. Management is noticeably ahead of the curve in adapting to local cultures.
This growth stock is also trading at a comparably reasonable 17.4x and 15x past and future earnings, respectively. It also offers a decent dividend yield of 2.83% for its size. With a beta of 0.5 and growing operations in emerging economies, the company is also an attractive way to reduce risk in a stagnating US economy.
Consensus is that EPS will grow by 12.8% to $5.2 in 2011 and by 10% and 9.6% for the following years. McDonald's has had 100 consecutive months of sales growth and with a PEG of 2.36 and a P/S multiple of 3.51, I think that the company is undervalued based on its potential. I am bullish on both the company-operated restaurants and the franchised restaurants. For the former, I forecast the top line to grow by 13.3% to $18.4B in 2011 and 4% more the following year. For the latter, I forecast the top line to grow by 12.2% to $8.8B and 7.1% more the following year.
In conclusion, I see McDonald's as both a safe investment and a good exposure to emerging markets. I further see it as undervalued and am enthusiastic about management's commitment to growing shareholder value. What are your thoughts?
Disclosure: I have no positions in any stocks mentioned, and no plans to initiate any positions within the next 72 hours.