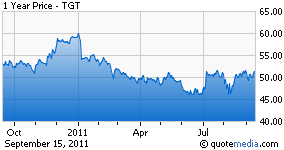 The second leading discount retailer has struggled for almost a decade now to increase its stock price above $60. While Target (NYSE:TGT) performed strongly during the recession, it has been in the decline ever since early 2011. It has underperformed its peers for the last year and for the last five years.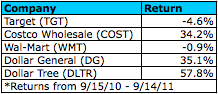 Expectations have been mild for the stock. Target has recently expanded into Canada by acquiring leased locations from Zellers, Inc. The transaction cost a reasonable C$1.8B and will result in around 100 to 150 stores opening in Canada, mainly during 2013. Renovations may cost an additional C$1B. While the market has viewed this negatively for the most part, I believe that the retailer will have considerable success in this new location. If Target is to ever compete against Wal-Mart, it needs to establish an international presence before it is too late.
While the company is trading at a reasonable 12.2x past earnings and 11.8x future earnings, I am hesitant about growth going forward. In particular, I see the retailer's credit card segment as a drag on value creation. While sales in retail increased minimally by 0.9% in 2011 and 3.7% in 2010, sales in credit cards fell 6.9% and then fell 16.5% more, respectively. In addition, Target's credit card business makes up only 2.4% of sales. Have ever wondered what exactly is Target's credit card business? The retailer offers "Target Visa," "Target Card," and a "Target Debit Card." While it is a nice way to drive repeat business, unfortunately, I would have never known about this segment if I was just a shopper.
Target has also tried to outcompete Wal-Mart by launching a new website--an activity that Amazon.com managed for several years. The new site, Target.com, has a zoomy design that, for some reason, reminds me of social networking in its appeal. Furthermore, a series of models graced my screen, thus giving me a feeling that the company is trying to target a younger audience.
Regrettably, however, I see the retailer's ventures into websites and credit cards as move away from the fundamentals. While diversification has its benefits, focusing on the core business may be the only way for Target to outcompete Wal-Mart. Operating margins are slightly higher at Target than they are at the leading retailer (6.7% versus. 6.1%).
Target employed 355K individuals for 2010 while owning 1.75K stores. I have always found that number to be high, but compared to other retailers it does not stand out. 251 of those stores are SuperTarget stores and offer a large grocery section. Target also has in-store amenities, like Target Pharmacy, Pizza Hut, Portrait Studio, and Starbucks (NASDAQ:SBUX). They also specialize in selling six key types of products (2010 figures):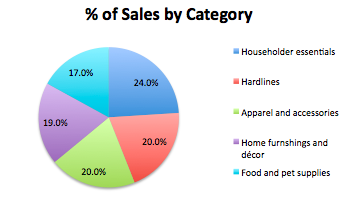 These percentages have stayed roughly the same over the last three years. Headlines refers to electronics, music, movies, books, sporting goods, toys, and PC software. Household essentials refers to pharmacy, personal care, cleaning, and baby care.
Consensus estimates for EPS are that it will grow by 8.8% to $4.22 in 2012 and then by 2.8% and 13.4% in the following years. According to my own model, I forecast the free cash flow yield to be roughly 7.4% in 2012. I also forecast revenue growing by 4.1% to $70.2B in 2011 and then by 4.3% the next the year.
While I am not bullish on the stock, it is a company to consider for growth investors. Approximately 15% of the ownership is held by core growth investors and nearly a quarter is held by index funds.

Disclosure: I have no positions in any stocks mentioned, and no plans to initiate any positions within the next 72 hours.