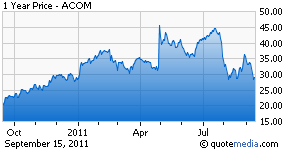 Ancestry.com (NASDAQ:ACOM) has taken its shares of lumps following its second-quarter earnings release, which revealed a digestion of the massive growth in subscribers experienced in the first quarter. According to the most recent tally, roughly 25% of the free float of Ancestry.com's shares are short -- an absolutely amazing level given the profitability and growth of the firm. As we outlined in our second-quarter earnings note, we were pleased with the results and maintain that the firm is significantly undervalued:
Subscriber growth of 28% from the same period a year ago fueled a 36% increase in the company's top line during the quarter. We were particularly impressed with the level of average monthly revenue per subscriber, which continues to move steadily upward. Churn did increase a bit during the period, but we think the uptick in churn is more a function of the substantial first-quarter subscriber growth than any impact from the economic situation, a view management reiterated on the call. Impressively, the firm's adjusted EBITDA margin hit 37.9% in the quarter compared to 33.9% in the year-ago period. Management did caution, however, that these levels may not be reached again in the back half of the year due to a heightened focus on acquiring new content and ongoing marketing and advertising spend. Free cash flow nearly doubled from the same quarter a year ago, and we believe the firm to be significantly undervalued on the basis of our DCF process.
We think the short thesis continues to focus on modest variations in churn rates rather than the underlying trajectory of net subscriber growth, which we detail below:
Image Source: Ancestry.com 2Q Presentation
We think the shorts are pushing down the stock in anticipation of higher churn rates in coming periods, which can almost be expected (given the substantial growth the firm has experienced). In effect, the street is punishing Ancestry.com due to its successful marketing endeavors (its popular "Who Do You Think You Are" television show) -- the firm simply is pulling in too many people to its site from this show that are unwilling to pay for such services. This, in itself, is not bad, particularly since Ancestry.com is pulling in a significant amount of people that do want to pay for its services. Perhaps the best way to show why Ancestry.com has staying power is to evaluate the make-up of a family tree, and to openly ask those that are reading this article if they have populated their own tree to complete the one below. If not, then investors, shorts, and readers alike should understand why the firm has a very sustainable business model (genealogical research is never complete).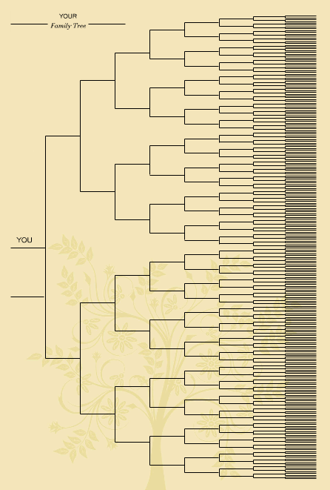 (Click to enlarge)
Image Source: MyCanvas, Ancestry.com
By definition, the more successful a user is on Ancestry.com, the more work he/she has to do -- each ancestor that is uncovered has two unknown parents and so. We posit that the higher churn in the last quarter is solely due to the explosive growth in the first quarter -- we show net sub adds and churn below to reveal this relationship:
Source: Ancestry.com 2Q Presentation
Source: Ancestry.com 2Q Presentation
We maintain that within the firm's total subscriber base lies a core and growing subscriber level that (dare-we-say) are life-time Ancestry.com customers. The street, on the other hand, is focused on evaluating the retention of short-term visitors instead of the core of the firm's business, which we maintain is solid. As we outline in our initiation piece on Ancestry.com, the firm's opportunity remains vast:
There are a few ways of sizing up Ancestry.com's potential market opportunity ... According to the U.S. Census Bureau, there are roughly (.pdf) 39.6 million people in the U.S. that are above the 65+ age category, a demographic well-known for pursuing genealogical research. If we restrict Ancestry.com's market opportunity to just the 65+ age bracket, based on the 2.7 million gross subscriber additions during the past 4 years, only 6.8% of this market has recently used Ancestry.com's product offering. Based on Ancestry.com existing subscriber base of 1.6 million, just 4% of this market currently uses its service.

Admittedly, it's unfair to restrict Ancestry.com's market opportunity to just the 65+ age group. The firm's customer base spans all age groups, as we doubt that the 65+ age group is completely responsible for the 1 million downloads (.pdf) of Ancestry.com's mobile app for the iPhone, iPad, and iPod. Nonetheless, such an exercise reveals the firm's vast subscriber growth potential ahead of the company. And with viewership of its television show WDYTYA at many, many times its current subscriber base, a doubling or tripling of subscribers over time should be viewed as a conservative base-case forecast.
Plus, we find very little to dislike about the firm's revenue and earnings trajectory, which we show below: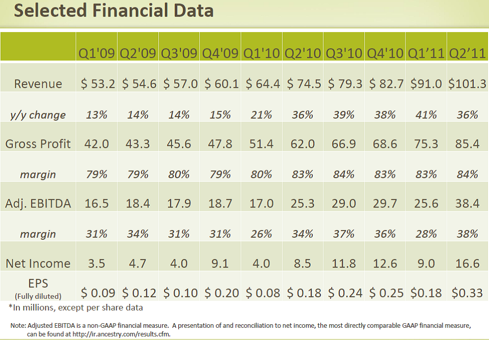 (Click to enlarge)
Source: Ancestry.com 2Q Presentation
Ancestry.com is debt-free (read negligible financial bankruptcy risk), and as of the end of its second-quarter, held over $70 million in cash on its balance sheet. At 19x next year's consensus earnings estimates of about $1.50, it's trading just north of a market multiple on 30%-40% top-line growth and earnings that are doubling (look at the chart above -- we're not kidding). And with the release of the 1940 census in April 2012 -- the biggest catalyst genealogical research has seen in a decade, we fully expect consensus numbers to be too conservative. We're looking for about $2 per share in 2012, which makes Ancestry.com's currently price levels almost ridiculous.
Disclosure: I have no positions in any stocks mentioned, and no plans to initiate any positions within the next 72 hours. Ancestry.com is included in our Best Ideas Newsletter.