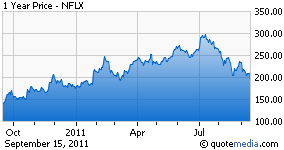 Because I cover stocks people hold passionately to their hearts, I take quite a bit of flack for bearish opinions. This tends to bring out the lowest common denominator in the comments section of articles. Consider the response many articles on Seeking Alpha generate from the Sirius XM (NASDAQ:SIRI) peanut gallery.

As I have said repeatedly, however, the conversations that follow my Netflix (NASDAQ:NFLX) articles - and I am harder on Netflix than any company out there, including Sirius XM - generally bring out the best in online discourse. Bullish and bearish commenters typically add to the discussions and help move them forward. Individuals without strong opinions one way or another consistently chime in to play devil's advocate or offer fresh and new perspectives. It's a breath of fresh air.

After the news from Netflix this morning, however, I wonder if we'll ever see these great conversations again. Of course, there will always be something to talk about, but, let's face it, once and for all, the judge put it all to rest - no wedding day smiles, no walk down the aisle, no flowers, no wedding dress. Nails continue to get pounded into Netflix's waiting casket.

Here's the updated Q3 subscriber guidance Netflix released to shareholders this morning:
Click to enlarge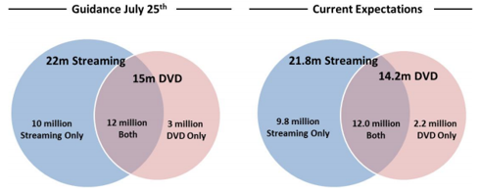 I'm not sure the subscriber mix matters much anymore. Rather, it goes back to the story I - and other Netflix observers - have been pounding home for months. The model simply does not work. The company cannot possibly keep up the type of subscriber growth it needs to fund not only current off-balance sheet obligations, but future content acquisition costs. We're talking about billions of dollars worth of expenses to get streaming where it needs to be in relation to the much more robust DVD offering. And, of course, don't forget about the costs associated with an aggressive international expansion.

Clearly, Netflix is in disarray. This became Research in Motion (RIMM)-like crystal clear when Netflix abruptly announced the price increase that led to today's carnage. Just as RIM bungled its FY 2012 guidance earlier in the year, Netflix had to make a move for survival. What the company failed to realize, however, is that no matter what move they made, things simply could not work out. As many of us have been trying to tell them, the numbers just do not add up.

Netflix will have to make another rash, brash and abrupt move soon in an attempt to salvage this thing. I have considered several ways it might go about raising cash. I am also on record predicting downside guidance and/or revenue and EPS misses at some point in the next several quarters. In any case, uncertainty abounds. The stock could very well see $100 before it sees $200 again. I cannot see how the Q3 report, due in October, will do anything other than produce another beating.

I feel like I have said all I can say about Netflix over the past several months. First RIMM, now NFLX. I wear my Short Ideas crown proudly. That said, I genuinely respect what the bulls have had to say. Agree or not, they put forth their points not only with class, but with reasonably sound and well-thought-out arguments. I just wonder if any bulls remain to keep up the stimulating conversation.

Disclosure: I am short RIMM.

Additional disclosure: I am short RIMM via a long position in RIMM January 2012 put options.