By David Russell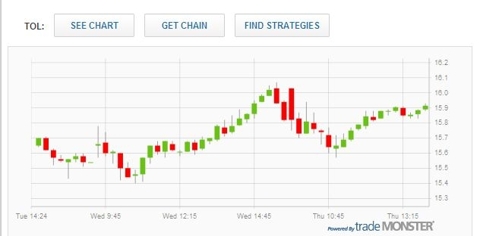 At least one investor apparently thinks that sentiment on Toll Brothers (NYSE:TOL) will gradually improve as shares bounce along a long-term low.
optionMONSTER's monitoring systems detected the sale of 12,800 October 16 calls for $0.75 and the purchase of an equal number of September 15 calls for $0.90. Volume was below open interest in September but not October, which suggests that a short position was rolled from one strike to the other.
The trade was probably the work of an investor who owns shares in the homebuilder and has been using the options as part of a covered call strategy, which reduces risk and limits upside. In the case of today's activity, he or she would have previously sold the calls to earn income, and was locked into selling TOL for $15.
By rolling the position, they raised that level for $16 and agreed to stay in the name for an additional month. They paid $0.15 now to make the adjustment. (See our Education section)
TOL is up 1.45 percent to $15.59 in morning trading. It was above $20 before the market crashed last month, and has been holding support around a level from July 2009 since then.
Overall options volume in the stock is 7 times greater than average so far today.