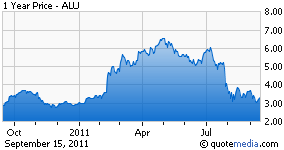 Alcatel-Lucent (ALU) is a communications equipment company that operates in three segments in approximately 130 countries. Its segments include: networks, applications, and services that each assist its partners in mobile, Internet Protocol, optics, and research among others.
Positives: I believe the benefits of this company do not include its past or present but rather the decisions that are being made for future long-term success. The company is investing time and money into mobile networks and bandwidth services throughout the globe in areas with high demand. The company is upgrading high speed services in the some of the world's most populated areas with two of its most recent partnerships: Chunghwa Telecom (NYSE:CHT) and Telefonica (NYSE:TEF). ALU will upgrade Chungha Telecom's network and attempt to capitalize on the demand for high speed bandwidth services. The company is also collaborating with Telefonica and announced a "test run" of its 4G LTE network in Madrid and Barcelona before introducing the services to the entire nation of Spain. These providers, among others, are some of the largest providers within each respective region. If ALU successfully develops these areas, among others, it could result in long term profits for the company.
Negatives: The company has high costs, and because it's still introducing the new technology I expect the costs to remain high for quite some time. The company announced nearly $4 billion in revenue during its last quarter but with only $42 million in net income. To me, this seems exceptionally low considering the amount of revenue however it's a vast improvement over previous years in which the company was unable to post profits. The company's debt to assets ratio has steadily increased since 2007, which places an emphasis on its LTE broadband technology that could be devastating if not successful. Also, I am not satisfied, as an investor, with the company's operating margins which need to sustain high levels of revenue to maintain very little profitability. I believe companies that rely on such large portions of an entire industry to return a profit are doomed to fail. I believe more measures must be taken to control cost if ALU wishes to experience long term success.
Conclusion: I believe this company could experience more growing pains before reaching consistent profitability or long term success. The company needs to operate more efficiently because $42 million of net income on $3.9 billion on revenue is not a recipe for success. I could be more optimistic of its operating measures if the company did not rely so heavily on partnerships and a technology that is constantly evolving. Therefore, I believe the company must make substantial changes to its spending whether it involves cutting back on segments or focusing on a more specific area of the globe. Despite these issues I believe the company could be on the brink of something great and while 4G doesn't seem particularly special to Americans it would be a breakthrough for countries that are yet to experience its technology. ALU mentioned the United State during its most recent earnings report as it commented on the beliefs that the company is to dependent on the U.S. for its success, and once again ALU explained that the United States does account for a large portion of its business. I believe that while it's great to offer services in the U.S. the real money is in emerging markets that want the technology. In the United States we have 4G, and there are several companies that are fighting to deliver the service to a select number of consumers.
Therefore, I believe that ALU efforts to expand its services and become the most used partner with communication companies in other countries is critical for its long-term success. The Asia/Pacific region of the globe is heavily populated and underdeveloped. ALU has teamed up with some of the largest suppliers of communication services in this region of the world and I believe this plan or strategy to offer 4G services will be considered a success for both the company and investors within 5 years. I believe investors should be patient and give the service time to achieve success, the 4G Long Term Evolution mobile broadband technology will be welcomed in other countries and will most likely result in a large amount of success for ALU. After considering the positives and negatives of this company I believe that with a price under $3.50 a share that ALU presents a great long term investment with rewards that outweigh the risks. But it's not a stock for the short-term trader but rather a hold for the long-term investor and if patient the stock could return large gains for many years to come.
Disclosure: I have no positions in any stocks mentioned, but may initiate a long position in ALU over the next 72 hours. As with any investment due diligence is required. The opinions in this article are not intended to be used to make a particular investment or follow a particular strategy.