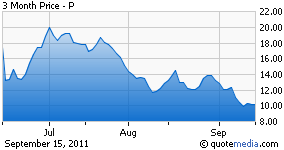 After its IPO, Pandora (NYSE:P) recently released quarterly results, and they were not much of a surprise, from what I could tell. It's obvious to everyone that the deal they have for content is crushing at best. How the record labels pulled this one off is anyone's guess. What's worse is that record labels may be killing the golden goose.
If Pandora runs out of cash and no longer pays royalties for content, it will hurt the record labels in the long run. At some point everyone is going to figure this out and decide it is better to have a competitive landscape than a choice of FM, recorded music on a memory chip, IHeartRadio from Clear Channel (CCMO.PK) -- if they can make a go of it with the current royalty rates is another question -- or Sirius XM (NASDAQ:SIRI).
Fiscal second quarter 2012 results show that P's total revenue increased over 115% to $67 million, and of that revenue, advertising amounted to $58.3 million. Subscriptions, along with other revenue sources, contributed the remaining $8.7 million. Growing revenue by 100% is all well and good, until you look at the bottom line, which paints a slightly different picture of the company: Even with revenue blasting off, the company still posted a loss of about $0.04 per diluted share.
Non-GAAP looks a little better, but there is a reason why it's non-GAAP. Due to the IPO, Pandora ended with more cash than they had a year ago -- $95.3 million now compared to $43.7 million from a year ago. The amount of cash Pandora has is a very important number to keep track of, since it has less and less with each passing day. By calculating the expected burn rate, we can calculate how long things can go on without changes being made.
Pandora has provided some level of guidance for the whole fiscal year 2012. Using 104 million common shares as our shares outstanding, and a non-GAAP estimated loss of $0.06, we can see the company predicts a loss of $6.36 million dollars. With close to $100 million in the bank, we can see there is very little risk that Pandora will have to fold up the tent any time soon. We can also see that there is about $0.90 of cash for every share.
We do have a problem with these numbers, though; they do not include some expenses, and again, they are non-GAAP. If we double the loss to $0.12 to provide what may be the GAAP number, we can expect to see a loss between of $6 million and $7 million for the fiscal year. While investors likely are not thinking it's a good thing to increase the loss number, it is comforting to know that Pandora will likely still be in a strong cash position at the end of the fiscal year.
Though Pandora has plenty of cash sitting around that they can burn away with every song I play on my smart phone, investors may not care to own a $10 stock that's losing money and is not expected to change its course anytime soon. With an IPO price of around $16 and a current price of around $10, it's obvious the exit door is getting plenty of use. It would not surprise me at all to see the price continue its slide down into the $4-$5 price range. When and if this happens, something else happens that makes Pandora very interesting.
At its very basic level, Pandora is no more than a way to attract ears and eyes to sell advertisements. Who is best at selling online Advertisements? Google (NASDAQ:GOOG) is the best at selling ads, and not just the best but it continues to take market share from the likes of Yahoo (NASDAQ:YHOO), Microsoft (NASDAQ:MSFT), and others. Today I read that Google's competitors are going to try to work together to sell advertising for one another. That should go over well with the Federal Trade Commission.
Google also has a history of buying content delivery sites, including like YouTube. If Google should decide to step up and buy Pandora, while at the same time working out a better deal (for example, equal to what Sirius is paying), the model may become a profit center or at least break even. I believe that if Google can buy Pandora and only just break even without too large of a cannibalistic effect on other revenue, Google will do so. It would secure one more area of Google's dominance in its highly profitable ad delivery model.
Buying Pandora would also enable Google to get another kick at the can to take market share away from Apple (NASDAQ:AAPL). iTunes is so far in front of the pack that to have any realistic hope of gaining in the space, a different approach is likely needed. This is also the reason I don't believe Pandora will become a serious buyout possibility for Apple. The idea of buying it just to remove it from others does not make enough economic sense to me to warrant much consideration.
"Not so fast" would be heard from outer space; Sirius Radio would likely want to take another look at Pandora. I have written several articles about Pandora becoming an increasingly greater pain in the side for Sirius investors, due to the booming sales of smart phones and other internet devices. Sirius currently finds itself caught in a technology that will becoming increasingly uncompetitive going forward.
Bearing the massive costs of satellite delivery compared to riding the wave of more, better, faster wireless internet is arduous. If Sirius can move away from satellite delivery into internet delivery and maintain a dominant position, the future will look much brighter. Pandora offers the brand and package to make Sirius a serious player in internet radio content delivery. Rocco Pendola, who has been following Sirius and correctly calling out its headwinds, says best how Pandora may hold the key to Sirius' future.
It's not difficult to imagine other players gaining an interest in Pandora. For exampl,e Yahoo used to be very large in internet radio streaming. While it used a model that perhaps was not as good, Yahoo allowed for listeners to rate songs played. Maybe this is what CEO Kennedy had in mind all along. If you watch this video recorded during the IPO at the NYSE exchange, you can clearly see him doing the Washington two-step of dodging questions like "Are you going to ever make a profit, and if so, when?"
Pandora may be able to get its costs down and start making a profit on its own, but watch for Google and Sirius to start circling Pandora soon, if the price keeps falling. If cost of royalty fees come down (and maybe even if not) I believe a buyout of Pandora would be very positive for Google or Sirius. If Sirius buys Pandora, I would be looking to get long Sirius. I am already bullish on Google, and a buyout would increase my conviction.
Disclosure: I have no positions in any stocks mentioned, and no plans to initiate any positions within the next 72 hours.