It can be a gut-wrenching experience to hang onto your long positions in choppy or bear markets. Buying Put options insurance becomes increasingly expensive as volatility rises. If you sell and wait for the market to improve, you could miss out on the quick gains when a new bottom is put in. How can you strategically play a choppy market?
One tactic is to buy stocks receiving favorable upgrades. This type of stock is associated with positive drift, such as those stocks that keep inching higher following a blow-out earnings report. On the downside, buying and selling upgraded stocks is a short-term tactic that often involves higher transaction fees.
Our strategy is straightforward. We look for:
Positive conditions or changes in analyst recommendations

An increase in next year's forecast earnings

Last quarter had an earnings surprise 20% or greater

Annual earnings positive, but below $2

Average recommendation 2.5 or better (above a hold)

Market cap $10 billion and above

Price above $5

Some positive momentum
Our exit strategy is nothing more than holding for 15 trading days – 3 weeks. Because this trading system uses short-term time frames, we need to include transaction costs of $5 per order and slippage of 0.25%. Taking those fees into consideration, this is what the theoretical portfolio gains would be:
22.59% annualized

Largest drop in portfolio is 24.67% over past 5 years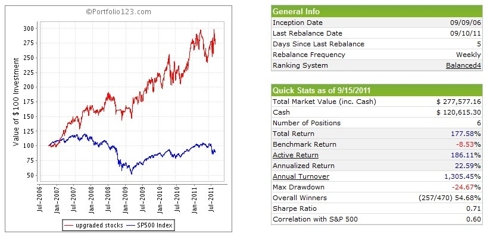 Which stocks are currently making it onto the upgraded list with the potential for excess gain? As we look, keep in mind that only about half of these stocks make us money. But the losses on 45% of the trades are small, and the gain on the 55% of the winning trades are quite large. If we trade the group of upgraded stocks, our net gain is quite positive. Here are three stocks making the list:

Crawford & Company (NYSE:CRD.B)
This insurance broker has seen a 60-cent-per-share earnings estimate pop up to 68 cents over the past month. While this company only has one recommendation, it is a strong buy. Last quarter's EPS surprise was 78.58% positive. Next report date is November 10. This definitely fits into our upward-revised strategy for a 2- or 3-week holding.
Omega Protein Corporation (NYSE:OME)
Next year's earnings forecasts have bumped up by over 25% over the past couple of months. Whereas last month had one strong buy and one hold rating, this month saw a change in sentiment, where both analysts feel it is a strong buy. In addition to this, last quarter's earnings held a 20.8% surprise. This also makes a timely buy and hold for two to three weeks.
Walter Investment Management Corporation (NYSEMKT:WAC)
Over the past month an additional strong buy recommendation has been added to the mix. However, one major red flag that comes up is the discrepancy between what I find in their quarterly earnings report and some of the numbers on sites such as Zacks. While the company reported a loss of 13 cents per share, Zacks says it was 21 cents per share positive. This makes me wonder what numbers my scanner used. Because the price chart shows strong relative performance, I cautiously recommend holding this stock for the next 2 weeks.
So if you are having a hard time stomaching this market and cannot commit to purchasing more long-term stocks or short-selling others, then you should consider grabbing some of these short-term upgraded stocks and holding for 2 or 3 weeks at a time.

Disclosure: I have no positions in any stocks mentioned, and no plans to initiate any positions within the next 72 hours.