When Standard & Poor's downgraded U.S. debt this summer, some warned of a catastrophe - the U.S. would have to pay higher rates on its debt, etc. But interestingly enough, it has been the stock market that has been punished, not the U.S. bond market, which just kept bullishly rumbling on. Very few dividend stocks held up during the correction, but take a look at how these dividend paying ETFs have outperformed the S&P over the past month, quarter and longer term:
Click to enlarge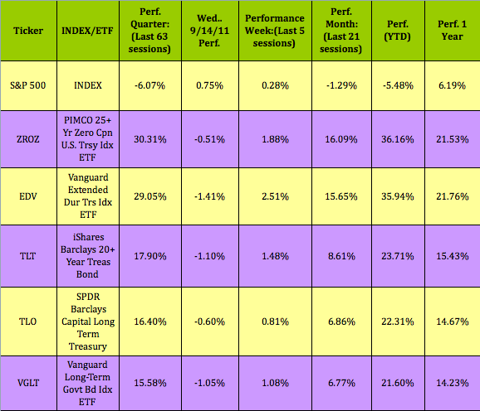 Dividend Info: Although the dividend yields on these ETFs aren't comparable to some high dividend stocks, they certainly are respectable. Some of them pay monthly dividends, while others pay quarterly.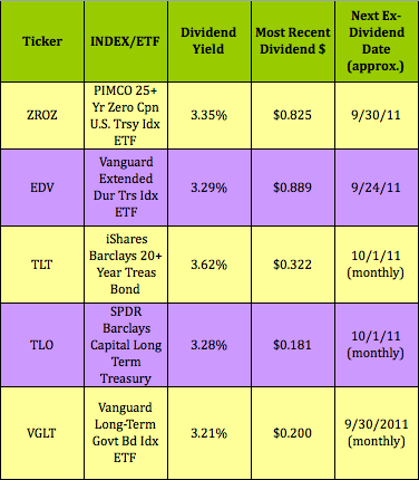 The U.S. fixed income market was valued at $36 trillion, and was roughly twice the size of the U.S. equity market as of December 2010. Treasuries comprise 24% of this market, mortgage related make up 25%, corporate debt is 21%, and the balance includes agency, money market, municipal and asset-backed instruments. (Source: Securities Industry and Financial Markets Assoc.) There's a brief synopsis of each fund at the bottom of this article.
Technical Data: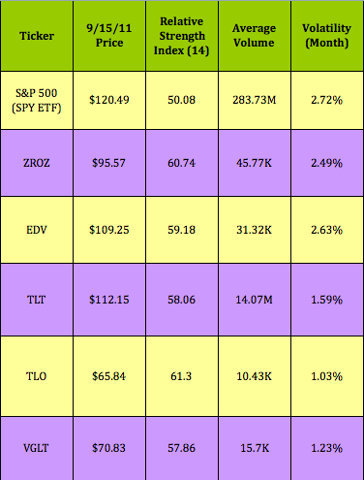 Every one of these bond ETFs is trading above its 20-, 50-, and 200-day moving averages: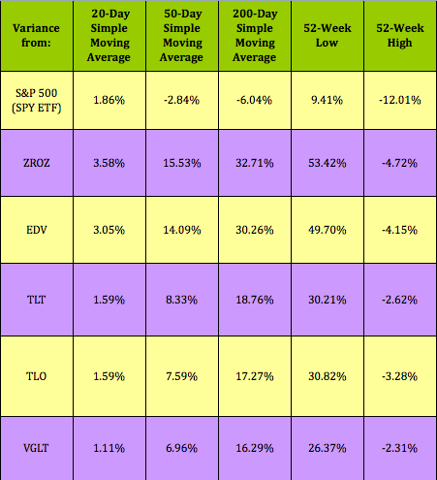 So, given their great performance, should you invest in any of these ETFs now? One approach would be to wait for a market bounce/rally.
Since these ETFs usually decline when the market goes up, you would be able to buy them cheaper.
For example, this chart and stochastic for ZROZ indicates that an investor who bought it in late June, when the stochastic chart was showing it to be oversold, had very good timing indeed, from a low of $69.65 in late June to a high of $97.69 in September. Even with this good timing, it has been a bumpy ride along the way, with an approximately 10% draw-down and 15% bounce-back in August, as the market rebounded and retreated. With this most recent market bounce, ZROZ has moved a bit below the overbought area, but has a long way to go to reach the oversold region:
Click to enlarge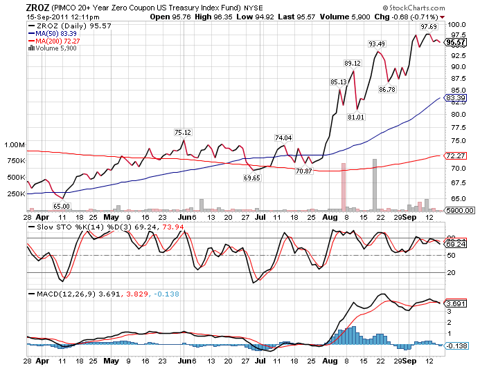 Options: Only TLT has options available, and at the money covered calls and cash secured puts for Nov. 2012, for example are currently yielding approx. 4%. There are more details on this and many other option-selling trades in our Covered Calls Table and Cash Secured Puts Table.
Funds Synopses:
ZROZ: BofA Merrill Lynch Long U.S. Treasury Principal STRIPS Index is an un-managed index comprised of long maturity Separate Trading of Registered Interest and Principal of Securities ("STRIPS") representing the final principal payment of U.S. Treasury bonds. The principal STRIPS comprising the Underlying Index must have 25 years or more remaining term to final maturity and must be stripped from U.S. Treasury bonds having at least $1 billion in outstanding face value.
EDV: Seeks to track the performance of the Barclays Capital U.S. Treasury STRIPS 20–30 Year Equal Par Bond Index. Passively managed using index sampling.
TLT: The iShares Barclays 20+ Year Treasury Bond Fund seeks to approximate the total rate of return of the long-term sector of the United States Treasury market as defined by the Barclays Capital U.S. 20+ Year Treasury Bond Index.
TLO: Seeks to provide investment results that, before fees and expenses, correspond generally to the price and yield performance of the Barclays Capital Long U.S. Treasury Index (index ticker: LUTLTRUU).
VGLT: Maintains a dollar-weighted average maturity of 10 to 25 years, and invests primarily in government bonds.
Disclaimer: This article is written for informational purposes only and isn't intended as investment advice.