The market has reacted with wild enthusiasm to the announcement that Central Banks are working together to make sure European banks have enough US dollars. Apparently this was widely anticipated, since the various markets are up around 8% as of Thursday, since the low on Monday. The German DAX index is shown below.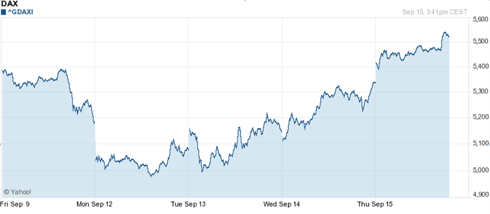 The cause of this rally appears to be the fact that we are not all going to die today. Other than the support of Germany and France for keeping Greece in the euro, the news is uniformly bad for banks. Moody's has just cut some banks' ratings and put others on watch.
The market is going up as bank ratings are cut? This should mean that the situation for banks is getting better. Instead, things are deteriorating rapidly, and Central Banks had to intervene in their role as "lender of last resort," a move usually followed by one of more banks being taken over. European banks are in the worse crisis since the Lehman Brothers default in 2008, and this time stock and bond holders are going to take a haircut, if Germany has any say in the matter.
There is little hope that an economic recovery will rescue banks. Germany and France are helping Greece execute the austerity packages -- and "execute" is the right word: Austerity is making things worse for Greece and, frankly, guarantees a default. Unemployment in Greece reached 16.3%, and it has continually missed its deficit-reduction targets. The Greek finance minister just announced that the economy would be in recession in 2012.
George Soros has stated that the euro will break apart unless there are serious unification efforts, and he believes the seeds of the next crisis have already been sown. Soros states that Greece will have to leave the euro, and believes the lack of a Greek exit strategy could result in a crisis.
So far today, all the economic news is negative:
Adding in the weak economic news in Europe and the USA, there appears little reason for the market to rally – but it is doing so anyway.
The answer is that this is a temporary rally as hot money hunts for a home. It may extend a little more, particularly if the Fed starts some sort of easing but it is not going to last because economic decline in both Europe and the USA will kill profits and the market. When Greece defaults, you can expect more lender-of-last-resort actions, with the Fed taking over a major bank and using it to prevent further bank collapses by paying off Credit Default Swaps, like it did with AIG.