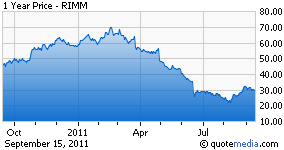 Finding a Netflix (NASDAQ:NFLX) bull after the company's Thursday morning implosion proved to be a difficult task. For some reason, however, I think we'll find more than a few Research in Motion (RIMM) bulls willing to stick their heads in the sand for a few more quarters.

I listened to RIM's Q2 earnings call. I was even in the queue to ask a question. I planned on actually making the company's management team tell us something. I was going to ask how things look in enterprise, noting that each quarter Apple (NASDAQ:AAPL) lets us know what percentage of major corporations deploy and pilot the iPad and iPhone. Because uncertainty abounds, I wanted to know how RIM's enterprise traction compares now and, say, two years ago. I presume we'll never get an actual quantifiable answer to that question, although I intend to email RIM IR with the query.

Anyhow, here's the lowdown on Q2 and the forward-looking guidance, courtesy of Briefing.com:

Click to enlarge



As expected, it's pretty bad. It's interesting to note that from a year-over-year perspective, it's even worse than last quarter. For Q1, RIM reported 16% revenue growth year-over-year. This time the company experienced a 10% decrease year-over-year. And while Q3 guidance looks good, taken at face value, and management guided FY 12 to the lower-end of the previously-announced EPS range, who is foolish enough to believe anything they say?

Cramer was right - the conference call amounted to an "everything is fine" dog and pony show. Everything's not fine. RIM's co-CEO are asking investors to believe that new BlackBerry smart phones can provide enough of a "bridge" to the QNX platform to trigger a somewhat respectable Q3 and something other than a FY 12 miss. And, taking it further, they seem to speak as if success with the forthcoming QNX is a foregone conclusion.

Despite what the few remaining RIM bulls have to say, the rest of us know the score. The pounding the stock took in after hours (sub-$24.00) says it all. The quarter stunk and investors (A) have no confidence in what RIM management says and (B) they don't expect smart phone users to turn away from iPhone and Android from Google (NASDAQ:GOOG) just because RIM infers they will. In this space, you can't make up a couple years worth of ineptness in a few quarters. It simply does not work that way.

As for how to play it, the $10,000 portfolio that I am looking to double looks golden. Barring an extraordinary event, the RIMM October $28 puts that I bought for it at $2.00 apiece should generate massive returns Friday morning. And AAPL continues to benefit from RIM's incompetence. AAPL is up about $3.00 after hours, as of 6:35 p.m., Eastern time Thursday, to roughly $396.00. The $10,000 portfolio contains AAPL December $380 calls that I scooped up for $27.00 each. I will post an update, in the form of a Seeking Alpha article, shortly after the open Friday morning.

In "real-life," I snagged a lottery ticket of sorts - RIMM January 2012 $15 puts for an average of $0.35 each (including commissions). They might even turn out profitable in the morning. I intend to hold them as RIMM plummets further below $20.00 this time. From there, I'm moving on. After calling the two shorts of the year - NFLX and RIMM (twice for RIMM) - it's time to move on.

Disclosure: I am short RIMM.