Many people are scouring the market for bargains. Many stocks are down 20-50% over the past few months and people are starting to chip away at new positions. Personally, I'd like to ease into positions in a number of cheap dividend-paying stocks while keeping a portion of my 'powder' dry for future opportunities.

Market sentiment has become extremely negative, and the contrarian in me says we're due for a decent relief rally (it may have already started). However, until the fundamentals change I worry that this could be a suckers rally that drags in the bulls only to decimate them as the market retests the lows. I don't know what will happen, but I'm playing this game conservatively (I'm risk-averse by nature).
Still, I'm running my screens to search out potential bargains, either to watch or to build small positions. I recently ran a screen for large cap, non-financial dividend-paying companies trading at less than 3x balance sheet cash and came up with the following: Humana Inc (NYSE:HUM), General Electric Co (NYSE:GE), Applied Materials Inc (NASDAQ:AMAT), Cisco Systems Inc (NASDAQ:CSCO) and Motorola Solutions Inc (NYSE:MSI). Here's a brief description of each company:
Humana Inc: markets and administers health insurance to a customer base of over 11.5 million in the United States.
General Electric Co: American multinational conglomerate that operates through four segments: Energy, Technology Infrastructure, Capital Finance and Consumer & Industrial.
Applied Materials Inc: a capital equipment producer serving the semiconductor, TFT LCD display, Glass, WEB and solar (crystalline and thin film) manufacturing industries.
Cisco Systems Inc: a multinational corporation that designs and sells consumer electronics, networking, voice, and communications technology and services.
Motorola Solutions Inc: an American data communications and telecommunications equipment provider that succeeded Motorola Inc. following the spin-off of the mobile phones division into Motorola Mobility in 2011.
The first chart below displays the result of this screen (none traded above 2.52x balance sheet cash). While cash per share does provide a buffer, it isn't necessarily indicative of cash available to shareholders if the company was liquidated. Liquidation value, obviously, takes into consideration all assets and liabilities. However, a large cash hoard may suggest a company has room to maneuver, potentially by returning cash to shareholders or by making business investments. In some instances, companies with large liquid assets, such as cash, can become takeover targets. In the old days of junk bond financed takeovers, corporate raiders would borrow money to buy a company and use the company's liquid assets to immediately pay down the loan.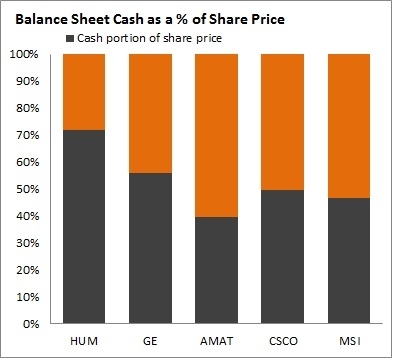 Sometimes high cash per share levels can either indicate a poorly managed company (too much cash on the books because management doesn't know what to do with it) or an undervalued company (cash-to-total assets may be average, but the share price is so low as to boost the cash-per-share levels). That's why it is important to look at a number of other factors besides cash-per-share.
The chart below shows the Debt/Equity composition for each company. All except for GE appear to have a conservative level of debt – HUM, AMAT, CSCO and MSI come with a high cash-per-share and relatively less debt.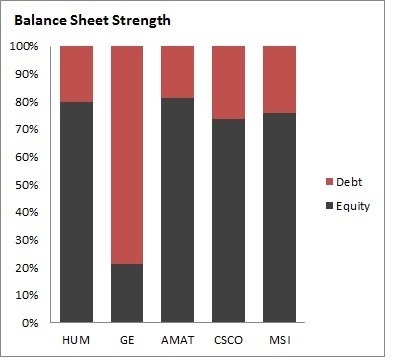 For HUM, AMAT, CSCO and MSI, dividend payout ratios (see chart below) echo the conservatism that the Debt/Equity levels highlight. Low dividend payout ratios indicate a sustainable dividend with room to rise. It also suggests management is being prudent about supporting the company's dividend yield.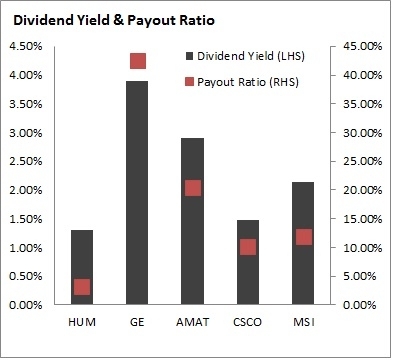 It is also important to look at profitability metrics to help determine if a company is a true value. The next two charts plot valuation by price-to-earnings ratio and price-to-book ratio. MSI stands out as the most expensive, by these measures.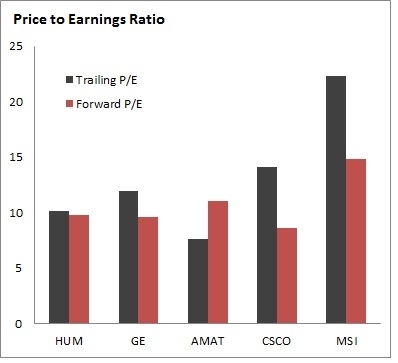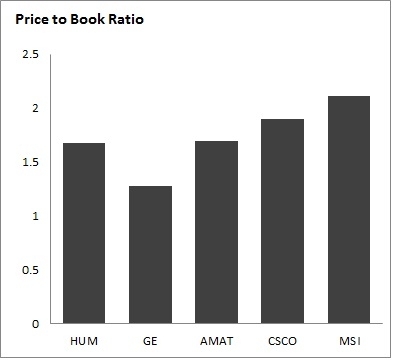 Turning to profitability, MSI again stands in the shadow with the lowest operating margin (chart below) and lowest return on equity (listed below).
Return on Equity:
HUM: 18.14%
GE: 11.34%
AMAT: 24.50%
CSCO: 14.18%
MSI: 7.56%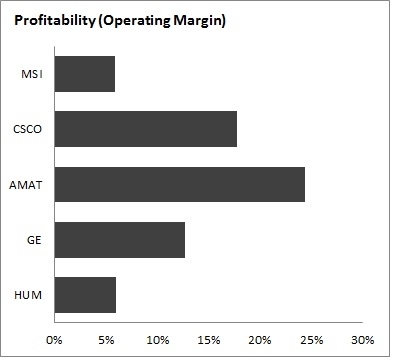 Sometimes low valuations are a reflection of expectations for slow growth. Based on analyst forecasts, earnings growth over the next 5yrs for these companies is projected to be as follows:
HUM: 8.42%
GE: 13.76%
AMAT: 9.75%
CSCO: 10.74%
MSI: 12.93%
Finally, from a technical perspective GE and AMAT are trading significantly below their 200 day moving averages. CSCO is also below its 200 day moving average, but not by the same margin. The chart below plots each stock relative to its 200 day moving average.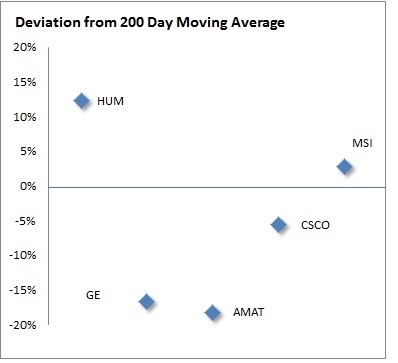 Based on the above screen and information, I am personally most interested in AMAT and CSCO because of their cash levels, valuatons, conservative balance sheet and profitability. The distance below their 200 day moving average is icing on the cake. My next step will be to look look deeper at the financial trends and perform a qualitative assessment of the business and industry.

Disclosure: I have no positions in any stocks mentioned, and no plans to initiate any positions within the next 72 hours.

Disclaimer: This is not advice. While Plan B Economics makes every effort to provide high quality information, the information is not guaranteed to be accurate and should not be relied on. Investing involves risk and you could lose all your money. Consult a professional advisor before making any investing decisions.