Apple (NASDAQ:AAPL) has had unbelievable revenue and EPS growth since 2003, making it the largest company in the world after passing Exxon Mobil (NYSE:XOM) in August of this year. Unfortunately for AAPL, if it doesn't put out another new product in the next year or two then its earnings will plateau.
I came to this conclusion after carefully examining its sources of revenue, growth, and products. I believe AAPL still maintains an incredibly strong grip on the phone market, and will continue to hold it for the foreseeable future. I also believe that because AAPL already holds a large share of the phone market, its exponential phone growth has come to an end. Since the iPhone is AAPL's core product, their overall growth will slow as well.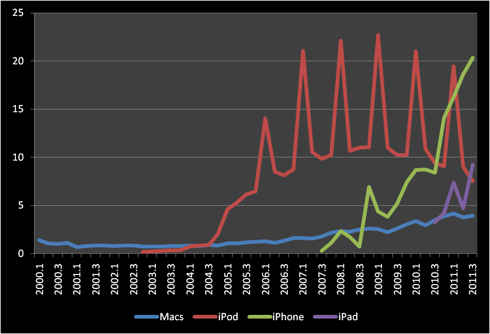 Click to enlarge
(Click to enlarge) Units sold by quarter (in millions)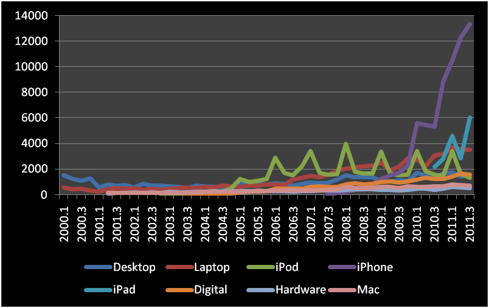 Click to enlarge
(Click to enlarge) Quarterly revenue by segment (in millions). iPhone (revenue recognized from iPhone sales, carrier agreements, services, and Apple-branded and third-party iPhone accessories); iPad (revenue recognized from iPad sales, services, and Apple-branded and third-party iPad accessories); Laptop (MacBook, MacBook Air and MacBook Pro); Desktop (iMac, Mac mini, Mac Pro and Xserve); Digital (sales from the iTunes Store, App Store, and iBookstore in addition to sales of iPod services and Apple-branded and third-party iPod accessories); Mac (sales from the Mac App Store in addition to sales of other Apple-branded and third-party Mac software and Mac and Internet services); Hardware ( displays, wireless connectivity and networking solutions, and other hardware accessories)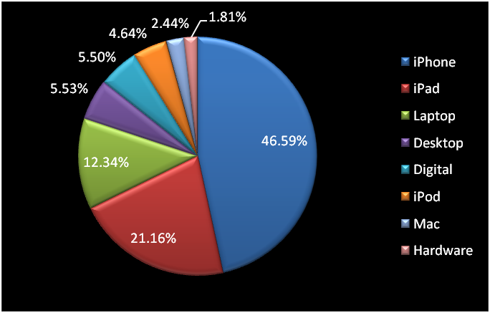 Click to enlarge
(Click to enlarge) Revenue by segment for Q3 2011.
iPhone: Fortunately for AAPL, there are very few current iPhone and iTunes users who will switch to other phones. Owners of AAPL products, through iTunes, have been accumulating music libraries for nearly a decade. Many people have poured hundreds to thousands of dollars building their personal libraries. Until you are able to put your iTunes library onto a competitor's phone, AAPL will hold a permanent chunk of phone users. I consider the potential of losing iTunes exclusivity and being able to listen to your library of music on any competitor's device AAPL's greatest threat. Without a substantial change being made to the iPhone, quarterly units sold should cap around 30 million.
iPod: The savior of AAPL. Due to its uniqueness at the time of introduction to the market, AAPL was able to gain a crucial, temporary monopoly. Once the device caught on and people built up their music libraries, it became an indispensible part of their lives. Even if you liked a competitors mobile music device better, you already sunk hundreds of dollars and hours of time into building up your iPod. Convenience won out big here. The iPod also essentially guaranteed the success of the iPhone, as it combined your cell phone and iPod into one device. Since everyone has been combining their iPod with their phone in the iPhone, I see iPod quarterly units sold dropping to between 3 and 5 million.
iPad: A great device that fills a niche computer void. I believe sales will top out around 15 million units for Q1 2012. After this point, the iPad void will be filled. The iPad doesn't have the same "must have" connotation that the iPhone has. The iPad should settle into about 7 million units sold per quarter. There is one exception here, if the iPad is able to consume enough of the digital book industry, it could force out all competitors the same way the iPod devoured the music industry. In that case, iPad sales could soar as high as 15 to 20 million on average per quarter. I consider the chance of this to be unlikely as the Nook [Barnes and Noble (NYSE:BKS)] and Kindle [Amazon (NASDAQ:AMZN)] already have a commanding lead over the iPad.
Macs: AAPL's plan of having people get introduced into the AAPL product lines and then branching out to other AAPL products seems to be working. Macs are seeing steadily increasing sales, despite the overall PC sales issue across the industry. However, unless AAPL can do something new to draw users into the Mac lines, I see sales reaching a plateau around 5 to 6 million units sold per quarter.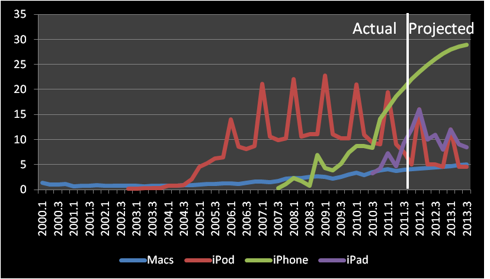 Click to enlarge
(Click to enlarge) Projected Q3 2013 units sold(in millions)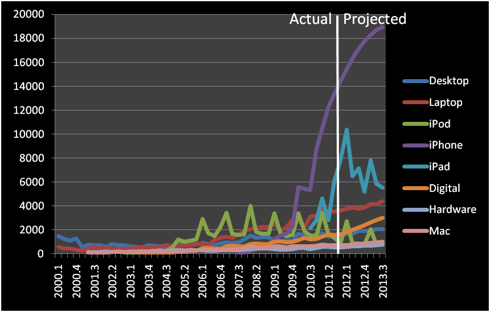 Click to enlarge
(Click to enlarge) Projected quarterly revenue by segment(in millions)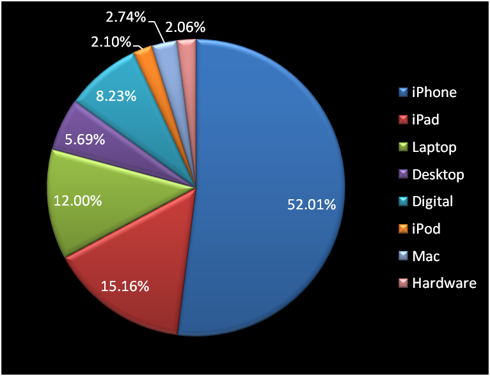 Click to enlarge
(Click to enlarge) Projected Q3 2013 revenue segments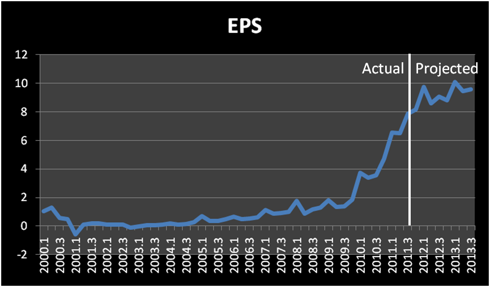 Click to enlarge
(Click to enlarge) Projected EPS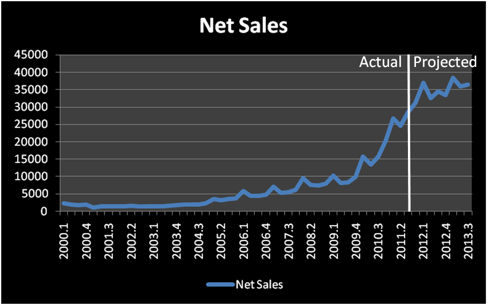 Click to enlarge
(Click to enlarge) Projected sales(in millions)
I believe AAPL's share price will continue to rise and top out just shy of $500 per share around April 2012, however by Q3 of 2013, AAPL's share price should be right around where it is now, despite increasing net sales and increasing EPS. The reason for this is, as growth slows down, AAPL's P/E will likely fall as people stop considering it a growth stock.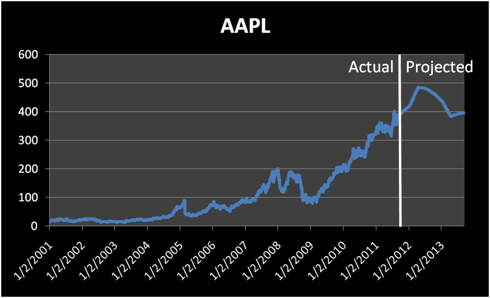 Click to enlarge
(Click to enlarge) AAPL projected share price
AAPL still has a chance to keep up its incredible pace. This can be achieved by a number of different ways, including creating new products, purchasing a smaller company, or expanding the market already occupied by AAPL products (finding a way to consume the GPS market perhaps?). One thing remains clear, if AAPL doesn't expand in some way, their P/E will drop while their share price holds steady and long term investors will be left with little share price growth over the next two years.
Disclosure: I have no positions in any stocks mentioned, and no plans to initiate any positions within the next 72 hours.