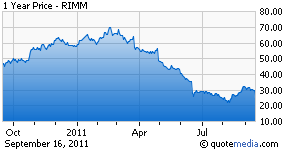 Earlier this week, I wrote an about how Research In Motion's (RIMM) upcoming earnings announcement would likely lend a surprise or two. To make my point, I asked whether or not the company was primed for growth?
We looked back recently at its first quarter earnings report, one that was considered somewhat of a disappointment for the quarter ending on May 28. This was when it reported net income of only $695 million compared $769 the year prior; so clearly some things were on the decline. But the company also said it shipped 13.2 million smart phone units and 500,000 units of its new PlayBbook tablet; which was slightly higher than what analysts were expecting. Now because guidance (at the time) came in below Wall Street's estimates for both the current quarter as well as the fiscal year ending next February I did think there was any way the company could miss such already low numbers. Because of this, I expected RIM to not only meet its lowered forecast, but beat estimates.
On Thursday, the company reported more numbers that disappointed the street and the stock received a beating for it. Though I am now long the stock, but I can't help but realize the gravity of its sequential poor performance. It is hard to imagine that this is the same company that once dominated the smart phone market and sent Palm to its grave. Now it's become time to question the company's future.
On Thursday RIM reported second quarter net income that fell by almost 60 percent to $329 million, or 63 cents a share; a significant drop from $797 million, or $1.46 a share, in the same quarter a year ago. Revenue also fell by 10 percent to $4.2 billion; much larger than what any analysts was expecting. There is really no other way to spin this except to admit that this was a poor showing of execution. Furthermore its gross profit margins dropped to 38.7 percent from 44.5 percent a year ago. Not only is the company now bleeding cash, but it reported increased inventories; mostly from poor sales of its PlayBook tablet.
During the conference call, the company's co-CEO, Jim Balsille attributed the poor sales to the company's aging line of smart phones. This is even though the company recently introduced seven new phones; a number of which are only updates to older models. I have to say that this has been a huge disappointment; and that's putting it mildly. But the question now is, where does the company go from here and can it recover?
Assessing RIM's value
I said this previously, making top line growth projections of any company is arguably the most significant aspect of determining the potential growth of its stock. The reality is, unless one has intimate knowledge of how the company takes orders and makes shipments to distributors, there is really no accurate way to assess sales forecasts, at least not close enough to pinpoint the companies exact figures. What is remarkable is that many still attempt to make these forecasts 12 months to 5 years out. I have found myself in such a predicament for RIM now that I am long the company. Although I have developed some optimism, I am left trying to figure out ways to secure value in the stock. To do so, I have tried to answer three key questions:
1. How quickly is the market for the RIM's products growing?
2. What is the company's share of the market?
3. Going forward, is the company likely to win or lose market share?
I think these questions were more than answered in the conference call; and they were not good. I am not one to ever be afraid to admit when I am wrong, but clearly in this case, I was wrong in my optimism. I saw and stock that was trading at a fair price and immediately ignored some concerns regarding its fundamentals; one that I have beaten to death.
It is now more than likely that the recent run that the stock had seen was fueled by unrealistic expectations and just maybe the shares were then overbought. Clearly Apple (AAPL) and Google (GOOG) will continue to remain the dominant players in RIM's space for the foreseeable future. But what does that mean for RIM?
Summary
I have to believe that the shares still have some upward potential, although I suspect that many investors will feel pressure to sell out of their positions in light of its recent announcement. It will be very hard to blame investors in this case. After all, this has not been a very good year at all for the company. There have been many who have been more than patient and waiting for that light at the end of the tunnel in the midst of so much disappointment. Right now as a long I can only see a light that is getting dimmer each quarter.
Disclosure: I am long RIMM.