VMware (NYSE:VMW) is one of the most popular internet/cloud stocks in the stock market, and has done well for its shareholders since its partial spin-off from EMC (EMC). VMware is growing rapidly, for it is uniquely positioned to address the secular shifts toward both virtualization and cloud computing. But, at nearly 74 times is TTM earnings, and 70.5 times its forward earnings, VMware is definitely not a value stock. For investors unnerved by VMware's valuation, its parent company is valued much more reasonably.
EMC Corporation is the world's largest data storage company, as well as the majority owner of VMware, owning around 80% of the company. However, EMC trades at just under 24 times reported earnings, and 17.8 times forecast earnings, which is far more reasonable than VMware. While it is true that EMC is growing slower than standalone VMware, it is still growing quickly. EMC, like its virtualization subsidiary, is riding many secular tides to record revenue and earnings. EMC's ability to provide customers with both data storage and virtualization is a large part of what allows EMC to continue to gain market share. During the second quarter conference call, when EMC reported record earnings and revenue, Joe Tucci, EMC's CEO, stated that "we still believe that overall IT spending will be up in the 5% to 7% range this year, and we still firmly believe that the core areas where EMC and VMware have leading technologies, namely, in virtualization and in cloud OS, in information storage, information protection and information security and in Big Data are all technology areas, which will grow substantially faster than a 5% to 7% average." EMC is growing far faster than the overall market, and its expanding margins are proof that EMC's products are resonating with customers.
While EMC did note weakness in Southern Europe, that region represents a very small amount of EMC's business, and short of a complete breakdown of the European economy, EMC should be able to leverage its secular strengths both in Europe and across the world.
One may wonder why invest in EMC when VMware is growing far faster as a stand-alone company. The answer is pure mathematics. For investors wishing to be exposed to VMware's growth, but wary of VMware's price, EMC is the logical choice. It is true that VMware has outperformed its parent since its IPO, rising by over 66% compared to its parent's 27% rise. But VMware's ride there has been far more volatile. And over the past year, the two are virtually tied in terms of stock performance.

Click to enlarge
(Click to enlarge)
EMC clearly has the momentum of both Big Data and the cloud behind it, which is what gave it confidence to increase its outlook for 2011. EMC now sees itself earning $1.07 per share in 2011.
EMC has an excellent balance sheet, with over $6 billion in net cash, and it had free cash flow of $1.6 billion in the most recent quarter.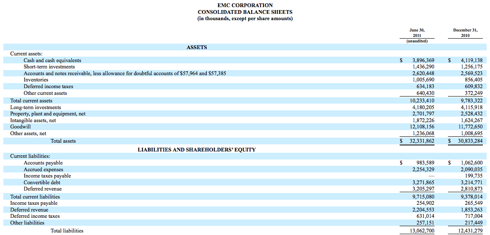 Click to enlarge
(Click to enlarge)
EMC is allocating capital across almost every channel. It is investing in growth for the future, gaining market share, and buying back billions in stock. We see these trends as continuing for the foreseeable future, which is what makes us think EMC is an excellent investment. Analysts agree with us, for the Reuters average price target is $31.39, which is about 40% higher than current levels. S&P values EMC at a conservative $26, Credit Suisse sees the stock at $27, and Argus at $32. We think the current market hysteria presents a real opportunity for investors to add to or initiate a position in the leading data and virtualization company at a great price.
Disclosure: I am long EMC.