Arbitron (NYSE:ARB), Edison Research and Scarborough Research teamed up to conduct a July 2011 survey of 1,505 adults, 18 years of age and older. The trio titled the study, The Road Ahead: Media and Entertainment in the Car.

Here are some highlights from the study as they pertain to Sirius XM (NASDAQ:SIRI), Pandora (NYSE:P) and Apple (NASDAQ:AAPL).

Click to enlarge charts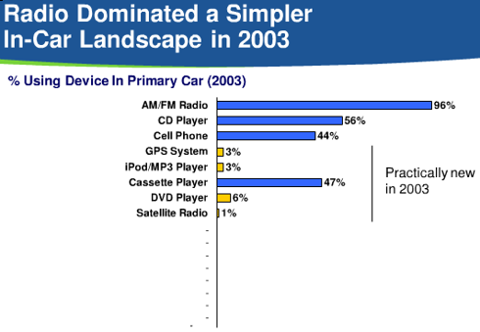 Looking at the evolution of in-car media between 2003 and 2011 proves somewhat telling. First, Apple is the clear winner. Just look at the growth in that iPod/MP3 number. And, even though a mobile stream of Pandora did not exist in 2003, it sits just two percentage points behind Sirius XM despite existing as an in-dash option in far fewer new cars than the satellite radio provider.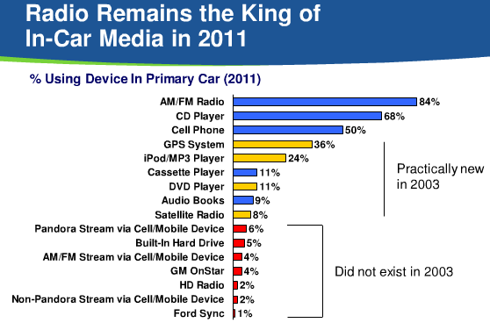 Click to enlarge
The following slide shows what we all know: Sirius XM users remain incredibly passionate about the service. Given this level of passion, however, I would expect much more robust adoption. Clearly, the fact that you must pay for Sirius XM provides a major obstacle, particularly when you consider that terrestrial radio is not only free, but provides similar and comparable content. The bigger issue, however, lays with Sirius XM management and its apparent unwillingness to aggressively market its product to the masses. As a prospective investor in the company's stock, that should be of paramount concern.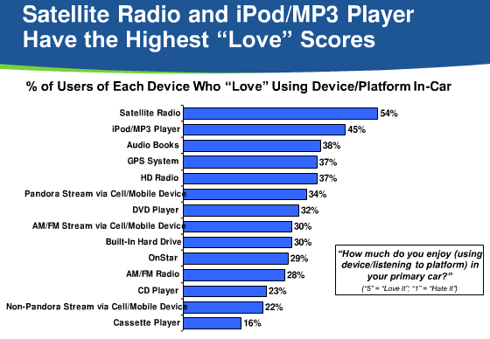 Click to enlarge
It's exactly this lack of aggressive marketing and slower-than-molasses roll out of satellite radio 2.0 - not to mention
slow revenue growth
that, even with increased guidance,
falls short of analyst's estimates
- that will keep SIRI from surpassing the all-important psychological level of $2.00, barring some type of M&A activity. And even with a takeover, I doubt the premium paid will end up much higher than that level.
If you have on-paper gains in SIRI it's likely time to take them. The longer you wait for another run past $2.00 and toward $2.44, the more those gains will fade away. If you are sitting on a loss, cut them now. I am glad that I did that at around $2.15 back in late July. And if you are a new investor, plenty of companies exist with massive growth potential in this broad space going forward.
AAPL, which appears poised to knock out its key psychological level of $400, once and for all, tops the list. If you have a few grand to invest, don't let the size of the position influence you. Ten shares of AAPL makes more sense than a couple thousand of SIRI any day of the week. The dreams of SIRI penny stock riches are a thing of the past. Don't chase them. While the lure of owning 2,000 shares rather than 10 can be strong, it's most often a losing proposition.

Disclosure: I have no positions in any stocks mentioned, and no plans to initiate any positions within the next 72 hours.