Since the beginning of August, fear is everywhere palpable in the market as measured by three key indicators.
VIX

:

a

measure

of

volatility

for

the

S

&

P

500

Index

(NYSEARCA:SPY)

traded

above

30

since

the

beginning

of

August

.

Yesterday

it

closed

at

31.97

.

iShares

Barclays

20

+

Year

Treasury

Bond

ETF

(NYSEARCA:TLT):

Yield

on

long

-

dated

Treasuries

are

at

record

lows

,

with

TLT

making

a

new

high

for

the

year

at

$

114.93

.

SPDR

Gold

Trust

ETF

(NYSEARCA:GLD):

Gold

still

trades

near

record

high

levels

around

$

1

,

800

,

even

though

the

metal

corrected

sharply

following

the

recent

dollar

rally

.
Here we present 3 arguments supporting a short-term bullish case on the S&P 500 Index:
1. Technicals: The S&P 500 Index (SPX)(SPY) made a short-term bottom at 1100 following a sell-off climax on August 9th, 2011. Since then, the market is behaving very well technically. It has successfully tested the bottom at 1100 twice and is in the process of making higher lows. New resistance is at 1235 and interim support at 1153.
(Click chart to enlarge)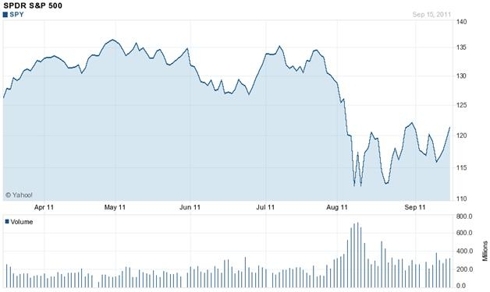 Click to enlarge

2. Policy Response: The Fed re-opened dollar swap lines with major central banks around the world (ECB, BoE, BoJ) to avoid a repeat of 2008 when credit markets froze after Lehman's collapse. In turn, central banks in Europe and Japan will loan dollars to local banks at a 1% premium over the banking rate so that these institutions can continue funding the operations of their corporate clients.
The coordinated action from central banks clearly provides relief to the European banks and buys the European countries some time to put their houses in order.

3. Ultra-bearish sentiment and Fundamentals: Sentiment has turned ultra negative with redemption from equity funds and consumer and business confidence at its lowest since 2009, especially in the eurozone. In addition, value investors may be tempted to jump in as the market is cheap on a fundamental basis. Assuming $100 earnings for the S&P 500 level, the market trades around a multiple of 12, which is cheap by historical standard.
In summary, we believe that a short-term bullish move by the S&P 500 is in the cards (especially pay attention to whether the 1235 resistance level or 1153 support levels get violated).
Investors should put the short-term bullish call in perspective however. In the long-run, as we pointed out in a previous post, we remain cautious or even bearish as we still believe that debt default is unavoidable for Greece and economic growth in the US will remain anemic. But that's not for now!


Disclosure: I am short TLT.