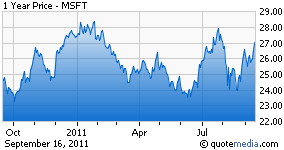 For Microsoft (NASDAQ:MSFT) the launch of a new version of Windows is always a huge earnings event.
Windows 7 had estimated sales of 450 million units, more than double the total for Windows Vista. This week CEO Steve Ballmer predicted 350 Windows devices will be sold this year alone.
The first formal preview of Windows 8 was held this week at the company's Build conference for developers. Developers are a key target for Microsoft, whose success has always been focused on high-quality developer tools.
The company hopes the developers can help it beat its Windows 7 sales record with 8, which will have separate interfaces for tablets and standard PCs, the former being called Metro. The company was also quick to brag that the new OS will run on ARM-based systems, not just those written for Intel (NASDAQ:INTC) chips.
But once again the company may be trying to pack too much into one OS, raising hopes that are then dashed. Reporters have already found out that "legacy apps" for the Intel-based Windows won't run with ARM-based Windows systems.
Windows 8 will be two operating systems, one a traditional Windows interface with the Internet Explorer browser and all the old plug-ins, the other a Metro interface for tablets and phones that's more limited but loads immediately.
Did I say there are two Windows 8s? Make that three. Developers are getting a toolkit designed for building applications that will run in Microsoft's Azure cloud. Windows 8 will be the first OS designed for clouds, servers, PCs, tablets and phones, spanning the globe of computing platforms.
But is that trying to do too much? Confusion between Metro and the standard interface led to a BBC headline that support for Adobe Flash, a popular browser plug-in, was being dropped.
Galen Gruman of Infoworld says Microsoft's claims are overblown, a bait-and-switch:
Microsoft has played this "we didn't actually say that" game before. And the lack of access to Microsoft Windows execs at Build and the PR people who knew nothing (they didn't even have the session schedules) should have been a red flag that a hiding act was in progress.
Holding the Windows family together may well prove impossible. Microsoft is already working on high definition tablets, meaning Metro and the "classic" operating systems already have different development paths.
And Metro will have a big target on its back. Industry wags like John Dvorak are already dumping on it, calling it a "kiosk" interface.
A lot more negative publicity will be coming out, as 500,000 copies of the developer preview have already been downloaded. Add that to growing Wall Street disenchantment with Ballmer's leadership and it's going to be a bumpy quarter for Microsoft.
Disclosure: I have no positions in any stocks mentioned, and no plans to initiate any positions within the next 72 hours.