If you've been a reader for years, you know that I regularly call out "perma-bull" or "perma-bear" thinking. I don't believe that it is sensible to listen to a financial adviser who always sees the glass as half-full or follow someone who always sees the glass as half-empty.
At the same time, I actively manage money for my clients - I am not a static asset allocator. And that means I must make information-based decisions about the percentage of riskier assets to hold. Specifically, I make changes to the asset allocation when there is an abnormally high level of downside risk as well as when upside opportunities arise.
For example, I might reduce a moderate growth portfolio down from a 65% growth/35% income to an allocation comprised of 40% growth/45% income/15% cash. In contrast, there may be times when I bump up the moderate growth target allocation from "65/35″ to "72/28."
As an active manager of exchange-traded investments, I use a wide variety of ETF indicators to make my decisions. And while those choices may make me seem more "bullish" or "bearish," I'm less apt to describe myself as a member of either camp.
More accurately, my chief responsibility is to minimize the risk of loss. Exchange-traded stock index funds take care of their upside performance quite well, but they won't get you out of a jam by themselves. Active stewards of risk, however, control investment outcomes - they make certain each outcome is either a big gain, a small gain or a small loss ... no big losses!
It follows that, in light of a staggering five-day market upswing of 5.4% in the S&P 500, perspective is warranted. Specifically, here are three reasons why stock ETF investors might want to refrain from jumping back into the shark tank with both feet.
1. Significant Underperformance For Emerging Markets: It's one thing to view emerging market volatility as "too much" for a low-risk portfolio. It's another thing to see emergers fall further on the downside, yet barely rise on the upside.
Granted, some of this is due to the recent safe haven seeking of U.S. dollars over Asian currencies and other emerging market currencies. What's more, emergers may have more at stake in a potential European recession.
Nevertheless, the P/Es for many key ETFs from the SPDR BRIC ETF (NYSEARCA:BIK) to the iShares South Korea Fund (NYSEARCA:EWY) are surprisingly low in relation to U.S. exchange-traded index funds. And the performance gap is wider than at any point over the last year. (see the chart below)
In many instances, these are healthier economies with superior growth prospects, low debt, trade surpluses, low unemployment and a leash on inflation. It follows that, until emergers rally convincingly, it's difficult to have confidence in the sharp U.S. equity move higher.
Click to enlarge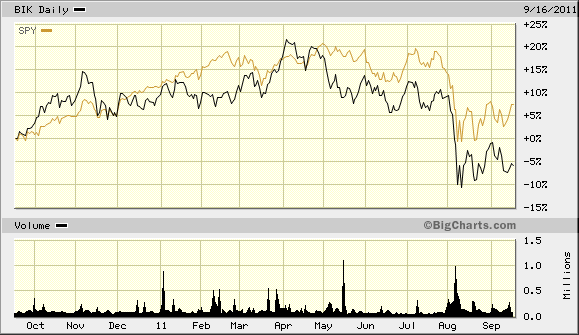 2. Canada And Australia: Even if one is quick to dismiss the emerging market underperformance, how can one be quick to dismiss the strongest economies (at present) in the developed world? Australia and Canada are both projected to grow at a faster clip in 2012 than the U.S. Canada and Australia both have a better employment situation.
Nevertheless, the S&P SPDR Trust (NYSEARCA:SPY) picked up 5.4% in five days, while iShares MSCI Australia (NYSEARCA:EWA) logged a feeble 0.4% and iShares MSCI Canada (NYSEARCA:EWC) registered a paltry 0.8%. This one can't even be blamed on faltering currencies, as the CurrencyShares Canadian Dollar (NYSEARCA:FXC) gained roughly 1.5% on the U.S dollar over the week.
One might articulate that energy rich Canada (EWC) and materials rich Australia (EWA) are slumping due to a slowdown in the global growth story. Fair enough. Yet if that slowdown is real, it would hit U.S. equities sooner or later. Once more, without these healthier developed world countries rallying, one would need to curb enthusiasm for the five-day U.S. phenomenon.
3. Commodities Still Faltering: This week was "risk on" for the U.S. alone. And while that may have a great deal to do with the dollar gains, relief over Europe and/or perceived safety of U.S. multinationals, there's no ignoring global growth fears.
PowerShares DB Base Metals (NYSEARCA:DBB) was down -1.0% over the week. iPath DJ Copper (NYSEARCA:JJC) lost -1.7%. PowerShares DB Agriculture lost -3.1%.
Commodity stocks, which do not necessarily correlate with the underlying commodities and frequently correlate with the equity markets themselves, also struggled. Market Vectors Coal (NYSEARCA:KOL) gave up -0.6%, Market Vectors Rare Earth Miners (NYSEARCA:REMX) fell -1.1% and copper-heavy Chile via iShares MSCI Chile lost -4.3%.
We can blame the dollar for some of the angst. Yet the evidence suggests that, even with sovereign debt band-aids, a return to bull market form will require foreign market participation; that is, without global economic growth showing definitive signs of improvement, U.S. stocks can only climb so far.
Disclosure: Gary Gordon, MS, CFP is the president of Pacific Park Financial, Inc., a Registered Investment Adviser with the SEC. Gary Gordon, Pacific Park Financial, Inc, and/or its clients may hold positions in the ETFs, mutual funds, and/or any investment asset mentioned above. The commentary does not constitute individualized investment advice. The opinions offered herein are not personalized recommendations to buy, sell or hold securities. At times, issuers of exchange-traded products compensate Pacific Park Financial, Inc. or its subsidiaries for advertising at the ETF Expert web site. ETF Expert content is created independently of any advertising relationships.