In my previous article on silver, I highlighted silver's schizophrenic personality: it is both an industrial commodity and a monetary asset. This dual role makes it a trickier commodity to trade because it responds to conflicting market events. However, I've identified two scenarios that, if combined, should be bullish for silver prices going forward.
The Perfect Storm for Silver Prices
1) The North Atlantic Central Banks Keeps Printing Money
The North Atlantic Economies (Europe and the United States) are far from getting their financial houses in order. With several European countries on the brink of an economic meltdown, the central banks are throwing everything they can to prevent such a catastrophic event. This includes putting the printing presses on overdrive.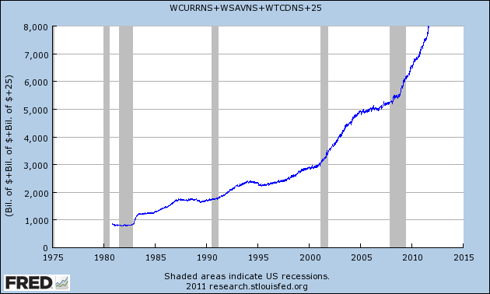 Total Money Supply in the United States. Source: The Federal Reserve of St Louis (Thanks to hyperinflation for sharing)
Both the Federal Reserve and the European Central Bank seem to have an insatiable appetite to keep printing money, as can be seen by the Fed's increase in total money supply in recent years. This increase in money supply is directly correlated to increases in precious metals, specifically gold and silver, as investors seek hard assets from these inflationary pressures.
Therefore, if the central banks in the North Atlantic economies keep a loose monetary policy, that is bullish for silver (and gold) as investors seek to protect themselves from inflation.
2) Asian Economic Growth and Industrial Demand Continues
The majority of silver demand (51%) comes from industrial applications. Of this quadrant, demand from Asian economies (particularly Chindia) is a main driver, with estimates varying from 40%-60% of total industrial demand. If Asian economies don't fall into a recession and maintain their growth (as is expected), that is another bullish sign for silver.
Chinese Percentage GDP Growth in Constant Prices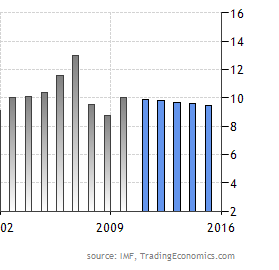 The IMF predicts Chinese GDP to remain within a 9-10% range over the next 5 years. While China won't determine silver prices, Asian industrial growth in general--and Chinese growth in particular--will provide major support for silver prices going forward.
Top Recommendations for Rising Silver Prices
1) Silver Wheaton
One of my favorite names in the silver space remains Silver Wheaton (NYSE: SLW). SLW is a certifiable cash cow. Part mining company, part bank, its modus operandi is to help mining operators finance large-scale projects. In exchange for an upfront cash payment, SLW buys the right to purchase the mine's silver output at a fixed price of $4/ounce for the life of the mine.
With no additional capital cost, SLW is able to generate tremendous amounts of cash flow since its costs are fixed at $4/ounce. Everything above that flows to the company's bottom line. That's how it's able to generate operating margins of 77%! While it's not a bargain right now at $40 I believe its long-term prospects are bright. If it dips to $35-37/share it's a good buy in my opinion.
2) Fortuna Silver Mines
It's no secret that the biggest silver producers out there are Mexico and Peru. Fortuna Silver Mines (FVITF.PK)--soon to be uplsited to the NYSE (09/19/2011) under the symbol FSM--has two quality silver assets in both countries: the Caylomma mine in Peru is already producing and has over 4.1 million ounces of Proven & Probable Reserves (including some gold); and the San Jose mine in Mexico with 3.7 million ounces PPR.
Since cash costs are extremely low, coming in at about $4/ounce, Fortuna is able to generate operating margins above 40% (YTD figures). And I expect future value generation to come from an aggressive exploration program: Fortuna owns 12,000 hectares in one of the richest metal deposit areas in Peru. Exploration is already underway, and I expect a big boost for the stock price if large deposits are discovered. The common is already up 101% yoy and I expect even more upside, especially if Asian industry keeps growing and Western central bankers keep printing money.

I'm also keeping my eye on Alexco Resources (AMEX: AXU) which has operations in the Canadian Yukon, and Great Panther Silver (AMEX:GPL) which has some great assets in Mexico.

Of course, outside of equities you can always invest in the ETFs: the iShares Silver Trust (SLV) and the Sprott Physical Silver Trust (NYSEARCA:PSLV).

Disclosure: I have no positions in any stocks mentioned, but may initiate a long position in FVITF.PK, AXU, GPL over the next 72 hours.