Pier 1 Imports (NYSE:PIR) operates as a specialty retailer of home furnishings and gifts in North America, with over 1,000 locations across the continent. The stock has had a truly impressive run since the 2009 market crash, as PIR, which closed Friday at $11.20, now trades at more than 100 (yes, one hundred) times its March 13, 2009 all-time low of 11 cents per share.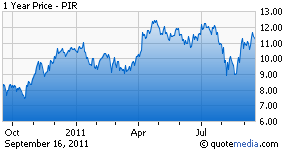 Pier 1 management deserves much of the credit for the rebound, as they have executed an impressive turnaround. Operating income was negative each fiscal year (ending February) from 2005-2010, before the company finally broke through in 2011. (The company's reported full-year profit for 2010 was driven by a gain in the retirement of convertible debt, which overcame a small loss from the company's operations.) The company has held the line on expenses, cut occupancy costs almost 10%, and improved merchandise margins from 49% in fiscal year 2010 to 59% for the first six months of fiscal 2012. Pier 1 has also improved its balance sheet, reducing $185 million in long-term debt in February 2010 to less than $10 million as of August 31st. Management is not finished, either; the company announced a three-year plan in April, which involves capital investments in store upgrades, technology, and the pier1.com website, along with an authorization to repurchase shares up to $100 million (which has nearly been completed; CEO Alexander Smith noted on the second quarter conference call that the board was considering an additional authorization).
The company announced strong second quarter earnings on Thursday, only to see the stock fall 2% (and nearly 6% from the open). Investors may have been looking for more, as the stock had already jumped nearly 10% when the company pre-announced those results September 1st. Revenue, merchandise margin, and gross profit margin all rose, with comparable store sales up 10.8%, after an 11.2% rise in the year-ago period. PIR now has trailing twelve-month earnings of 90 cents per share, and a consensus analyst estimate for fiscal year 2012 of 84 cents per share, putting the trailing P/E at 12.4 and the forward P/E at 13.3. Backing out the $1.63 per share in net cash, those numbers drop to 10.6 and 11.4, respectively.
The company's strong recent performance is balanced, however, by long-term questions. How long can the company continue double-digit comps, while facing the headwinds of a struggling US consumer and a still-moribund housing market? Will operating cash flow cover the expanded capital investments and additional share repurchases, particularly if the economy stays sour? Will the company continue to hold the line on expenses? Can the company maintain its new level of merchandise margin if inflationary pressures drive up input costs for its vendors?
There is no doubt that Pier 1's management deserves congratulations for a job well done -- so far. They have executed the type of resurgence that struggling companies always plan and rarely pull off. CEO Smith's confidence comes through on the conference call; here's a sample from his projection for the second half of the year:
Our fabulous holiday merchandise hits the stores from October 9 onward, with our transition complete by October 20. And as I said this time last year, I can hardly wait. We are very good at Christmas.
But, as a value investor, I am looking for a bit more margin of safety than Pier 1 currently offers. Given the broad economic pressures, the low level of housing starts -- which provide fresh space for Pier 1 merchandise -- and the company's still fairly recent history of unprofitability, I'd like to see more value in the earnings and cash flow side. Free cash flow has actually been slightly negative this year, due to a planned buildup in inventory, which should reverse in the second half. 2010 FCF was $111 million net of interest payments, or slightly less than 10% of enterprise value, which is solid, but not spectacular.

The good news for potential PIR investors is that a margin of safety may develop, and quickly. PIR has been an exceptionally volatile stock, with a beta between 4.5 and 5.1, depending on the source. And this last two days may have started a downward reversal from near the top-end of its six-month trading range: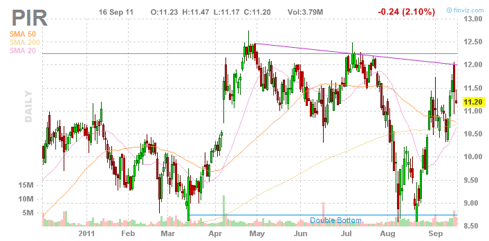 Click to enlargePIR chart courtesy finviz.com

It may be too much to ask for the stock to return to its March and August levels just north of $8.50 a share. My personal target would be somewhere around $10.00, at which the company will trade at an enterprise value-to-forward earnings ratio of 10, with free cash flow representing a double-digit percentage of its enterprise value. I'll be watching the stock closely over the next few weeks, and so should investors.

Disclosure: I have no positions in any stocks mentioned, and no plans to initiate any positions within the next 72 hours.