By Justin Dove
The International Data Corporation (IDC) reported on Wednesday that tablet sales increased 88.9 percent over last quarter and 303.8 percent over the same quarter last year.
The biggest news from the IDC's Worldwide Quarterly Media Tablet and eReader Tracker was that Android tablet share fell to 28.6 percent from 34 percent in the previous quarter. While the Google (Nasdaq: GOOG) operating platform soared in its smartphone market share, Apple (Nasdaq: AAPL) continues to dominate the tablet market.
Apple's iPad gained 2.6 percent and Research In Motion's (Nasdaq: RIMM) Playbook captured 4.9 percent of the tablet market.
The Good News for Google
This news seems like another hit to Google's Android platform, which came under fire recently. A wave of patent infringement suits stunted the sharp growth Android experienced last year.
However, Google is working on combating the issue. It purchased Motorola Mobility (NYSE: MMI), acquiring its 25,000-plus issued and pending patents. Yesterday, Bloomberg reported that Google added 1,023 more patents from IBM (NYSE: IBM) on August 17, after buying up 1,030 from IBM in July.
Adding to the growing strength of Google's patent portfolio is the upcoming release of the Amazon (Nasdaq: AMZN) Kindle tablet. The tablet is expected to be a sort of super ereader that carries Amazon's tweaked version of Android. With a $250 price tag, and possibly a free year of Amazon Prime included in the purchase, it's possible it could greatly increase Android's tablet market share.
…And the Bad News for Google
Amazon's use of its tweaked version of Android will be bittersweet for Google. Although it will technically increase Android's market share, Amazon reportedly bypassed the Android Market. Amazon will use its own Amazon Appstore, which will take revenue away from Google.
It could also lead to other Android users, such as Samsung or HTC, developing their own app stores to bypass the Android Market.
An RBC Capital Markets analyst also made a prediction that Windows 8 will give Microsoft (Nasdaq: MSFT) a 15-percent tablet market share by 2014. The Redmond-based company recently offered a sneak peak into the next generation of its Windows software due towards the end of 2012.
"Microsoft's tablet strategy leverages both desktop and mobile," Robert Breza wrote in a note to investors. "Unlike traditional Windows 7, 'Smart Tiles' leverages multi-touch for a clever way to conveniently access most frequently used files and data."
Spread May Continue
Apple's dominance in tablets and the much-anticipated iPhone 5 (on the way later this year) bode well for its stock. It certainly looks poised to further distance itself from Google through the year's end.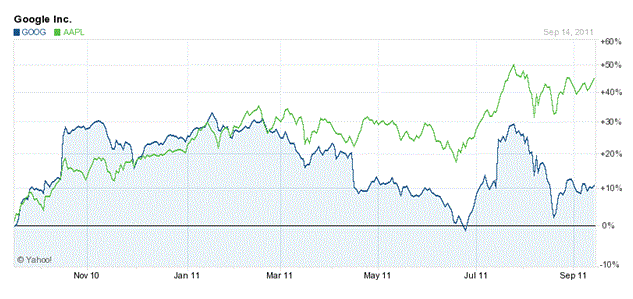 Also, keep an eye on how the Windows 8 platform is received. As Breza says, it could inspire newfound confidence in investors for Microsoft: "Windows 8 tablets could be a valuation catalyst for the stock if investors begin to see Microsoft regaining leadership in the post-PC era."
Disclosure: Investment U expressly forbids its writers from having a financial interest in any security they recommend to our subscribers. All employees and agents of Investment U (and affiliated companies) must wait 24 hours after an initial trade recommendation is published on online - or 72 hours after a direct mail publication is sent - before acting on that recommendation.