Effective December 2011, Citi (NYSE:C) is increasing the monthly fee on its basic checking account by 25%. The new fee is now $10, up $2. Customers can avoid the fee if either a minimum balance of $1,500 is maintained, or if they sign up for direct deposit and online bill pay.
The monthly fee of $20 for the premium account is still $20, but the minimum balance for waiving that fee is now $15,000 (up from $6,000).
Citi is betting that the customer is not going to do any homework to look for alternatives. Any asute consumer can switch to USAA, a local credit union, or even a local bank to avoid paying these fees. Citigroup's bet that it can implement the higher fees without losing customers is likely to backfire, much like the poorly thought-out Netflix (NASDAQ:NFLX) price increase. Netflix recently announced that it expects to lose 1 million customers in the current quarter as a result of a price hike.
With Citigroup last trading at $28.99, down from a peak of $51.50 this year, Citi's market capitalization is $84.59B. In comparison, the market capitalization for Bank of America (NYSE:BAC) is $73.27B. Bank of America pays a slightly larger dividend (0.5% vs 0.1% from Citigroup). Jitters on the solvency of banks in Europe will exasperate a decline in both Citi and Bank of America shares in the weeks ahead. Citi's shares are likely to fall at a faster rate than Bank of America with this price hike for the following reasons:
The sector is under pressure to replace lost revenue as a result of the new financial industry regulations

Consumers are more liberated than ever: As with Netflix, consumers immediately switched to alternative offerings, resulting in a massive share drop for Netflix

Consumers have an alternative: credit unions and smaller local banks

Government regulations burdened the very people it was meant to protect. Revising these regulations will be slow, if not impossible
As long as Bank of America does not follow suit with the fee increases, Citibank will face greater selling pressure in a sector that is already declining faster than the S&P 500 index.

Citibank and Bank of America Year-to-Date: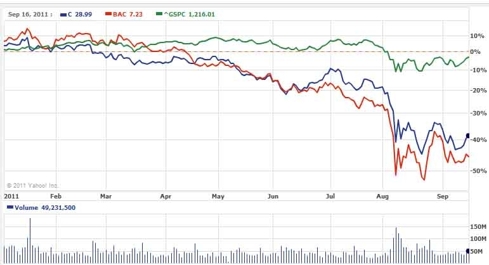 Disclosure: I have no positions in any stocks mentioned, and no plans to initiate any positions within the next 72 hours.