Research in Motion's (RIMM) Blackberry has been a major player in the smartphone market for a long time. But recent challenges like the Apple (NASDAQ:AAPL) iPhone have taken their toll.
The question is: Will the Blackberry ever be overtaken or made obsolete by another phone?
Research in Motion has been developing and designing the Blackberry since 1996. The device got its fruity name after someone noted that the keys on the original Blackberry resembled groups of seeds. After going over several seed based fruits, they settled on the Blackberry name because most of the devices were black at the time.
Blackberrys are known primarily for having more message features than most smart phones. Blackberry Internet Service allows the device to use two thirds less data transfer than any other smartphone while still providing the same amount of information. Blackberry Internet Service is available in more than 91 countries on over 500 mobile service operators.
The Blackberry's ability to display email in real time, anywhere wireless service is available has been described as highly addictive, earning the device the nickname of Crackberry.
RIM posted another weak set of results for its Q2 2012 quarter with a mixed guidance for the next quarter. Stock prices plunged 20% as confidence on the tablet is low and uncertainties over the next Blackberry's generation remain.
Revenues for the Q2 came at $4.2 billion, down -10% from last year, below estimates of $4.5 billion as shipments fell short of guidance at 10.6 million smartphones and 200 thousands Playbook tablets. Adjusted EPS came at $0.80, around 10% below consensus.
For the next quarter, the company expects to ship a record of 13.5 to 14.5 million units of Blackberries, thus revenues is set to be in the $5.3 to $5.6 billion, which is encouraging for the new product generation. However, gross margins should decline faster than expected, as marketing expenses should increase to support the Playbook and the new launches, the company sees 37% gross margins, the market was looking for something like 39%. As a result, the guidance for the FY 2012 now brings to the low end of previous EPS forecast of $5.25 / $6.0. The consensus has already adjusted and is currently below current guidance for the period at only $5.02.
Research in Motion observed a massive multiple contraction over the past years on the back of several issues such as : Increasing competition in the smartphone arena (iPhone), and sovereign risk associated with some countries asking for security disclosures over RIM's encryption.
When considering only the current expectations for RIM, the stock looks cheap : PER of 5x, no debt, near $3 billion of cash and investments in balance sheet and free cash flow yield beyond 15%. RIM shares are cheap, but will it continue to be cheap in the long run.
What Has To Be Done
For the sixth straight time in three years, Apple's iPhone ranks highest in customer satisfaction for smartphones, according to J.D. Power and Associates' "2011 U.S. Wireless Smartphone Customer Satisfaction Study". HTC, maker of both Android and Windows smartphones, is second.
J.D. Power does the smartphone and "traditional mobile phone" satisfaction studies twice a year. The smartphone study is based on experiences reported by 6,898 smartphone owners; the traditional phone study, on 8,775 cellphone owners; both studies were done between January and June.
In order of importance, the key factors of overall satisfaction for smartphones are: Performance (35 percent), ease of operation (24 percent), features (21 percent), and physical design (20 percent). For traditional mobiles, it's: Performance (31 percent), ease of operation (24 percent), physical design (24 percent), and features (20 percent).
click on image to enlarge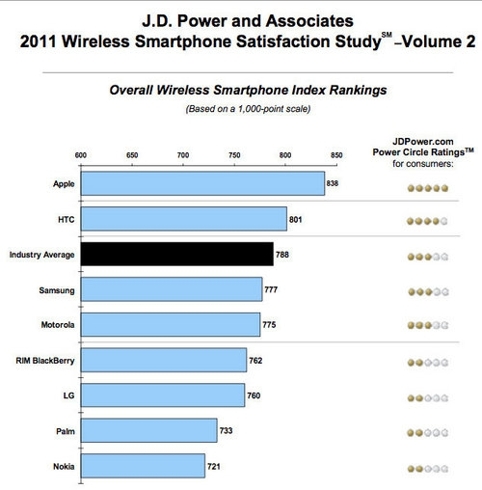 Some Advice For Blackberry
Size — both of phones and their screens —matters greatly, giving heft (so to speak) to "the old adage that 'thinner is better,' " says J.D. Power. Highest customer satisfaction is with smartphones that don't weigh more than 5 ounces and are less than .45 inches thick.
Touchscreen-only smartphones "generate considerably higher satisfaction with ease of operation (817 points) than either QWERTY-only based devices or those that have both a touch screen and QWERTY functions (785 and 782 points, respectively)," J.D. Power says.
What Else

Another way for RIM to create a hype and gain market share is to promote their Blackberry Developer Days or make it worthy for developers to switch from iPhone to Blackberry development.
The BlackBerry App World is relatively small compared to Google's (NASDAQ:GOOG) Android Marketplace and the Apple App Store.
Android Marketplace:
Number of Apps: 250,000 apps (as of July 2011)
Revenue 2010: $1.02 Million
Total Downloads: 3 Billion (as of May 2011)
Apple App Store:
Number of Apps: 425,000 apps (as of July 2011)
Revenue 2010: $1.78 Billion
Total Downloads: 15 Billion (as of July 2011)
BlackBerry App World:
Number of Apps: 38,256 apps (as of July 2011)
Revenue 2010: $1.65 Million
Total Downloads: 1 Billion (as of July 2011)
Conclusion
There are enough opportunities for RIM to catch up with the leaders in the smartphone arena. Only keen management decisions and of course some luck will lead RIM to the big leagues again. Blackberry has features that are unique and have a clear advantage over other smartphones. Maybe RIM has to talk with Nokia and create a powerhouse of technology.Make it Happen!
Disclosure: I have no positions in any stocks mentioned, but may initiate a long position in RIMM over the next 72 hours.