Bluntly, I've lost faith in whatever RIM's management have to say. Amateur hour is over. It is time to show me the money.

This was once my favorite Canadian stock before Q2 earnings....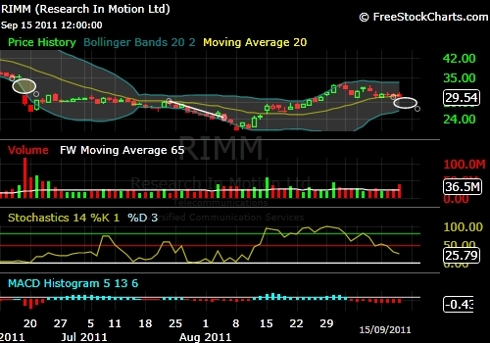 Click to enlarge

Based on my warnings here, here, and my last article here, was it really a surprise what happened after they announced Q2 2011 earnings? So, what is fundamentally wrong with RIM? Given the traditional valuation metrics, it certainly appears to be undervalued and misunderstood.

A bit of a perspective...let us revisit what management said during the last earnings results:
"We believe that with the new products scheduled for launch in the next few months and realigning our cost structure, RIM will see strong profit growth in the latter part of fiscal 2012."

What RIM shareholders need to keep in perspective is that this is the same management that guided results down by $1 BILLION and still has the audacity to spin the results as per the sampling below:
BlackBerry 7 smartphones launched on schedule and have been enthusiastically received by our partners and customers for their blend of technical performance and industrial design. So "enthusiastic" that they guided lower and have now taken ASP off their quarterly reporting.

Demand for BlackBerry smartphones was strong across all regions. Estimates of 13M units in Q3 is considered "strong"? Wow...what crackpipes are these guys smoking?

Q3 and FY2012 Outlook Revenue for the third quarter of fiscal 2012 ending November 26, 2011 is expected to be in the range of $5.3-$5.6 billion. BlackBerry smartphone shipments are expected to be between 13.5 million and 14.5 million units. Adjusted diluted earnings per share for the full year fiscal 2012, excluding the impact of charges related to the Company's cost optimization program, is expected to be towards the low end of the previously guided range of $5.25-$6.00.
Let's keep the statement above for easy future reference. Have you visited RIM's website for Investor information lately? As I've written before, "transparency" has gotten worse ever since Lazaridis' BBC meltdown. I would be extremely happy if they hit $5.25 for the full year. However, I have doubts because:
- They have sequentially bombed over the past 3 quarters both in revenues and margins.
- Playbook is NOT going to make any dent or impact given that they will now be shipping less than 300,000 units.
- The new phones with QNX will be at least 2 more quarters away.

Could we have foreseen the possible correlation between RIMM's stock price and the surging popularity of the iPhones and Androids? You be the judge:

Blackberry shipments vs iPhone shipments annually. Note that AAPL was not in the smartphone market prior to 2007.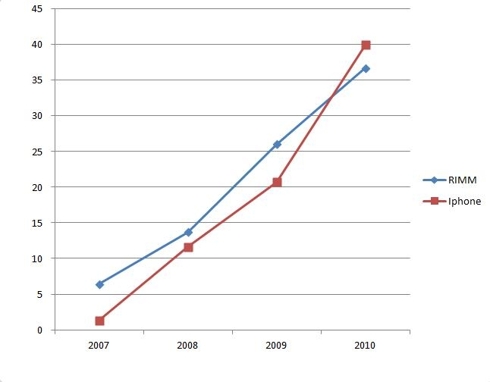 Click to enlarge

The annual closing prices for both stocks as at Dec 1st of each year...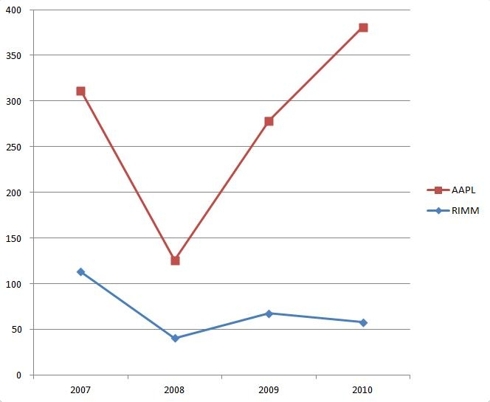 Click to enlarge

I do understand that there will be readers out there that would say "well, hindsight is 20/20, of course it would be easy to see that now!".

Respectfully, I beg to differ. For those of you who have read "Blink" would understand that at some point in time between the launch of the iPhone in 2007 and seeing the iPhone stats after one year, a logical RIM shareholder with critical thinking skills would not have dismissed the disruptive nature of the iPhone (let alone "smartphones" with MP3 players) like RIM did. Blink, written by Malcom Gladwell, essentially asserts that snap judgements can often be as good of a decision as those made with caution and deliberation. Hence, the same people who didn't see it then will not see it now.

Today, we have the same opportunity to assess both companies. Given the facts provided, either...
1. We bail on RIMM and seek other opportunities or
2. Sit tight, continue to believe the delusional opportunity despite Management's incompetence (hoping that they will finally get their act together).

Fundamentally, one needs to pay attention to the fact that RIM shipped 10.6M units this quarter; that is approximately half of what Apple shipped in their previous quarter. To put things in perspective again, AAPL was not in the phone business before 2007. Do you really think this trend will reverse and be in RIM's favor? How do you value a franchise with declining prospects?

Why delusional? According to RIM and die hard RIM fans:
- QNX platform will be the salvation
- RIM is going thru a transformational stage (sure hope the outcome is not like the cosmetic surgeries above!)
- Takeover candidate
- Value due to fundamentals and patent portfolio

The Counterpoints:
1. QNX - As I've written here before, it does NOT matter how great one's technology is compared to the competition. Technology without great management & competent execution doesn't translate to market share or stock appreciation (Take a look at RMBS, Certicom or Ballard just to name a few).

I'll give them credit for buying QNX; whether RIM successfully takes advantage of marrying this platform with future multi core chips is only one side of the equation. The other side is the absence of a viable ecosystem around RIM's chosen platform. Playing catch up is not an easy task and it is even harder to fly when you are flying with turkeys.

Will QNX be to RIM what NeXT's OS was to AAPL? QNX, a micro kernel based OS which is apparently more stable and consumes less memory than any other commercially available OS right now. The premise behind this "micro kernel" based OS is that it would be able to "turn off" parts of the OS system that are not needed in certain applications, hence makinig it more efficient and won't crash easily. It is also apparently an easier platform to develop software for.

Are they going to screw this up like the playbook launch?

Is the QNX platform so significantly mind blowing that it will redefine the mobile world to the extent that its sales will compensate for its delay (lag) to market? Are QNX powered RIM device disruptive enough without flawless execution?

This "lag" coupled with my lack of faith in RIM's ability to execute makes me doubt that this will make any difference. This is like showing up to a party with a case of Cristal (OK, I'm being generous) when everyone has already left or have passed out.

2. Transformational stage - This is corporate lingo for "we screwed up, we don't want to publicly admit it...so, lets spin it to buy time". If anything, this was done more to "manage" EPS on a going forward basis because RIM knew that things were dire. As always, the guilty ones (joint CEO's) aren't the ones who end up paying the price of incompetence. If there is anything "transformational" worth noticing, it is in how they have changed the way they report their results. Compare last quarter's' report to this quarter's report, what do you notice?

A better management question to ask would probably be "why transform now?" Didn't you see this coming? Assuming RIM didn't, how can they explain the embarassing Playbook entry? How many units are they expecting to ship now?

3. Takeover - As I've written before, the vultures may be circling, but since this will get cheaper, why put an offer now? What is attractive in a decaying franchise? Why are they halting their share repurchase?

4. Patent portfolio - really? As Dr. Phil would say "is it working yet?". Last time I checked, RIM hasn't gone after anyone significant infringing on their patents. This alone should tell you something! What is the value for QNX and its encryption portfolio?

5. Low valuation - Either you get it or you don't. There is nothing in between. A low PE does not always correlate to "low risk". Before today's EOD announcement, RIM was trading at a trailing PE of 4.69 and a forward PE of 5.68 based on today's closing price of $29.54 (cheap and undervalued right?). It is currently down 18% AH.

The ugly truth again? The fish stinks from the head down. RIM shares will continue to languish and maybe get an uptick a few months before QNX phones shows up. Unless there is a meaningful catalyst, this will be dead money again for those wishing to see it back to its glory. What RIM does between now and the time they release the QNX phones is just damage control and will purely be a scalp trade. Hence, it isn't a surprise to me that they discontinued the buyback.

I've warned you about the perils of believing in the joint CEO's. Strangely enough, you will notice that at the time I wrote that article, RIMM was at $28.98 and it drifted to the low $21s before the "patent" mob mentality lifted the ugly boat!

If you haven't shorted, you may wait and see how the dust settles and pick your spot. Otherwise, any break below $21.60 would signal a painful ride to the mid teens.

I'd like to see this Canadian company shine again but it will not be possible to see them outperform their peers consistently unless the joint CEO's step aside. Watch this interview and tell let me know if this guy really "gets it" or not!

It would take more than QNX to return RIM to its glory days. Where to start? Stop spinning the truth. Learn to be hungry again.

Disclosure: I am long AAPL, XIV, ERX.

Additional disclosure: short NFLX and RIMM. Adding to MRGE