Research in Motion's (RIMM) profound earnings and revenue miss shouldn't have surprised anyone. The company has been going downhill for a long time. This is simply the latest splat.

Unfortunately, the numbers most investors follow hid Research in Motion's deep seated problems. For instance, Research in Motion's 5 year average growth rates have been stellar; revenues at 57%, operating income at 62%, EPS at 57%. Those were the wrong metrics to follow and led many investors into stock market hell.

I've been blogging for years that Research in Motion is failing in one critical measure:
How much money does Research in Motion make on each Blackberry it sells?

Blackberries have been getting less profitable ever since Research in Motion has been forced to compete against the iPhone and Android. As the company posted increasing phone sales, its earnings per Blackberry were collapsing.

In its 2006 "heyday," pre-iPhone, Research in Motion earned $125 in operating income on every phone it sold. This quarter, Research in Motion eked out $38 while Apple (NASDAQ:AAPL) bagged $229 a device.

Again: Research in Motion $38, Apple $229 per device.

Nobody can compete against Apple's numbers.

The table demonstrates Research in Motion's hidden disaster; as the company sold more phones, its earnings on each phone was dropping. FY 2012 includes both Q1 and Q2. Earnings per phone are viewed as operating income per device (OPD).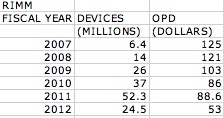 Apple has been a fierce competitor. Compare how much money Research in Motion and Apple realized per device sold. It's been evident that Research in Motion was going to blow up long before this earnings report came out. All you needed was to look at these two graphs that I've been posting for the last 2 years.

The graphs below show 2011 data for 2 quarters for Research in Motion and 3 quarters for Apple.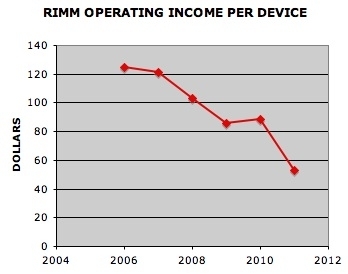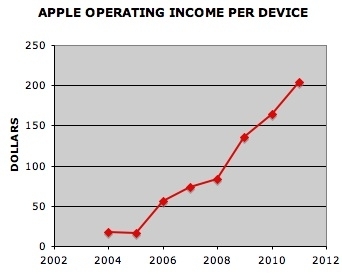 Competitors have been forcing down Research in Motion's unit sales profitability. Investors who understood that dynamic would have been spared a great deal of pain.

Disclaimer: The opinions in this document are for informational and educational purposes only and should not be construed as a recommendation to buy or sell the stocks mentioned. Past performance of the companies discussed may not continue and the companies may not achieve the earnings growth as predicted. The information in this document is believed to be accurate, but under no circumstances should a person act upon the information contained within. We do not recommend that anyone act upon any investment information without first consulting an investment advisor as to the suitability of such investments for his specific situation.

Disclosure: I am long AAPL.