Coca Cola (NYSE:KO); which I've written about in another article recommending it as a great defensive/dividend stock, is a hugely popular brand with strong pricing power and general inelasticity of demand. Warren Buffett is a huge shareholder too, which makes it even more attractive due to the proven "Buffet Effect". Coke shares aren't all that cheap (relative to the rest of the market) but still beat Pepsico (NYSE:PEP) and Dr Pepper Snapple (NYSE:DPS) for now. In addition, pure dividend investors may find its yield somewhat lacking. While it is still very solid at 2.6%, this article will give two alternatives with higher yield. The question is whether the prospects are the same, or worse than Coca-Cola's.

1.) Pepsico

The most natural first choice for the list would be Pepsico, the maker of Coca-Cola's arch-rival soda, Pepsi. The company has been suffering from the pricing effects of inflation along with the rest of the beverage industry. As of its latest quarterly earnings report released on July 21st, its beverage division suffered in North America from increasing prices (keeping volume growth at roughly -1% year on year). In stark contrast, Europe saw significant growth of 5% and the rest of the world saw 6% on average. Non-carbonated beverages have been performing the best, especially Gatorade which is probably the reason North American volume hasn't declined.

Although this article is generally focused on the beverage industry, it's worth noting that Pepsico is seeing its real growth from its snacks division. Frito Lay is reporting strong gains in North America, and Pepsico's most important growth market (Latin America) has enjoyed a staggering 18% growth in operating income since the last year. As stated in the report, in the years to come, the company will be very focused on expanding its presence in growth markets.

Dr Pepper Snapple Group (DPS)

Personally, my two favorite non-alcoholic beverages combined into one company - I'd have a hard time choosing between the two. From the view of the company, Snapple is the winner by a long shot. As of their last quarterly report, Dr Pepper has declined in sales volume by about 2%, and Snapple has gained a whopping 8%. This reflects a broader trend of carbonated beverages underperforming their healthier non-carbonated peers. Despite this, the company intends to heavily market Dr Pepper in the near future.

The worst performing brand as described by the last report is Mott's, which has declined an incredible 10% by volume due to necessary price increases. The lack of sales growth seems rather bearish for DPS' presence in non-carbonated beverages, but investors are keeping the shares at the lofty EPS of 16.3. Strangely, despite underperformance in both sales and operating income (down 5% year-on-year), DPS had huge improvements in its earnings. The revenue growth has been an unconvincing argument for the stock's valuation though.

The dividend yield on the two KO alternatives listed (PEP and DPS) are higher for now, but Coca-Cola's strength could easily allow it to play catch-up in a reasonable timeframe given continuing sales growth. Below is a chart comparing the dividends (by % yield) of KO, PEP, and DPS over the last 10 years.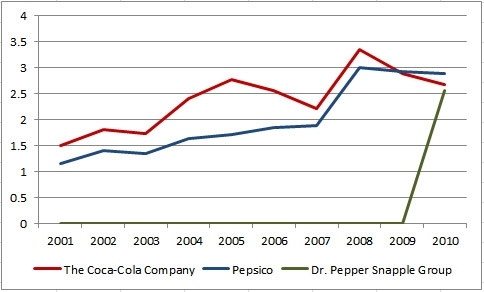 While Dr Pepper Snapple (DPS) has only recently started to pay dividends, they've already tied Pepsi in 2011. Still, they may lag in long term growth unless they can generate better volume growth of their products (especially Mott's and Dr Pepper). As mentioned, KO (in 2011) has the lowest yield of the three at 2.6% and PEP and DPS each yield about 3.3%. Those numbers look nice for PEP and DPS investors, but looking at the growth of the underlying product is much more important for long-term investors. Looking only at beverage sales, KO's growth should imply a faster dividend growth in the coming years assuming stable payout ratios.

In the last year, Coke has managed to increase sales volume by a significant margin (while Pepsi and Dr Pepper have decreased) - in fact the soda Coca-Cola and its variants have been the company's best performing drink despite the underperformance of the other sodas. In addition, Coca-Cola has experienced the highest overall beverage volume growth (worldwide) of its products on average, while maintaining the broadest portfolio of products and retaining the most valuable brand name in the industry. Given this, it's hard to dispute that Coca-Cola continues to dominate the beverage industry - even in a slow growth inflationary environment the company manages to beat all competitors in overall sales growth.

For the overall best long position on the beverage industry based on valuation and proven sales growth, Coca-Cola is still the way to go even if the dividend is a bit lower than the competition. For a diversified bet on the food industry, Pepsico is a great investment despite some weakness in beverages. Dr Pepper Snapple is by far the riskiest bet on the list, with very heavy dependence on Snapple's growth and its new emphasis on marketing campaigns for Dr Pepper. Would I take DPS over KO? Absolutely not for the long-term unless something changes.

Disclosure: I have no positions in any stocks mentioned, and no plans to initiate any positions within the next 72 hours.