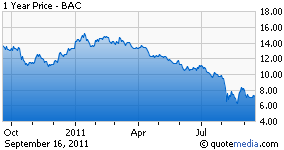 I have been bearish on Bank Of America (NYSE:BAC) for some time now. My concerns mainly have to do with the bank's ability to generate profits going forward. I first wrote about these concerns in my articles, "Buffett's Buy In BofA No Reason to Celebrate," and "Bank Of America: Don't get your hopes up just yet."
Bank Of America has recently started to address investor concerns. There are recent rumors that Bank Of America is open to allowing the Countrywide unit to file bankruptcy if mortgage-related litigation were to reach a point that may threaten the bank. This is the right move for the bank and will quash many concerns that many investors have over the sustainability of the bank.
The reason for Bank Of America's reluctance has mainly to do with concerns regarding the bank's image. A large unit filing for bankruptcy is never a good sign and may potentially raise additional concerns from investors and depositors. A bank's credibility is a requirement for a bank to stay in business and any tarnishment of that may cause a bank run from panicked depositors. I do believe a bank run on Bank Of America is highly unlikely as confusion regarding any bankruptcy will most likely be sorted out by the bank quickly.
I'm still bearish on Bank Of America until I see a bankruptcy of Countrywide or get an opportunity to accumulate a long term position near the previous lows around $3. A bankruptcy of Countrywide will most likely cause a quick selloff that may get me near my accumulation area. I view the countrywide bankruptcy as a good point to exit a short position since most of the bad news should be priced in by then.
I like the steps that Bank Of America is taking with aggressive cost cutting. I believe that current prices don't reflect revenue losses that the bank will see as investment banking and trading revenue decrease. We are still in the same price range when the Buffett deal was first announced, this was before the market realized that bank revenues will decrease. I expect move downside and will look to short rallies.
Disclosure: I have no positions in any stocks mentioned, but may initiate a short position in BAC over the next 72 hours.