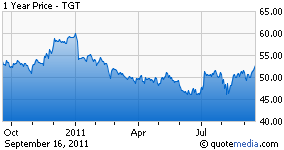 Target (NYSE:TGT) is a well run retailer that I wrote about in my previous article, "Target: Market Is Missing The Point." Target is up about 4% since the last time I wrote about it. The market isn't fully realizing how Target is positioning to take advantage of consumer spending once the consumer starts to shop once again.
What I like most about Target is it knows its customers. Product selection is one of the most important parts to any retail business and a incorrect assortment can spell disaster. Target has done an amazing job bringing in the right products that will keep the customer coming back for more.
The recent launch of Missoni for Target received an overwhelming response from customers. There were several stores that sold out of all Missoni items within minutes. Missoni created a 400 piece collection especially for Target, The Target collection consisted of everything from clothing to kitchenware.
I expect Target to continue its strategy of bringing exclusivity to its stores by bringing special collections similar to Missoni. After seeing such a great response Target is definitely looking for the next big thing. I wouldn't be surprised to see another Missoni launch in the making.
I don't like Target just because of its Missoni launch but because Target is a well run innovative company that understands its business. Target has seen consistent same store sales growth and I don't expect that to change anytime soon. Target's recent earnings report showed earnings growth that broke a 4 year record.
Target's strategy to grow with smaller stores will bring tremendous growth going forward. Smaller stores will allow Target to enter into smaller communities as well as develop a more localized product assortment.
I'm bullish on Target and expect more upside. I view pullbacks as great opportunities to build a position.
Disclosure: I have no positions in any stocks mentioned, but may initiate a long position in TGT over the next 72 hours.