You may have heard many times in popular media that the Yuan is manipulated versus the dollar, and if so you have probably heard the number 40-50% tossed around. But is it possible that the Yuan is dramatically more manipulated than anyone has been led to believe? The chart below shows that the Yuan was trading at a 300% premium to today's price in the early 1980s. So, thinking this through logically, can we say that China is more or less economically powerful today or in the early 1980s?
That should be an easy answer. Obviously China is a much larger economic power than it was back then. It also has a more stable government. So this is evidence that the true market-driven value or exchange rate for the Yuan should probably set the Yuan even more valuable than it was set at in the early 80s. In the early 80s it was set at roughly 2 Yuan per dollar, and it is currently set at over 6 Yuan per dollar. Some would argue that the Yuan should be set to a 1 to 1 ratio with the dollar, or close, just as the Euro is. This theory also helps explain the massive rise in the price of gold: namely the Chinese Yuan is at least 300% undervalued versus the dollar!
(Click chart to expand)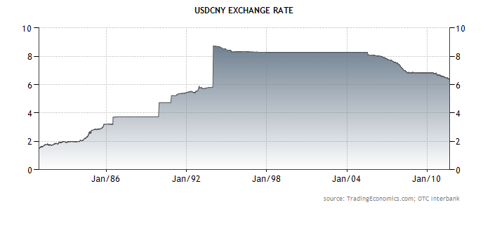 Disclosure: I have no positions in any stocks mentioned, and no plans to initiate any positions within the next 72 hours.