Kellogg Company (NYSE:K) is a leading manufacturer and marketer of general food. It produces its products in 18 countries and sells to more than 180 countries. Kellogg is known for its brand name cereals and breakfast snacks.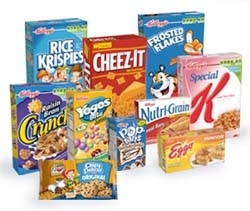 Apple Jacks, Corn Pops, Kellogg's Frosted Flakes, Product 19, Cocoa Krispies, Cracklin' Oat Bran, Special K, Start, and so much more--Kellogg has carved out an unparalleled brand in breakfast foods. I see no immediate cultural substitute for their cereals even if products like yogurt, eggs, and bread were to go down in price. Especially for children, cereals have become the staple of a complete breakfast with its simplicity, flavor, and nutritional value.
Management has been trying to reinvest profits in order to drive growth. In 2010, they spent $187M in R&D and produced $1.2B in net income. While producing new products is always important to grow brand interest, I find this expense to be high and largely unnecessary. The truth is that coming up with the next great cereal entails a lot of guesswork and marketing surveys provide far from a clear picture in what consumers want. Kellogg's current portfolio of products are just fine -- deciding what new berries to add to the upcoming cereal may not be the best use of money.
Instead the cereal-maker should focus on increasing scale and advertising. Kellogg operates in a very competitive industry and cannot afford to lose market share to its much stronger peers, General Mills (NYSE:GIS) and Kraft Foods (KFT). The company has slashed its advertising budget for 2011, in addition to not marketing food that does not meet nutritional guidelines to children under twelve. I am critical about both actions. In particular, the second was an unnecessary apology to consumer rights groups. Children decide on their favorite breakfast foods largely through television viewing, not through shopping. Parents largely decide what to buy their children based on what their children are willing to eat for breakfast. I have little faith in shoppers' memories -- they will forget this strictly-PR decision and any incremental favoritism that they once had for Kellogg will quickly disappear.
Accordingly, I believe that Kellogg will face difficulty in the year ahead with sagging demand. Instability with agricultural commodities will increase the challenges. However, the company has made an effort to save costs in 2009 with a goal to achieve $1B in savings by 2011. I forecast gross margins increasing from 42.7% in 2010 to 46% in 2013. Operating margins for the corporation (16.1%) fall between Kraft Foods (11%) and General Mills (18.6%).
Analysts currently rate the company slightly higher than a "hold." Kellogg trades at 16.4x and 14.2x past and forward earnings respectively, while offering a fair 3.2% dividend yield. Approximately a fifth of its shareholders are core value investors. Consensus estimates for EPS are that it will grow by 5.8% to $3.49 in 2011 and then by 8.6% and 9.2% in the following years. I forecast revenue growing by 8.9% to $13.5B in 2011 and then by 6% and 4.9% in the next two years. Below is my estimate for the company's ROIC over the years.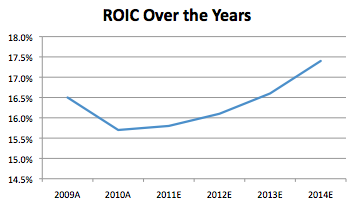 Disclosure: I have no positions in any stocks mentioned, and no plans to initiate any positions within the next 72 hours.