Apple (NASDAQ:AAPL) is a unique company due its size ($370B), earnings growth rate (125%), and volatility (1.3β). I have recommended option strategies on Apple since 2010 with tremendous results. For reference, please view the first and other articles in the series to fully understand the strategy and its strong potential returns.
Click to enlarge
A brief recap of this week in Apple [Up $27.50 (7.4%)]:
Morgan Stanley: Apple 'More Likely Than Ever' To Return Cash to Investors (September 12 Apple Insider)
HTC Considering Purchasing Operating System (September 12 Focus Taiwan)
iPad Marketshare Rises to Over 68% of Tablet Market (September 14 IDC)
NYT: iPhone 5 Launch 'Weeks Away' (September 15 New York Times)
RIMM's Playbook Sales Plummet (September 16 Time)
With Apple approaching $400 once again I believe we are poised for a very strong month for the company and stock.
click to enlarge images

Click to enlarge
The 7.4% surge this week was the best single week since late July as Apple is finally regaining its 52 week high after battling the recent macroeconomic turmoil. By all accounts the iPhone 5/4S will be released within the next four weeks; for some perspective on how critical this will be for the entire industry all you need to do is look at Research In Motion (RIMM). On the heels of Hewlett Packard (NYSE:HPQ) liquidating its Touchpad stock comes the news that Research In Motion's Playbook sales are tumbling. As iOS devices continue to enter the enterprise area, more and more users are effectively locked into Apple's ecosystem. This is a superb barrier to entry that will stem competition and allow only the wealthiest competitors to challenge Apple.
In an interesting twist of fates, Apple's market cap increased by $20B this week alone versus RIMM's total market cap of $12B. Although the iPad already holds a lofty 68% marketshare I do not think it is farfetched to believe that Apple can steal even more additional marketshare from its reeling competitors. In conjunction with a rapidly growing tablet market this is a recipe for success. Is there any company in this market that you honestly believe has a chance? Google's (NASDAQ:GOOG) ship is sailing as it focuses on other niche products like Google+.
Below I present three possible scenarios and the potential returns for the September 23 weekly options (Source: TD Ameritrade). The first scenario represents a negative outlook for Apple while the final two scenarios are more reasonable. These scenarios are just projections and there is no guarantee that they will come to fruition. As a general rule, selling calls with higher strike prices has greater potential return but additional risk of loss due to the lower (or lack of) downside protection. For more information on the fundamentals of covered calls, consult Investopedia.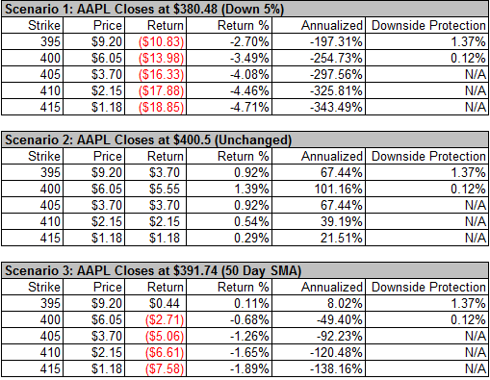 Click to enlarge
Additionally, if you would like even more information, I have prepared a sensitivity analysis for absolute return and percent returns, respectively. After studying the information above, these two charts make it easy to pick a strike price based on where you believe Apple will close on Friday.

Click to enlarge
With this information, executing a buy-write on AAPL September 23 (Weekly) 400s is the optimal risk-return strategy. If you are uncomfortable with this strategy I suggest an ordinary buy-write 395s or 405s. Additionally, if you are confident that the volatility will persist buying a 405 Call/390 Put Long Strangle to profit from these extreme price movements. An alternative approach is to sell out-of-the-money 390 puts and collect the premium without having to purchase the stock outright but even this is quite risky now. Note that if the stock declines to the strike price, you are obligated to buy the stock (or closeout the position).
Disclosure: I am long AAPL, GOOG and short AAPL September 23 400 calls.