Verizon Communications (NYSE:VZ) is a leading global provider of telecommunication services. It is far ahead of the competition in developing 4G LTE ("fourth generation long-term evolution") technology--industry speak for faster and more powerful connection capabilities. Recent acquisitions of cutting edge products further the upside in a Verizon investment. Add a jaw-dropping 5.6% dividend yield and you have a strong brand name with favorable risk asymmetry.
In late August 2011, the telecommunications company purchased CloudSwitch in order to enhance exposure to cloud software. This acquisition also has considerable revenue and cost synergies with the company's earlier acquisition of Terremark. I find that management is taking the right approach to consolidating companies in an effort to gain customers and new capabilities. To the extent that that the demand curve is more inelastic than what investors might originally presume, shareholders can possibly reap a heavy gain if Verizon's technological developments prove innovative. I believe the company could then raise prices on "hooked" customers with minimal unintended consequences.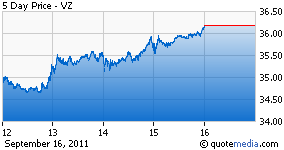 Management also has done an outstanding job in strategy. In a much publicized strike, Verizon did not cave in to labor. Instead, it informed workers that should the strike persist, healthcare plus other benefits could be eliminated. The plan worked and will enable Verizon to improve pay-for-performance and its ability to fire workers for cause going forward. Management argued that it needed to be aggressive in order to make up for sagging sales in its wireline unit. The fiduciary obligation of companies under US corporate law is to maximize shareholder value and Verizon's actions are bolder in respecting that ethical conduct than many other leading multinationals. In addition to mollifying workers, Verizon also has continually impressed customers. Its 4G LTE network has been launched in over 38 areas as of the beginning of 2011, while competitors struggle to keep up. AT&T (NYSE:T) has just started development in this technology.
The company was also minimally affected by Hurricane Irene and Tropical Storm Lee. It recently released a press release revising earlier guidance in EBITDA, dropping the estimate by $200M - $250M for 3Q11. Installation backlogs will return to normal within 90-100 days and the company's wireless segment was not affected.
Based on its multiples, Verizon appears to be undervalued. It is trading at 16.4x and 14.1x past and forward earnings, respectively, and has an EV/EBITDA multiple of 4.3. The company, I believe, is safe from a possible double dip due to the more inelastic demand it receives from the market. It also has low volatility with a beta of 0.64.
Verizon specializes in two segments: domestic wireless and wireline. The former's 2010 revenues of $63.4B made up 60% of total sales, but I believe is fairly priced by the market. On the other hand, wireline--which offers FiOS cable, voice, internet access, broadband, network access and long distance--I believe is undervalued. I forecast the wireline segment growing faster than analyst expectations.
Analysts currently rate the telecommunications provider around a "hold", which I think is slightly negative for a company that offers tremendous upside and minimal downside both in terms of volatility and dividend yields. My model forecasts wireless growing by 9.6% to $70.1B in sales for 2011 and then by 5.5%, 4.1%, and 3.2% for the next few years. During the same time, I expect wireline revenue to decrease by 0.5% to $42.7B for 2011, and then to increase gradually by 0.6%, 1.5%, 2%, and 2.1% for the following years. Consensus estimates for Verizon's EPS are that it will be flat for 2011 at $2.24 and then increase by 16.1% and 13.8%.
My estimates for 2011 EPS among peers: American Tower (NYSE:AMT), $1.02; Crown Castle (NYSE:CCI), $0.50; Leap Wireless (LEAP), $3.50; Sprint Nextel (NYSE:S), $1.


Disclosure: I have no positions in any stocks mentioned, and no plans to initiate any positions within the next 72 hours.