Salesforce.com (NYSE:CRM) is in the glamorous field of cloud computing and as far as Wall Street is concerned, the company seems to be immune from encroaching competition when considering the outlandish valuation Mr. Market seems to be stuck on. The fact is, much of CRM's valuation is attributable to short covering and momentum players piling on, rather than stellar fundamentals, making the case for a bubble pop even more compelling.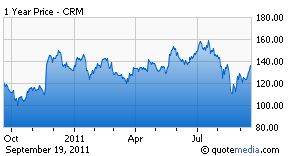 Rich multiple: Even though the shares are down 12% from their all time highs, the stock is still too expensive, at a steep 104 multiple of 2012 earnings estimates of $1.31. If you factor in a 39% earnings hike (no easy task) in 2013 to $1.82, the multiple is more reasonable at 75, but still high. The company's liquidity is strong, containing enough cash to offset its long term debt, but its price to book multiple is no bargain at about 13 times.
Insider's penchant to selling: insiders have sold 1.2 million shares within the last six months and have made no open market purchases. CFO Graham Smith has initiated five separate sale transactions in the last three weeks alone, dumping a total of 16,952 shares, for a cool $2.2 million. This type of selling creates uncertainty and the impression of a "pump and dump" activity occurring. As a consequence, longs should have protective stops in place to minimize their risk.
Bottom line: The analyst one year mean price target of $155 implies current appreciation potential of 13%, which is poor in relation to the amount of risk exposure the equity carries (about 30% downside). On the other hand, the stock seems to be a crowd favorite with plenty of momentum (along with Cramer's blessing), so shorts should have "buy stops" in place to minimize their risk.
Disclosure: I have no positions in any stocks mentioned, and no plans to initiate any positions within the next 72 hours.