Best Buy (NYSE:BBY) recently plunged near its 2009 low and is now stuck in a trading range between $23.30 and $25.68.
So is it time to jump in and buy this Roadkill Stock?
Not yet. And perhaps, not ever.
Here's why …
Best Buy appears to be locked in a death-spiral. And contrary to public opinion, it has little to do with competition from Amazon.com (NASDAQ:AMZN), Target (NYSE:TGT) or Wal-Mart (NYSE:WMT).
For the #1 reason why BBY has gone from dynamo to dead duck ... we turn to Billboard Magazine.
According to Billboard, total CD sales dropped from 147 million to 114 million last year.
And by 2012 industry experts project CD sales to drop a further 40%, as digital downloads take the lead.
What does this have to do with Best Buy?
For years, BBY aggressively discounted CDs. You could routinely find best sellers and new releases on their shelves for $9.99 or less.
As a result, millions of customers swamped the store each month - where they'd often buy much more than one CD. A computer here ... a TV there ... maybe one of those fancy vibrating sofas.
But thanks to the growth of digital music, Best Buy has lost their discount "bait." And it's not coming back!
Warner Music Group: Best Buy's Canary in the Coal Mine
Warner Music was once riding high as one of the top music content firms in the world. But the death of compact discs has utterly destroyed Warner - inflicting so much damage, they were recently taken private after suffering a $46 million loss in fiscal Q3.
This prompted the Hollywood Reporter Magazine to openly wonder, "Is Warner Bros. Records Abandoning Rock Music?"
Take a look ...
It would appear that music has abandoned Warner Bros instead: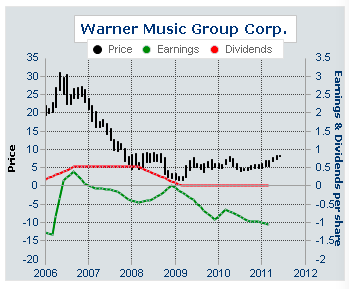 This same retail cancer is plaguing Best Buy because - like Warner Music - their business model, with few exceptions, is stuck in the 1990s ... dependent on dying media like CDs and DVDs to draw customers into the store.
In Addition to Losing its Grip on Music and Movies ... Best Buy Has 3 Retail Strikes Against It
Strike #1
Lowest prices? Not by a long shot. (Even if Best Buy could match Amazon dollar for dollar - most folks would rather save the sales tax and buy online.)
Strike #2
Memorable shopping experience? No way. If Best Buy had any interest in their customers' experience, they'd trumpet product reviews in-store and ceremoniously sledge-hammer any item consistently rated below 3 stars.
Strike #3
Customer support? Epic failure. You must pay for the privilege of dealing with Best Buy's "Geek Squad." (Compare that to Apple's "Genius Bar" where most advice and even post-purchase help is free of charge.)
Sole Bright-Spot is Also a Potential Weakness
To their credit, BBY boasts a wider selection of TVs, DVD players and computers than Wal-Mart or Target. But this advantage is also a liability.
In their quest to maintain super-store status, management has done little to emphasize their best sellers. Essentially every product in the store gets the same treatment. For example: iPads get the same real estate as microwave ovens.
And their website has failed to "out-Amazon" Amazon in any way.
Retail Pain, by the Numbers
Best Buy recently reported a 30% drop in quarterly profit.
Domestic same-store sales are also in free-fall, down for the past five quarters.
Instead of plowing their cash into their only growth market – China, where its Five Star electronics stores are growing 7% per year – management has chosen to open new mega stores in the U.S. and buy back $863 million-worth of stock. Throwing good money after bad.
BBY has raised its earnings per share outlook from $3.30 to $3.55 … to $3.35 to $3.65. But any growth in EPS is due to their aggressive buy-backs – not true earnings growth.
Again – most analyst blame this slide on competition.
And they're partly right. If the Wal-Marts, Targets and Amazons of the world disappeared tomorrow, Best Buy would be a much more attractive company.
But Best Buy – and its investors – need to take a good long look in the mirror and admit that they're a big part of the problem, too.
In this economy when price and customer experience matter most – Best Buy is a doddering dinosaur attempting to cross a 10-lane super highway.
There is no reason to go to Best Buy, unless you NEED to buy a last minute gift ... or would like to play around with a laptop or camcorder before buying it online - at a better price.
Investors would be wise to resist buying BBY until management wakes up ... and ditches their 1990s business model altogether.
Disclosure: I have no positions in any stocks mentioned, and no plans to initiate any positions within the next 72 hours.