InterDigital, Inc. (NASDAQ:IDCC) has provided shareholders the catalyst to unlock the company's patent portfolio valuation to the highest bidder. Now InterDigital shareholders must wait for the bidding process to begin in earnest and conclude on a positive note. The catalyst to unlock patent valuation is officially in motion.
InterDigital management, on July 18th, announced the pursuit of strategic alternatives including a possible sale. Terry Clontz, Chairman of InterDigital's Board of Directors, recognizes InterDigital shareholders deserve a fair price for the company's patent portfolio:

InterDigital's 8,800 wireless communication patents offer a significant value proposition to the wireless communication industry. InterDigital's patents are currently used by Apple's (NASDAQ:AAPL) iPhone, Google's (NASDAQ:GOOG) Android-based smart phones, and Research in Motion's (RIMM) Blackberry.
InterDigital, Inc. Up for Sale
InterDigital, Inc. has potential bidding corporate engineers assessing a valuation for the 8,800 patents. These potential bidders include the dominant wireless communication participants. InterDigital's patent portfolio has a significant value as a competitive factor within the wireless communication industry. In addition, the patent portfolio offers an immediate value in terms of potential licensing deals to wireless communication competitors.
Due to the interest showed for the company, the bidding process has been delayed until this week. InterDigital is receiving assistance from Barclay's Capital and Evercore Partners. They are helping with InterDigital's strategic alternatives which may or may not result in a sale. It's the latest amongst many companies to put its portfolio of intellectual property up for auction when companies are lining up, making multibillion-dollar deals to snatch them up.
First Round Bids
Potential bidders are assessing the patent valuation for a potential first round bid. The first round bids are due later this week. Companies rumored to place a bid include wireless communication power houses: Intel (NASDAQ:INTC), Microsoft (NASDAQ:MSFT), Apple, Qualcomm (NASDAQ:QCOM), Nokia (NYSE:NOK) Samsung Electronics Co. (SSNFL.PK), Ericsson AB (NASDAQ:ERIC) and HTC Corp. (OTC:HTCXF). Google may or may not be interested due to its recent $12.5-billion Motorola Mobility (NYSE:MMI) purchase.
Stock Performance
InterDigital Inc. has provided shareholders, over the past 4-years, a 30.2% total annualized rate-of-return. This compares to SP500's -3.5% return over the same time frame.
Business Summary
InterDigital, Inc. has been a successfully established developer of wireless technology that deals in the very crux of the world's mobile networks, services and devices. It strives towards solving as many problems as they can which include those that present themselves in terms of technological challenges, and crucial and complex market classifications.
It moves with the times, establishing new standards defying the boundaries that themselves had created as they charge towards advancement, providing solutions that support various efficient wireless networks, providing a grander multimedia experience alongside testing and creating new mobile broadband capabilities. To add to their credentials, many of the world's leading wireless companies are now proud endorsers of InterDigital Inc services.
InterDigital Inc.'s goal oriented philosophy states that they pull out all the stops when it comes to making break-through discoveries in wireless technologies. Their incredible financial success story is a tribute to the power and popularity of the inventions that they have perfected over the years, and the smart investment choices that InterDigital Inc. has made in order to maximize their shareholder value. Their functional patent licensing program has integrated exceptionally with the licensing solutions for their advanced technology, causing InterDigital Inc. to grow tremendously in the worldwide wireless industry circuit.
Business Model
InterDigital Inc. believes in turning ideas into reality. The concept behind is to have your thought out invention to become corporeal, making waves when it comes to innovative wireless technology. These technologies develop the fundamental infrastructure of mobile based devices enabling them to take a step towards the future.
It can easily be observed that InterDigital Inc. is a noted contributor to many international standards that have formed definitions for efficient wireless networks. They have taken extensive measures to make sure that their products are not victims of privacy, and have evaded this world-wide plague by issuing licenses to their patented inventions. InterDigital holds approximately 8,800 U.S. and foreign issued patents combined having won the prestigious Licensing Achievement award in 2006 from the Licensing Executive's Society. The comprehensive portfolio of intellectual property is only licensed to the world's leading brands and manufacturers maintaining quality and ultimately benefiting billions of consumers across the globe.
Most of InterDigital Inc. inventions are extensively developed through next level modeling and simulations. Furthermore they often share their capacious knowledge as technology transfer solutions and have collaborations with other companies that focus on technological development and introducing these innovative types of products to the market. InterDigital Inc. has an exclusive and systemized process that propels their coordinated business model.
Patent Industry
InterDigital, Inc. has numerous peers which the company competes against in pursuit of valuable business patents.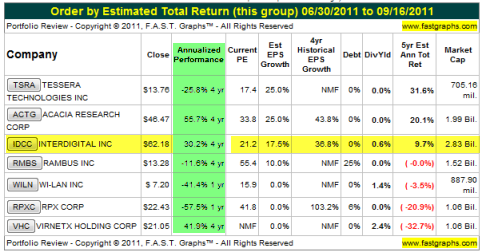 VirnetX Holding Corp.
VirnetX Holding Corp. (NYSEMKT:VHC) participates in the development and commercialization of software and technology solutions for securing real-time communications over the Internet. Its software and technology solutions, which include secure domain name registry and GABRIEL Connection Technology, facilitate secure communications and create a secure environment for real-time communication applications.
Rambus Inc.
Rambus Inc. (NASDAQ:RMBS) participates in the creation, design, research, development, and licensing of patented innovations, technologies, and architectures to digital electronics products. Its patented innovations include Dual Edge Clocking, which is designed to allow data to be sent on the clock pulse; Variable Burst Length that improves data transfer efficiency by allowing varying amounts of data to be sent per a memory read or write request in dynamic random access memory (NASDAQ:DRAM) and flash memory; and FlexPhase technology, which synchronizes data output and compensates for circuit timing errors.
RPX Corporation
RPX Corp. (NASDAQ:RPXC) offers patent risk management solutions in the U.S., Europe, and Asia. RPX Corp. offers a subscription based patent risk management solution. This setup expedites the exchange of value between owners and users of patents. The company provides a defensive patent aggregation solution in which it acquires patents or licenses to patents and licenses these patents to clients to protect them from patent infringement assertions.
Acacia Research Corporation
Acacia Research Corp. (NASDAQ:ACTG) acquires, researches, develops, licenses, and enforces patented technologies in the U.S. Acacia Research helps patent owners with the prosecution and development of their patent portfolios, the protection of their patented technologies from unauthorized use, the generation of licensing revenue from users of their patented technologies, and the enforcement against unauthorized users of their patented technologies.
Wi-LAN Inc
Wi-LAN Inc (NASDAQ:WILN) participates in the acquisition, research, development, and licensing of technologies that drive products in communications and consumer electronics markets in the U.S., Europe, Asia, and Canada. The company licenses its patent inventions in the areas of wireless technologies, wire line technologies, and v-chip technologies.
Tessera Technologies Inc.
Tessera Technologies, Inc. (TSRA) researches, develops, licenses, and delivers miniaturization technologies and products for electronic devices on a global basis.
Tessera Technologies, Inc. has two core business units: 1) Micro-electronics, and 2) Imaging and Optics. The Micro-Electronics segment offers semiconductor packaging technologies including interconnect and substrates, and thermal management technology.