Southern Company (NYSE:SO) offers a compelling dividend yield in the electricity generation industry. The company currently provides a 4.4% dividend yield. The company's history of dividend payments has been consistently on the uptrend. The current economic landscape entices shareholders to seek stability in the electric utility industry. Consistent quarterly dividends and a stable business sector offer investor comfort. Southern Company, for future revenue and earnings growth, has the following major projects in the pipeline:
Georgia Power - Nuclear Construction
Georgia Power, Southern Company's largest utility subsidiary, is current on its fiscal budget and build out schedule. The project is the build out of two nuclear construction units at the Vogtle station. The expected cost is $6.1-billion. These two units will commence commercial operations in 2016 and 2017.
Mississippi Power Coal Gasification Project
Mississippi Power is current on its $2.4-billion coal gasification plant operation. The commercial production date is expected May of 2014.
Business Overview
Southern Company (SO) is based on electricity generation and sale, established in Atlanta, Georgia, for almost a century. With an electricity generation capacity of nearly 43 000 megawatts, the kilowatt per hour sales include about 4.7% of the electric market in southeastern United States.
Southern Company's many ventures include generation plants, high voltage transmission lines, distribution lines and low voltage distribution lines. Its generation company is highly ambitious when it comes to acquiring general assets as well as working on construction and management. The electricity generation is then sold to the wholesale market.
Southern Company also supplies electricity service on a retail basis, which it operates according to the regulations decided by the public service commissions of the states in which it is active. Public service commissions decide upon fair electricity rates, define the profit margin for utilities in the retail market as well as determine which project costs can be compensated for environmentt preservation measures or plant construction.
Southern Company has a firm foundation on which it bases transmission of electricity distribution, which includes thirty-five thousand MW of monitored power production along with more than 8000 megawatts of wholesale generation that is retailed to buyers through the purchasing of power settlements. It also have devised a highly feasible plan for increasing generating capacity to match the escalating demand for power that is reliable, which promises to come to fruition by 2017.
Southern company's business philosophy is goal oriented and to the point. It states that the mission statement is to strive to maintain its place amongst the leaders in the industry today, to provide stable and reliable energy for customers, and prove to be a sound investment for shareholders. According to Tom Fanning, who is the chairman, president and CEO of Southern Company,
Our ambition is to provide exceptional shareholder value with the best risk-adjusted return in the industry.

– Tom Fanning, Chairman, President & CEO
Business Model
Southern Company has managed to create equilibrium amongst the expansion of the company and manages many different types of branches when it comes to sales and transmission.
Retail Service
Based on the regulations provided by the public service commission. Throughout 2010, its four electric utilities named Alabama Power, Georgia Power, Gulf Power and Mississippi Power have served 4.4 million customers in retail alone.
Wholesale Service
Southern Power divisions also sell power on the wholesale market and on wholesale rates to other providers. Southern Company provides a wide variety of generating sources: coal, 55%; oil & gas, 24%; nuclear, 14%; hydro, 2%; purchased, 5%.
Transmission
One of Southern Power's functions is to devise, fashion, construct, operate and manage transmission grids to rise to meet the growing demand for electricity, which includes 26,729 miles of extended transmission lines, 3,393 substations and 315.385 acres of legally granted access.
Summary Of Compounded Earnings And Dividends
Southern Company has authenticated financial integrity, which makes income seeking goals seem like attractive risks for any investor. Their simple business modus operandi is transparent in its dealings, and shows the company's 'A' credit rating along with its stability. Its total shareholder returns have shown a rapid increase over the years.
Total Shareholder Return
Five-Year 7.1%
Ten-Year 11.8%
Thirty-Year 15.8%
Annualized returns for periods ending December 31, 2010. This assumes all dividends are reinvested and returns are compounded monthly.
Southern (SO) Industry Peers - (click chart to enlarge)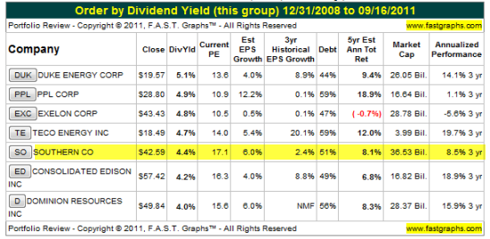 Dominion Resources, Inc. (NYSE:D)
Dominion Resources, Inc., together with its subsidiaries, engages in producing and transporting energy in the U.S. It operates in three segments: DVP, Dominion Generation, and Dominion Energy. The DVP segment includes regulated electric transmission and distribution operations that serve residential, commercial, industrial, and governmental customers in Virginia and North Carolina. This segment is also involved in non regulated retail energy marketing of electricity and natural gas.
Duke Energy Corporation (NYSE:DUK)
Duke Energy Corporation operates through three segments: U.S. Franchised Electric and Gas, Commercial Power, and International Energy. The U.S. Franchised Electric and Gas segment generates, transmits, distributes, and sells electricity in central and western North Carolina, western South Carolina, southwestern Ohio, Indiana, and northern Kentucky; and transports and sells natural gas in southwestern Ohio and northern Kentucky.
Consolidated Edison Inc. (NYSE:ED)
Consolidated Edison, Inc. offers electric, gas, and steam utility services in the U.S. It provides electric service to approximately 3.3 million customers and gas service to approximately 1.1 million customers in New York City, and Westchester County, as well as provides steam service to office buildings and apartment houses in parts of Manhattan.
Exelon Corp. (NYSE:EXC)
Exelon Corporation serves as a utility services holding company in the U.S. The company primarily engages in the generation of electricity. It generates electricity from nuclear, fossil, hydroelectric, and renewable energy sources. The company is also involved in the wholesale energy marketing business; and purchasing and retailing electricity and natural gas, as well as in the provision of transmission and distribution services.
PPL Corporation (NYSE:PPL)
PPL Corporation, an energy and utility holding company, generates and sells electricity; and delivers natural gas to approximately 5.3 million utility customers primarily in the northeastern and northwestern U.S. The company operates in four segments: Kentucky Regulated, International Regulated, Pennsylvania Regulated, and Supply.
TECO Energy, Inc. (NYSE:TE)
TECO Energy, Inc., an electric and gas utility company, through its subsidiaries, engages in the generation, purchase, transmission, distribution, and sale of electric energy. The company also engages in the purchase, distribution, and marketing of natural gas. It serves approximately 336,000 residential, commercial, industrial, and electric power generation customers in Florida.
Disclosure: I have no positions in any stocks mentioned, but may initiate a long position in SO over the next 72 hours.