I am a firm believer in the fertilizer dividend sector. This is the business sector which helps societies increase their food crops to feed an ever growing population. A regular stream of income from these stocks only amplifies the value in owning a fertilizer stock. On a macro level, populations are booming and the agriculture acreage is decreasing. On a micro level, I believe CVR Partners, LP (NYSE:UAN) should be bought. I believe, Terra Nitrogen Company, L.P. (NYSE:TNH) should be sold. Below is my rationale and interpretation of the facts.
CVR Partners, L.P. (UAN)
CVR Partners, L.P. is a growth-oriented limited partnership formed by CVR Energy (NYSE:CVI). The mission statement is to own, operate and grow its nitrogen fertilizer business. Coffeyville Resources Nitrogen Fertilizers is a wholly-owned subsidiary of CVR Partners and directly owns and operates the CVR Partners nitrogen fertilizer plant. The facility, which produces ammonia and urea ammonium nitrate fertilizers, is based in Coffeyville, Kansas.
Dividends
CVR Partners, LP has paid one dividend. The amount was 40.7-cents. Future quarters look promising based upon fertilizer demand. CVR Partners management has stated a $1.92 annual dividend for the year ending March 31st, 2012. This equates to approximately a 7.1% dividend yield.
The stock has had a nice run since its earlier 2011 IPO. The stock recently broke out to new highs. CVR Partners, L.P. reached a high of $27.48 on September 16th. The stock closed at $26.78.
Growth Opportunities
CVR Partners has growth plans to take effect by the first quarter of 2013. Urea ammonium nitrate fertilizer production levels are expected to increase by 50%. CVR Partners currently produces 675,000 tons of UAN. Once the plant expansion is complete, the UAN production will be 1,075,000 tons of UAN.
Fertilizer Prices Remain Strong
CVR Partners continues, for the week of September 13th, to sell its core products into a strong fertilizer market. Prices are firm due to global production problems. Urea prices remain firm due to lower China exports. Chinese export taxes on urea are expected to go back into effect, which will only confirm less Chinese urea exports.
Terra Nitrogen Company, L.P. (TNH)
Business Model
Terra Nitrogen Company, L.P. produces and distributes nitrogen fertilizer products to agricultural and industrial customers. The company's core products include urea ammonium nitrate solutions, a liquid fertilizer; and anhydrous ammonia, a form of nitrogen fertilizer and the feedstock for the production of other nitrogen fertilizers, including urea, liquid ammonium nitrate, and UAN.
Dividends
Terra Nitrogen Company, L.P. has provided significant cash distributions during the past 5-years. In addition, the stock has outperformed the general market.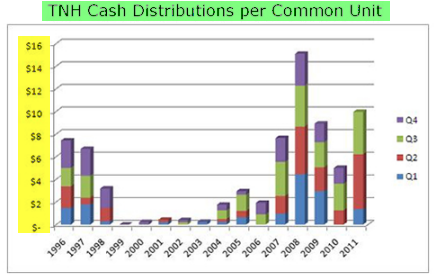 Rational for Selling Terra Nitrogen Company, L.P.
The reason to sell Terra Nitrogen Company, L.P. is because of the ownership structure and the pending downside of being long Terra Nitrogen Company, L.P. at an inopportune time.
Per pages 13-14 of CF Industries SEC 10-Q filing, the future of Terra Nitrogen Company, L.P. is fully in the hands of CF Industries. Here are the relationships which benefit CF Industries far more than Terra Nitrogen Company, L.P. unit holders:
CF Industries (NYSE:CF) owns 75.3% of Terra Nitrogen Company, L.P.,
If CF Industries reduces its TNH position to a sub-75% ownership,
then CF Industries indirectly can, "at its sole discretion, may call" and "acquire" all TNH outstanding units.
The TNH buyout terms are all favorable to CF Industries. If fertilizer prices weaken, CF Industries can pursue a buyout of TNH on favorable terms to CF Industries and to the detriment of the TNH shareholder.
In essence, TNH shareholders give up a lot of their ownership rights, and terms of ownership, due to the CF Industries 75% ownership control.
Summary
I have sold my Terra Nitrogen Company, L.P. position based upon the recent run up in price. I believe CF Industries has the upper hand when it comes to holding onto Terra Nitrogen Company, L.P. shares. CF Industries dictates all buyout rights of Terra Nitrogen Company, L.P.
For a pure play fertilizer dividend play, CVR Partners, L.P. provides more upside and more control as a shareholder.
Fertilizer Peer Group
Potash Corp. of Saskatchewan, Inc. (NYSE:POT)
Potash Corporation of Saskatchewan Inc. produces and sells fertilizers and feed products, predominantly, in the U.S. and Canada. Potash Corporation mines and produces potash, which is used as fertilizer. Potash Corporation also produces nitrogen fertilizers, nitrogen feed, ammonia, urea, nitrogen solutions, ammonium nitrate, and nitric acid. Potash Corporation owns the right to mine 785,759 acres of land in Saskatchewan; and 58,263 acres of land in New Brunswick.
CF Industries Holdings, Inc. (CF)
CF Industries Holdings, Inc. produces, sells, and distributes nitrogen and phosphate fertilizer products. CF Industries is focused upon serving agricultural and industrial customers worldwide. It operates in two segments: 1) nitrogen and 2) phosphate.
Agrium Inc. (NYSE:AGU)
Agrium Inc. processes and distributes agricultural nutrients, industrial products, and specialty products worldwide. Agrium Inc. is active in the retail supply of agricultural products and services in N. America, S. America, and Australia.
Mosaic Co. (NYSE:MOS)
The Mosaic Company's business model is in the production and marketing of concentrated phosphate, and potash based crop nutrients for the agriculture industry on a global basis. The Mosaic Company distributes phosphate-based animal feed ingredients; and produces and sells potash for use as fertilizers and animal feed ingredients.
Market Vectors Agribusiness ETF (NYSEARCA:MOO)
Market Vectors Agribusiness ETF attempts to replicate as closely as possible the price and yield performance of the DAXglobal Agribusiness Index. Market Vectors Agribusiness ETF typically invests at least 80% of total assets in equity securities of U.S. and foreign companies primarily engaged in the business of agriculture. These companies must derive at least 50% of their total revenues from agribusiness.