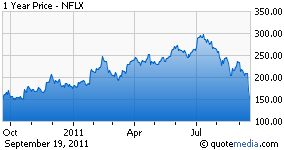 As the Netflix (NASDAQ:NFLX) story continues to unfold, my confidence in the source I talked with after the company hiked its prices continues to grow.

Ever since Netflix announced the price increase, I have been on record as stating that it would eventually separate the streaming and DVD businesses and move to sell off the latter. That story remains intact.

In their Q2 letter to shareholders, Netflix CEO Reed Hastings and CFO David Wells wrote the following:
Because we believe we can best generate profits and satisfaction by keeping DVD by mail as a division, we have no intention of selling it. In Q4, we'll also return to marketing our DVD by mail service, something we haven't done for many quarters. Our goal is to keep DVD as healthy as possible for as many years as possible.
Of course, last night Hastings
announced
another abrupt move, noting that Netflix will split in two. Netflix remains the streaming company, while the separate Qwikster will serve as the DVD business.
It's amazing to watch this company flounder. Hastings went from the smartest guy in the room - heck,
some
had him as the next CEO of Microsoft (NASDAQ:
MSFT
) - to a seemingly erratic leader and self-admitted humbled man clumsily answering Facebook comments at 10 p.m. on a Sunday night.
Anyhow, when Netflix ultimately sells Qwikster, it will spin away the above-quoted assertion that it had no intention of selling the DVD business. The story line will go something like this -
the dynamics of this business change fast and, as such, we had to make this move to ensure that our core focus, streaming, can grow as best as possible because streaming is the future
.
I think Hastings figured the price change would bifurcate streaming and DVD to the point were an official split would not be necessary. Now, after the backlash and with the benefit of hindsight, he, again, reverses course and makes it official. And the move makes sense. Hastings can now market Qwikster, as its own entity, to prepare it for a sale. It will be much easier to unload something with its own distinct brand and CEO.
This will happen because it has to happen. Between international expansion costs, current content acquisition expenses and what will be massive future licensing fees, Netflix simply needs the cash. But it's all moot. As I have been saying for months, I don't see a way that Netflix can make this work. And, as evidenced by his peculiar behavior and unsteady hand of late, I am not sure Hastings, in good conscience, can say that he does either.
And something that's more than a mere aside ...
As I write this, the DOW is down 179 points. NFLX, and rightfully so, has reversed course after an opening pop. It's down nearly 3%. The leaders are the companies that I have been, for all intents and purposes, labeling 2011's version of blue chips. Apple (
OTC:APPL
) is making new 52-week highs. So is Amazon.com (NASDAQ:
AMZN
). So if Ralph Lauren (NYSE:
RL
).
The strategy of shorting NFLX and Research in Motion (RIMM) into 2012, while
writing straight puts or executing bull put spreads
on AAPL, AMZN, RL and other high-flyers remains on.

Disclosure: I have no positions in any stocks mentioned, and no plans to initiate any positions within the next 72 hours.