This past week was quite a week for the bulls, going 5 for 5 to the upside and retaking some key technical levels in the S&P 500 and Dow Jones. The market got some good news out of Europe and followed those markets higher. Yet, the market skirted over continuing weak economic data, and upside for a second week in the face of realistic fundamentals may spell trouble for the markets. The most important moment of the week will come from the Fed meeting on Tuesday when Fed Chairman Ben Bernanke will announce what the Fed will do.

The coming week in the market is packed full of key earnings reports as well as another round of data that will impact the market. The market will get a fresh look at the housing market throughout the week. Monday is the NAHB Housing Market Index. Tuesday brings the Housing Starts and Building Permits data points, and Wednesday brings Existing Home Sales. We conclude Thursday with the FHFA Housing Price Index. With a majority of this data expected to be weak, more beats could be good, but at the same time, the past week could set up for a spark back down with the market realizing just how bleak our economic situation may be.


We will be getting a number of key economic data points this week as well that will definitely be impacting. The market will be looking closely at Lennar (NYSE:LEN), Carnival (NYSE:CCL), Oracle (NASDAQ:ORCL), General Mills (NYSE:GIS), Discover Financial (NYSE:DFS), FedEx (NYSE:FDX), Nike (NYSE:NKE) and KB Home (NYSE:KBH). These reports are all pretty large for specific sectors, and people want to know just how this data we have been seeing has impacted earnings for companies.

The market will continue to be drawn to the European economic situation for direction this week. Yet, we will overlook Europe for the Fed meeting. Look for more decisions on the future of Europe coming this week.

This week's Fed meeting will be the spotlight. All in all, we do expect some measure to come out, but we are not positive that QE3 or something as large of a program as QE2 will take place. Even a QE3 may not have the type of market effect that some expect as the market seems to be pricing in some type of help. With inflation starting to prop up, however, can QE3 even be a viable option?
Strap in for an exciting week ...

Here is what we are looking at for the coming week:

Discover Financial Services (DFS) - Wednesday morning is DFS' earnings report. We are a fan of DFS especially with the company having a projected EPS of 0.93 vs. 0.47 from one year ago. They are looking at a 3.5% increase in revenue as well. DFS has been one of the best performing financials, and moving into earnings, they could continue their strong stock performance. The company has seen tremendous run-ups into and out of their last few reports, and we expect more upside - market permitting - into earnings. Post-earnings, however, the company will be very scrutinized over their outlook for consumers.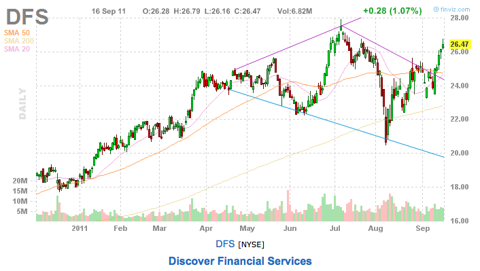 Amazon.com Inc. (NASDAQ:AMZN) - Last week, AMZN had a 10%-plus week. We did some historical research and found that 66% of the time Amazon continues higher the following week. Its largest draw down was 8%, but the other four were all 3% or less in losses. We believe AMZN will be another place for more upside in a strong market this week. The company broke out of a solid upward price channel on Friday. Some pullback in AMZN would create a solid opportunity to sell a bull put spread around the 215/210 or 220/215 area.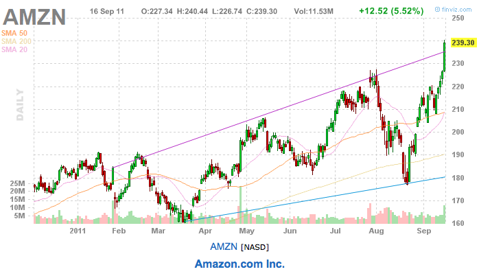 Gold Companies - Gold companies will continue to be a nice spot for investment. On the one front, strength in the market will help gold miners. At the same time, more uncertainty in the market can help gold prices again. The increase in gold prices will also be bullish for gold. Our two favorites are Richmont Mines (NYSEMKT:RIC) and Yumana Gold (NYSE:AUY). We see more upside for these.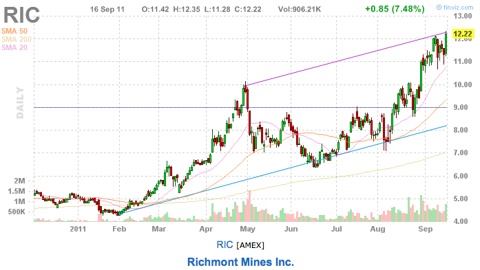 It should be a fun week in the market, and look for a lot of continued volatility.
Disclosure: I have no positions in any stocks mentioned, but may initiate a long position in AMZN, DFS over the next 72 hours.