There isn't an exchange traded fund that lets investors go long on the Hong Kong dollar, although investors can tap an ETF for a stock play.
The iShares MSCI Hong Kong (NYSEARCA:EWH) was down fractionally on Friday.
Speculation of an end to the Hong Kong dollar's peg to the U.S. greenback is rampant this week on hedge fund manager Bill Ackman's bet on the currency.

Currently, the weakened U.S. economy has helped depreciate the U.S. dollar, along with the pegged Hong Kong dollar, writes Tom Orlik for The Wall Street Journal.
Consequently, Hong Kong has experienced growing inflation and a growing asset bubble as its economy continues to expand. The consumer price index jumped 7.9% in July while property prices continued to skyrocket.
Hong Kong, though, has held on to the status quo, finding financial stability and economic growth through the linked currencies. However, the stronger ties with China and the lessening role of the U.S. dollar as a reserve currency have only served to augment the argument for removing the peg.
Orlik points out that investors may buy Hong Kong dollar-denominated assets, such as the ETF, which may continue to benefit while the peg stays in place.
The Hong Kong Index includes many Chinese companies, and the yuan-denominated revenues would convert to a stronger Hong Kong dollar performance. Additionally, long-term investors may benefit from the currency revaluation when the peg is removed as the investment converts Hong Kong dollar holdings to U.S. dollars.
iShares MSCI Hong Kong ETF (EWH)

click to enlarge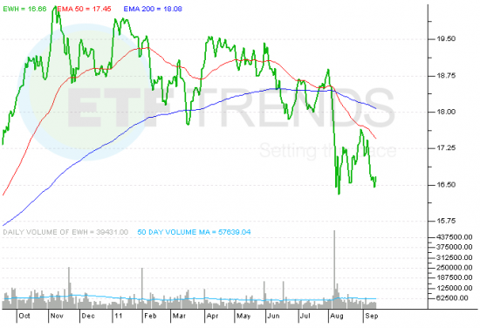 Max Chen contributed to this article.
Disclosure: None