By Paul Quintaro
On Tuesday last week, Microsoft (NASDAQ: MSFT) showed off its new Windows 8 operating system to developers.
Notably, Windows 8 appears to be a radical departure from the traditional Windows operating system format.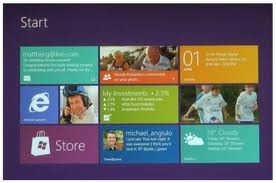 The new iteration of Windows is being designed to operate largely interchangeably on desktops, laptops, phones and tablets. Further, Microsoft stated that they have taken care to ensure that Windows 8 will be fully compatible with ARM processors.
While Intel (NYSE: INTC) and Advanced Micro Devices (NYSE: AMD) dominate the market for processing chips in desktops and laptops, ARM chips power a significant portion of mobile computing devices such as smart phones and tablets.
With these new steps, it seems as though Microsoft has recognized the shift in the personal computer market.
Late in August, Siliconindia published a piece arguing that tablets are beginning to cannibalize the market for PCs, particularly netbooks.
When Hewlett Packard's (NYSE: HPQ) announced that it was contemplating plans to spin-off its PC division, CEO Leo Apotheker stated that the tablet effect was "real."
Although Windows Phone OS has been available for quite some time, Windows is primarily still a PC OS. Naturally, a declining PC market might spell doom for a company that still lacks a tablet platform.
With Windows 8, Microsoft looks to be changing that trend. But is it too little, too late for the tech giant?
On Wednesday night, Microsoft held an analyst conference. During that conference, the company's management stated that it was looking to "reimagine" the company.
In recent years, competitor Apple (NASDAQ: AAPL) has significantly increased its market share in personal computers, and presently dominates the tablet market with its iPad device. And while Apple is rumored to be gearing up for the release of its third iteration of the iPad, Windows 8 remains in development. At the analyst conference, Microsoft stated that it still had much work to do on Windows 8. Thus, it might be many months before Windows 8 is ready to launch.
Historically, Microsoft has been able to show up late to the game and still succeed.
Its Xbox 360 is a tremendously successful video game console, despite the fact that it entered the market well after competitors Nintendo and Sony (NYSE: SNE).
Likewise, Apple's Mac was one of the first personal computers ever designed. Still, Windows managed to upstage Apple and dominated the sector in the 1990s.
Consequently, it may be too early to write off Microsoft's foray into mobile devices. The company faces an uphill battle, but Microsoft's history demonstrates that it is more than able to enter an established market and compete.
Will Microsoft be able to replicate its prior successes with its entry into the mobile market? Or will the market shift from PCs to tablets prove to be a deathblow to the company?
Disclaimer: Content, including research, tools and securities symbols, is for educational and informational purposes and should not be intended as a recommendation or solicitation to engage in any particular securities transaction or investment strategy. You alone are responsible for evaluating which securities and strategies better suit your financial situation and goals, risk profile, etc. The projections regarding the probability of investment outcomes are hypothetical and not guaranteed for accuracy or completeness. They do not reflect actual investment outcomes and are not guarantees of future results, and do not take into consideration commissions, margin interest and other costs that will impact investment outcomes. Content may be out of date or time-sensitive, and is subject to change or removal without notice. Supporting documentation for any claims made in this post will be supplied upon your email request to editor@zecco.com.
At the time of distribution of the material contained herein, neither Zecco Trading nor Zecco Forex was a market maker or acted as the contra-party for customer transactions through the firm's principal accounts for the securities discussed.
Zecco Holdings, Zecco Trading, Zecco Forex, and their officers/partners/employees may hold a nominal financial interest in any of the securities discussed herein, with the nature of the interest consisting of, but not limited to, any option, right, warrant, future, long, or short position.
Neither Zecco Trading nor Zecco Forex has participated as a manager or co-manager in public offerings of the securities mentioned herein within the last twelve months.