The dollar store has experienced a revolution over the past several years. A need for lower cost goods has risen like no other. Never before have inferior goods been the core earnings growth as they have been since 2009. Dollar stores have gone from being mom and pop small shops offering cheap party favors and napkins for a dollar to the highlight shop of strip malls offering snacks, cookingware, personal hygene products and yes, party favors and napkins, still all for a dollar.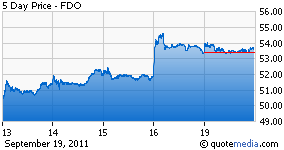 Consumers have flocked to dollar stores for one reason, necessity. Those who have lost their jobs or had their hours decreased have been forced to maintain a standard of living with less. The U.S. Population began to trim costs by bargain hunting, clipping coupons and buying used items online. At some point down the line though that was not enough and a switch needed to be made from standard products to those that were "inferior." What consumers have noticed though is that the dollar store today is not their mother's dollar store. As a result, even as consumers return to their jobs, they are still spending at the dollar stores.
Why Family Dollar?
Family Dollar has 6,800 stores in 44 states, however it only opened its first stores in California last year and opened a net of 130 new stores while renovating and expanding another 94 stores. The company is investing in itself, preparing its stores to meet the needs of customers even as household incomes improve. Doing so is the company's attempt to retain its customer base. Also rolling out to some stores is the company's acceptance of food stamps as well as credit cards, a big step in moving from a once cash only business.
FDO has shown 13 consecutive quarters of year-over-year growth and the company has analysts prjecting a 5-year growth rate of earnigns to be about 15%. The stock trades for 14.92 times forward earnings but has a scary price-to-book value ratio of 5.44. The company does have $2.98/share in cash available, from which a portion will be used to pay the annual .70/share dividend.
The company does have a debt-to-equity ratio of 0.46 however given that the company is using funds to expand the number of stores and customer reach I believe that those funds are being allocated properly. Given the low interest rate environment, the margin between the return of newly opened stores and the interest rate can easily justify the debt load.
With the stock trading currently around $53.56 it appears fairly valued with more upside potential than downside risk. Since I always prefer a hedged position, I would suggest selling a covered call against your position. Using the January expiration options offers the best opportunity. You can Sell the January 55 Call option for $4.00/contract thus creating a net debit of $49.56. If the stock closes above $55/share and your shares are called for you, you could receive a return of $5.44/share or 10.98% over 4 months.
If you prefer greater downside protection, the January 50 Calls can be sold for $5.70 thus giving you a net debit of $47.86. If shares stay above $50/share, you could experience a maximum return of $2.14/share or 4.47% over 4 months.

Disclosure: I have no positions in any stocks mentioned, and no plans to initiate any positions within the next 72 hours.