Netflix (NASDAQ:NFLX) appears to be a company that is in complete disarray, as past policy decisions are being corrected in a very non-traditional way. At best, it would seem its internal turmoil is spilling out publicly. At worst, the company may be hemorrhaging clients due to its recent price hikes and separation of services.
Today the company sent a letter to its customers attempting to apologize. From Reed Hastings, Co-Founder and CEO:
Dear ___,

I messed up. I owe you an explanation.

It is clear from the feedback over the past two months that many members felt we lacked respect and humility in the way we announced the separation of DVD and streaming and the price changes. That was certainly not our intent, and I offer my sincere apology. Let me explain what we are doing.
For a full picture of this apology and the subsequent subscriber reaction, click here for the Netflix blog.
The strange moves made by management that have led to a massive loss of confidence include:
un-bundling services and charging clients more in total
losing content deals which make the service less attractive
splitting each service with separate brands/websites, which de-leverages branding and de-synergies both businesses.
Finally the damage control mechanism of sending a letter attempting to justify the bad decisions, instead of correcting them, demonstrates a high degree of panic. It highlights the lack of initial planning, then subsequently sends the message that the company still doesn't get it. Customers are clearly upset, but the company believes it is from lack of communication? If it wants the truth, it should read the comment section of its own blog. Unfortunately for investors, we doubt this will be the last unconventional action taken by management as they do truly appear to be out of control.
Momentum Broken
Netflix has been a momentum darling for many years, but with the recent 50% plunge from the announced price hikes, that momentum has clearly evaporated. The truly worrisome issue is that the stock is still overpriced as it must now move into the value space. Companies that lose momentum can't support 2x Price/Sales ratios or 20x 2012 PE ratios. In addition, clearly there is damage to the brand and the service proposition, which should call into question the potential for earnings degradation.

NFLX $155.19
52-week range: $140.02 - $304.79
Market Cap: $8B
Est FY '12 Revenues: $4.5B
Est FY '12 EPS: $6.83 (22.7 PE)
(Click chart to enlarge)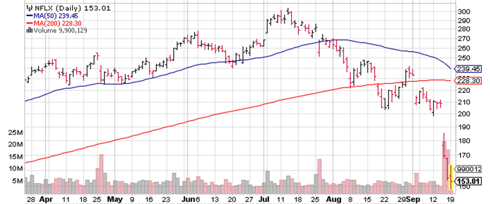 Click to enlarge

While we recognize that the stock has fallen sharply in the last two months, we believe that investors should worry when management panics. The latest moves in both policy and in communications, indicate a serious problem within Netflix. As the stock transitions away from the momentum sector, investors would be wise to avoid any bear trap rallies and recognize the stock could trade below $75 in the next 12 months.

Disclosure: I have no positions in any stocks mentioned, and no plans to initiate any positions within the next 72 hours.