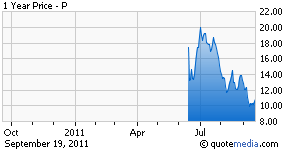 Michael Pachter of Wedbush Securities deserves a free round or two alongside a pat on the back for correctly calling Netflix (NASDAQ:NFLX) practically every step of the way. And now, Pachter has stepped into the fray on another stock that triggers loads of passion among investors - Pandora (NYSE:P).

Here are some highlights from Wedbush's initiation of P at outperform with a price target of $14:

Click to enlarge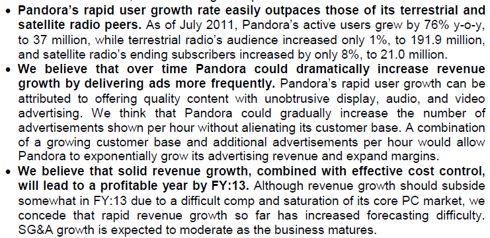 Pachter's report cuts through much of the noise that surrounds Pandora. I have shown that Pandora's revenue growth trumps that of its slow-growth competitors, terrestrial radio and Sirius XM (NASDAQ:
SIRI
). And Pachter believes it's more than feasible for Pandora to further monetize its stable of active listeners without "alienating" them. I agree.
A graph included in the Wedbush report puts something in perspective. It's simply not the case that revenues are not and will not keep up with content acquisition costs. If Pandora was growing revenue at a relatively tepid clip of, say, 10% like Sirius XM, room for concern might exist. There's no reason to believe that Pandora's massive revenue growth will slow anytime soon or that it will slow enough to come anywhere near in-line with royalty fees. In fact, the company has barely scratched the surface, advertising-wise, with its flexible multi-platform model.
And this is where frustration comes in if you want to believe in Sirius XM. Pandora is multi-platform. This not only helps with advertising, but it will drive the continued expansion and diversification of Pandora's active user base. Even Clear Channel (CCMO.PK) with iHeart Radio realizes that multi-platform is the way to go. You can no longer rely on one delivery method - in terrestrial and satellite's case, a vehicle's dashboard - to deliver content.
Sirius XM has stubbornly attached virtually all of its hopes on the success of the auto industry. As much as I want to believe in companies like Ford (NYSE:
F
), they're likely dead weight going forward. In fact, I closed my position in F March call options Monday morning. And, of course, the negative impacts from any hitch in auto sales - not just in numbers, but in the reverberations across the economy - will hurt Sirius XM. It's leveraged to the auto. It does not have to be, but because of a management team that refuses to aggressively diversify across platforms like Pandora and Clear Channel has, it is.
Consider the share of Internet radio listening statistics from the Wedbush report on Pandora. You can include Sirius XM in the "other" category. It's simply a failure of company management that it does not even show up. When it comes to online and mobile, Sirius XM is not even part of the conversation. And this sits at the top of the list of reasons why the stock will likely not break much past $2.00, if it does at all, barring an extraordinary event such as meaningful M&A activity.
As Clear Channel moves away from the old and staid model of focusing on content delivery via an in-vehicle receiver, Sirius XM remains tied to it. This is what I mean when I contend that Sirius XM operates more like a terrestrial radio company than a new media/tech/Internet company. It's about culture, innovation and aggressiveness, not how revenues get generated.
Ironically, Pandora is making a serious push to the car, however, this represents fertile ground for a company that has taken the lead with regard to online and straight mobile listening.
As I have noted in the past
, if you cannot trade serious size, it does not make a ton of sense to short SIRI. At first glance, a pair trade involving SIRI and P, using options, appears to make sense. For example, you could finance the cost of going long P calls by selling SIRI calls with strikes of $2.00 and $2.50. However, with such low premiums in SIRI call options, it's likely not worth most investors time and energy.
That said, the sentiment remains intact. With the iHeart headwinds pretty much behind it, a long play on P could be in order heading into its November 17th earnings report (unconfirmed, according to Briefing.com). And with its earnings call tentatively scheduled for November 3rd, bearish tones continue to hang over SIRI with
its guidance coming in short of analyst estimates
.
Even if CEO Mel Karmazin pulled an Apple (NASDAQ:
AAPL
) and under-promised only to over-deliver, the long-term story of a lack of innovation with respect to audience and platform diversification remains intact. In other words, if SIRI pops on an earnings beat come November, expect it to retreat quickly, as it often does post-earnings on the basis of reality gong forward.

Disclosure: I have no positions in any stocks mentioned, and no plans to initiate any positions within the next 72 hours.