Accurate Prediction
In February and again in May I predicted that Netflix (NFLX) was setting up for disaster. I had been following the Netflix story for quite a while and saw way too many reasons Netflix looked like an extremely dangerous investment:
Valuations were extreme, signaling Netflix was priced for perfection.

It no longer had a dominating business model as it transitioned from DVDs to streaming content.

It faced tremendous competition from large, successful companies with greater financial backing, including Amazon (AMZN), Apple (AAPL), Hulu, Google (GOOG), Disney (DIS), Dish Network (DISH), Wal-Mart (WMT), Best Buy (BBY), Time Warner (TWX), and Coinstar (CSTR).|

It struggled with rapidly rising streaming costs, which were cutting into its profits.

Its streaming library was weak, far behind iTunes, Vudu, Amazon, and cable.

Subscriber growth was beginning to stall, signaling expectations were too high.

It was overstating earnings by amortizing content costs over long periods, in an attempt to push off its costs until the future, when it hopes to grow fast enough to outpace these costs (which is unlikely and may constitute accounting manipulation).

The CFO mysteriously resigned.

Huge insider selling was warning of a lack of faith by management and employees.

Momentum was beginning to decline.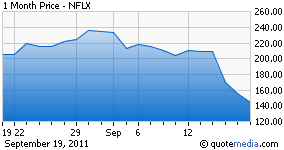 Netflix may have been a great service and a great business, but that did not justify an outrageous stock price or valuation. Though the stock had tremendous momentum as it rose over 1,000 percent since late 2008 and continued to defy expectations and hurt short-sellers, it was setting up for a massive fall as problems began to surface.
My Trading Strategy
I decided it was time to short Netflix, with $250 being a strong level to trade against. The $250 level showed great resistance and distribution, with failures to break above $250 (a round psychological number) and sideways price movement for nearly four months. This meant that many investors bought and sold around $250 a share, and shares were exchanging hands -- from people who had been invested selling to newcomers who wanted to buy. I mentioned that if a last wave of buyers could come and push the stock above $250-$255, then maybe in the short-term it could go up. Regardless though, the fundamental story was bearish, the technicals showed decelerating momentum and increasing weakness, and I expected the stock price to follow – by falling.
I decided to bet against Netflix with the use of options strategies. Instead of betting against the stock in a simple short-sale, and risking a lot more money in case the price continued to run up, I decided to buy put options on NFLX. Put options not only limited the risk, but would also allow me to bet that the stock would fall over the next year. Instead of a $25,000 bet, if I were to sell short 100 shares of Netflix at $250, I could buy 1 contract of put options (1 contract = 100 shares) on NFLX for as little as $1,000. If I bet that NFLX would fall below $200, $180, $150, or lower, I could make very small bets that Netflix would collapse in the upcoming few months or a year and make tremendous profits if I was right. If I simply sold NFLX short, I would be taking a lot more risk as well as limiting my maximum gains to 100% (assuming NFLX collapsed to zero). If, however, I bet against NFLX through put options, I could limit my risk and set myself up for gains of hundreds of percent if NFLX fell. I bought out-of-the-money put options because I expected Netflix to collapse if it began to fall. It wasn't simply going to lose a few percentages; it was going to fall hard, closer to 60%, down to $100 or below.
But stocks do not move straight in one direction, they swing up and down as optimism and pessimism take hold at different times and various magnitudes. If NFLX were to fall, then it wouldn't fall to $100 in one shot; it would take months or longer for it to eventually hit bottom. If it were to fall, it would switch between smaller up and down price movements on its way to $100 per share. The most important point to remember, however, is that the trend is down – all that matters is that price will continue to decline.
I appeared on TV to discuss my claims (see video here).
Growing Problems
I also mentioned Netflix just couldn't compete with other companies if it charged less than $10/month for subscriptions. Netflix recently proved this claim to be correct, as it nearly doubled the subscription fees from $8-10/month for DVDs and streaming combined, to $8 for DVDs and $8 for streaming ($16 combined). The stock price has plummeted largely due to this announcement, down nearly 50 percent from its July $304.79 peak. Subscribers have threatened to end their subscriptions due to the price hike, and many have – causing management to announce on September 15 that Netflix had lost 600,000 subscribers in the past quarter – only the second time the company has ever had a quarterly loss in the number of customers.
The very weak growth and loss of subscribers now makes it even harder for Netflix to pay for content. If streaming costs are rising because large competitors are bidding for content, and the number of subscribers is not rising fast enough – or even declining – Netflix will not be able to afford the streaming costs. If it can't afford the streaming costs, it won't be able to buy many movies or shows. If it can't buy movies or shows, its library of videos will be very weak. And if its library is weak, customers won't see as much value in subscribing to Netflix. Other companies with a wider selection will be available.
Even if Netflix can buy content, the lack of subscriber growth will hurt its profits and fail to meet expectations. Investors have expected so much continued growth from Netflix, that any stumble or failure to exceed expectations will result in huge drops in the stock. The stock has run up to such a large extent because investors expected Netflix to dominate and continue to grow rapidly, but that is unlikely the case, as many are just beginning to realize.
Adding fuel to the fire, Starz recently announced that it will no longer provide Netflix its content – Sony and Disney movies. Making up at least 8% of Netflix's viewing, the Starz exit is a huge hit to its library, and signals similar upcoming announcements from other large content providers leaving Netflix. If Netflix can't afford content and can't maintain its library, it is doomed to fail.
What To Expect
Netflix is in free-fall territory. Reality is only starting to set in that the company is in trouble. Investors still haven't fully realized that the stock price was not justified, and that they had expected too much from Netflix. Instead of a $300+ stock that investors were hoping for, the stock is really worth $150, $100, or even lower. And just like the stock and the company had tremendous momentum on the way up, they now have tremendous momentum on the way down, as investors flee to the exits. The massive uptrend was broken at $250, and the stock is plummeting as the bad news piles on.
The competition has Netflix figured out. The companies competing with Netflix or attempting to enter the space now know that Netflix's weaknesses are subscriber growth and non-affordable streaming costs. Since many of the competitors have greater financial resources, they can better afford the content than Netflix. They can therefore bid up the prices and gain control of the content, leaving Netflix even weaker.
The content owners also have Netflix figured out. With so many competitors now in the space, fighting for content rights, the companies who own the rights to the content know they can charge more. Because the competition makes it almost a bidding war, content owners will be able to sell the rights for much more as the companies fight to buy them. Netflix is bound to lose in this battle, since it was not expecting as much competition and cannot come close to affording it if huge companies like Apple, Amazon, and Google are involved.
Accounting Manipulation and Fraud?
Bad news is yet to come. The momentum is strongly down, reality is starting to set in, and the competition and costs are rising. Even more troubling to me, however, are the very shady practices by management, massive insider selling, and potential accounting manipulation. There is no doubt management had done an outstanding job in getting Netflix to where it was, as it became the dominant player in DVD rentals and almost the dominant player in streaming. But a few signs over the past year have been pointing to potentially fraudulent activities:
Overstated Earnings and Accounting Manipulation. By amortizing its growing content costs over a longer period into the future, Netflix has been able to make itself appear more profitable that it really is. Its account payables were up over 100 percent, and earnings may have actually been negative for the third and fourth quarters of 2010. Netflix based these numbers on an expectation that it will grow fast enough to outpace those costs, but if Netflix can't continue to grow rapidly, these rising costs will catch up and severely hurt its bottom line. Netflix management has essentially "kicked the can down the road" and avoided dealing with these major issues now, before they escalate into huge problems.

CFO Resignation. Still only my opinion and speculation, the sudden resignation of CFO Barry McCarthy in December 2010 may fit very well with my claims of Netflix accounting manipulation; McCarthy's resignation could have been his attempt at fleeing huge potential legal issues before they surfaced. McCarthy was with the company since 1999 and even led it through the IPO; resigning suddenly at the height of Netflix's success did not make sense. McCarthy's claim was that his resignation was in order to "pursue broader executive opportunities outside the company," but as I wrote in February: "Such a vital company figure resigning amidst extreme upward momentum tells me something may be brewing behind the scenes or under the surface."

McCarthy was the CFO, the number one person in charge of the company's finances; if he left suddenly, red flags should have appeared for investors and analysts to better analyze the company's finances, balance sheets, income statements, and numbers. The occurrence of overstated earnings and potential accounting manipulation make McCarthy's resignation even more troubling – was he fleeing the company before the real trouble began?

Massive Insider Selling; CEO Not Guiltless. Don't be so quick to blame it all on ex-CFO McCarthy. CEO Reed Hastings has also shown big signs of knowing what was coming – he has been selling millions of dollars of shares (5,000 or more shares every week since January 20) as Netflix reached all-time highs. Heavy selling by management and insiders is many times a lack of faith in the company's future, or future stock price. If those insiders and management, who have the best view of the company's operations and most clarity into future growth, don't believe in the stock, why should the rest of investors?

Hastings has sold over $40 million in Netflix stock this year alone! The trades have been automatic sales, because Hastings has established an automatic sale of 5,000 shares every week. It is legal for insiders to sell their shares automatically; but to see CEO Hastings sell massive amounts of shares when potential accounting manipulation may have been committed and when investors have been wrongly informed about future growth, makes me wonder if Hastings has committed fraud. Time will tell.
Conclusion
With the uptrend now broken and momentum strongly negative, Netflix is not safe at all. The stock may bounce up, since nothing rises or falls in a straight line. But with the worst probably still yet to come, NFLX should be sold, avoided, or even sold short if done carefully. A fall to $80 or $100 is likely still in the works.
Disclosure: I am short NFLX via put options.