Many people have seen the Capital One (NYSE:COF) commercials, which ask "what's in your wallet?" The question we want to ask, however, is what's in your portfolio, and can it benefit from including Capital One?

Capital One is one of the largest credit card companies in America, and when it completes the acquisition of ING Direct, it will become the 7th largest bank in America, with some $320 billion in assets. We think now is a great time to invest in Capital One, given its depressed share price.

Capital One has been working hard to improve its credit quality since the financial crisis, and its results speak for themselves. Charge-offs fell to 2.91% in the most recent quarter, down 75 basis points compared to the prior quarter, and its Tier 1 Common Equity Ratio reached 9.2%, up 80 basis points from the last quarter. Though Capital One took TARP money, it paid it back quickly to the federal government, and we see the taking of bailout money as a mere pause on the road to long-term success.

The acquisitions of ING Direct and the HSBC credit card portfolio will add to Capital One's earnings very soon and will be accretive to long term earnings. The ING acquisition gives Capital One access to a loyal customer base and $80 billion in low cost deposits that allow it to diversify its funding base, further differentiating itself from its credit card competitors, who are banks in name only. Unlike Discover (NYSE:DFS) and American Express (NYSE:AXP), Capital One is the only US credit card company that has truly shown that it is embracing this kind of banking model.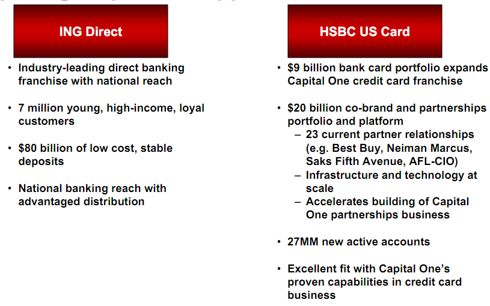 It is true that the ING Direct acquisition is not a sure thing, for the Federal Reserve will be scrutinizing it closely. However, we are confident that the acquisition will be approved. Even including ING, Capital One is still far smaller than the banking industry titans, and adding ING Direct, a sleepy deposit taking institution to Capital One should not add systemic risk. The Federal Reserve,
according to
Fed Governor Daniel Tarullo, has "been instructed to add any increased systemic risk to the list of adverse effects that could result from the merger and then determine whether the benefits to the public of the acquisition outweigh these adverse effects."
Systemic risk does not mean a proposed merger will be rejected, and we feel that the benefits of this acquisition more than outweigh the small increase in systemic risk.
Capital One has many opportunities lying ahead of it that could help it generate returns for shareholders in the future. The dividend has not yet been raised since being cut in the financial crisis (now at 5 cents/share). The stock trades for less than 6 times earnings, a huge discount to the market, and even its credit card peers (Discover trades at 8.75 times earnings, and AmEx is at 13.) Furthermore, Capital One trades at a 28% its book value of $62.43.
In short, we think Capital One presents a good opportunity going forward for patient investors. Analysts agree. Oppenheimer recently raised its rating and price target to an outperform and $55, respectively. S&P sees the stock at $60, Citi sees it at $66, and Barclays sees it reaching $68, representing nice upside from here. For those who are willing to wait, we feel that Capital One will be a great stock to add some profits to your portfolio.
Disclosure:
I have no positions in any stocks mentioned, and no plans to initiate any positions within the next 72 hours.